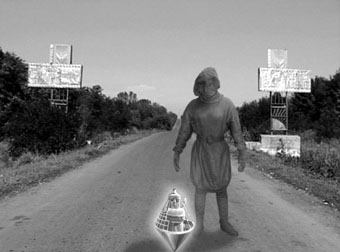 Suzanne Treister, Operation Swanlake,
Institute of Militronics and Advanced Time Interventionality 2029
I've just returned from Incubation 3, the writing and internet symposium where there was much discussion about the difference between fact, fiction and plain lies. In literature these terms are commonly negotiated, but the visual arts does not have such convenient classifications. When Art in America described the researches of Rosalind Brodsky and the Institute of Militronics and Advanced Time Interventionality (IMATI) as "one of the most sustained fantasy trips of contemporary art", they failed to acknowledge the implicit reality checks and the engaging and often seductive nature of this long-running narrative.
Brodsky has been travelling through time and space for almost 10 years now. Her latest research outcome Operation Swanlake has been on show at London's prestigious Annely Juda Fine Art gallery. It consists of video, computer prints, photographs and drawings, and reveals a string of previously unsuspected relationships between retirement homes in Florida, black holes, Soviet battleship design, opera and much, much more.
Operation Swanlake took place between 2028 and 29 and used the energy of a black hole located in the constellation Cygnus to develop audio frequencies capable of communicating with the universe. The frequencies were initially developed using recordings of swans that were recovered from specific historical locations and periods. These were broadcast from the sonic missile Swanlake, made in part from a decommissioned Soviet Kirov class missile cruiser. It was at the Kirov Theatre (which was then called the Mariinsky Theatre) in St Petersburg that Tchaikovsky's ballet Swan Lake was first performed in 1895. A recovered recording of this performance, along with one of Wagner's opera Lohengrin (The Swan Knight), were also utilised in the project. And so it goes…
By the end of the exhibition there's a definite sense of overload together with a profound admiration for the research and synchronicity that enabled so many disparate strands to be woven together into a single theme. I'm reminded of Kurt Schwitters' remark: "I am the meaning of the coincidence!"
It would be easy to consider Brodsky's researches an entertaining fiction. Brodsky herself is the creation of Berlin and London-based artist Suzanne Treister. However, to my mind there seems little difference between Operation Swanlake and the episodes of James Burke's Scientific American column and TV series Connections, where he linked science and technology across time and space via a relativity that often bordered on the absurd. An increasing number of scientists are now acknowledging the inherent irrationality of their 'logical' belief systems and the correspondences with theology. Is Operation Swanlake fact, fiction or just a lie? Can we ever know?
On the train to Incubation I sat next to some visitors from the USA. They were professional, literate, well educated folk. As we passed through fields of ripening wheat they were clearly disappointed not to see some crop circles. We all want to believe.
Operation Swanlake, artist Suzanne Treister; Annely Juda Fine Art, London; May 20-July 17
RealTime issue #63 Oct-Nov 2004 pg. 12
© Paul Brown; for permission to reproduce apply to realtime@realtimearts.net