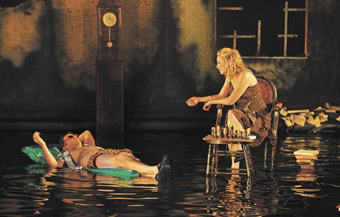 photo Jeff Busby
Chris Ryan, Meredith Penman, Chekhov Re-cut: Platonov
THE ANXIETY OF INFLUENCE, TO HIJACK HAROLD BLOOM'S TERM, IS PROBABLY MOST EVIDENT WHEN IT BESETS AN EMERGING DIRECTOR. YOU KNOW THE SORT—THE YOUNG TURK WHO WANTS TO REINVENT THEATRE, BREAK THE MOULD, SHAKE OFF THE SHACKLES OF AN ARTFORM OSSIFIED INTO RIGID PREDICTABILITY. OFTEN THE RESULT IS A LAMENTABLE MESS THAT MERELY ENDS UP IMITATING OTHER REBELLIOUS THEATREMAKERS WITHOUT BEING CONSCIOUS OF THE TRADITION BEING FOLLOWED. SOMETIMES, THOUGH, THE DELICATE BALANCE BETWEEN AN ORIGINAL VISION AND AN AWARENESS OF HISTORICAL TRADITION MAKES FOR SOMETHING GENUINELY NEW AND EXCITING.
Matthew Lutton and Simon Stone are both 23-year-old directors who have arrived on the stage from different directions. Lutton studied in a now defunct cross-disciplinary program at WAAPA before going on to establish his own theatre company and working as an associate director with Black Swan. Stone, on the other hand, comes from an acting background—the VCA grad's self-formed company The Hayloft Project features many of his old classmates. And though they evince very contrasting aesthetics, both directors are proving capable of rubbing shoulders with theatre veterans twice their years.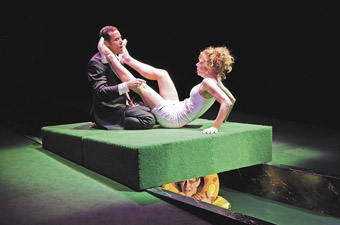 photo Jeff Busby
Marcus Graham, Alison Whyte, Barry Otto, Tartuffe
malthouse's tartuffe
Lutton stepped in to direct Malthouse Theatre's first 2008 production, Tartuffe, at (quite literally) the last minute. The assistant director was informed on the first day of rehearsals that Michael Kantor was handing over the reins in order to undergo medical treatment for a coronary irregularity. It's testament enough to a certain amount of sheer gumption, I suppose, that Lutton didn't baulk at the announcement but set to work. And though Kantor's own artistic imprint is still visible in the final work, Lutton brings enough creative license to the piece to finally make it his own.
Tartuffe is freely adapted by Louise Fox after the Molière play of the same name. Where the original was a satirical swipe at the hypocrisy of organised religion and the greed of the aristocracy, Fox's version is a bawdy, carnivalesque skewering of contemporary Australian mores and misdemeanours. Marcus Graham plays the titular holy roller who infiltrates a wealthy, soulless Toorak family and profits from their moral bankruptcy and desire for the kind of spiritual satisfaction only money can buy. Barry Otto and Alison Whyte are the heads of the vacuous clan, and this trio makes up the central dynamic of the piece.
Lutton's version pushes the comedy to suitably manic extremes. Like any good sit-com there's rarely a line that isn't some kind of gag or a moment without some physical foolery. He makes the most of a lavish set, complete with a long lap-pool, three-level balcony edifice and numerous trapdoors. But where a lesser work would simply devolve into zany clowning and frothy farce, this Tartuffe outdoes itself in a final directorial choice near the work's end. In Molière's original, the sudden, improbable intervention of the King neatly resolves the tale. Translating this into a more interesting contemporary parallel was always going to be difficult, but Lutton's decision is a stroke of brilliance. Where much of the production is an hysterically amplified take on the real world of today, Lutton's Tartuffe climaxes with the hilarious entrance of Jesus in robes and beard, arriving to set all aright. Rather than undoing the cop-out of Molière's deus ex machina ending, Lutton turns it up a notch to go beyond satire into something approaching meta-theatre, exposing its own internal cracks as much as those of the flawed characters it has so far ridiculed.
hayloft's platonov
Simon Stone's Chekhov Re-cut: Platonov takes the early work by the canonical playwright and treats it with the irreverence one would expect from an emerging talent. This is only Stone's second production—the first, Spring Awakening (to be seen in June at Belvoir Street in Sydney), was an equally riveting work, and Platonov continues his trajectory. It cuts and shuffles Chekhov's sprawling five-hour play to less than half that. It updates the setting, to a point, to lend it both a contemporary relevancy and a generous respect for its source. And, visually, it's a beautiful gift to its audience.
Platonov is a liberal misanthrope, an existentially despairing tragic who turns his bleak desolation on the humans around him. Numerous affairs and betrayals seem to entertain his love of power games, but when the precarious house of cards he gradually builds brings about his ruin the audience must ask whether this self-destruction was in some way willed. He's certainly not a sympathetic figure at any turn, but he is a fascinating one.
In Stone's hands Platonov, like Spring Awakening, is very much an actor's piece. The performers are given full rein to explore and embellish characters with gusto, and each proves more than capable. There's plenty of stage business making full use of the space, but this adds a tactile dynamism and energy to the work rather than appearing contrived or unnecessary. With the exception of a superfluous second-half opening in which the feverish Platonov is beset by a ghostly chorus of his peers, the production aims for heightened realism instead of heavy-handed symbolism or obvious directorial intrusion. Most encouraging of all, it's a realism that meshes perfectly with theatricality, too often seen as exclusive opposites.
Evan Grainger's set is a sure contender for a swag of accolades. The entire playing space is flooded with black, rippling water fringed by shattered and burnt walls; piles of mouldy books and decaying antique furniture jut from the water like lilies. A subtle lighting design creates a warm and cloying sense of brooding intimacy which shimmers as the performers wade, splash or retreat from the pool.
Simon Stone, like Matthew Lutton, displays a powerful ability to reinvent an old work, making that reinvention the point of the exercise. Both bring an understanding of and respect toward their respective sources while remaining unafraid to depart from them in order to produce a superior work. Are you paying attention, class?
Malthouse Theatre, Tartuffe, writer Molière, adaptation Louise Fox, director Matthew Lutton, performers Laura Brent, Marcus Graham, Francis Greenslade, Peter Houghton, Rebecca Massey, Barry Otto, Ezekiel Ox, Luke Ryan, Alison Whyte, designer Anna Tregloan, lighting designer Paul Jackson, composer Peter Farnan; CUB Malthouse, Feb 15-Mar 8; The Hayloft Project, Chekhov Re-cut: Platonov, writer Anton Chekhov, adaptation, direction Simon Stone, performers Jessamy Dyer, Amanda Falson, Angus Grant, Adrian Mulraney, Eryn-Jean Norvill, Meredith Penman, Chris Ryan, Simon Stone, designer Evan Granger, lighting design Danny Pettingill, sound Jared Lewis; The Hayloft, Footscray, Melbourne Feb 27-Mar 16
RealTime issue #84 April-May 2008 pg. 36
© John Bailey; for permission to reproduce apply to realtime@realtimearts.net