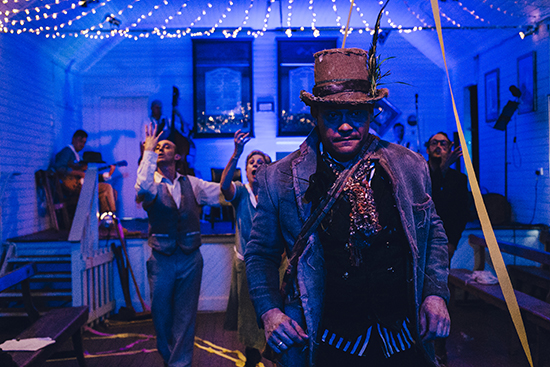 photo Kate Holmes
Kirk Page (singer) and cast, Dreamland, NORPA
As its name suggests, Arts Northern Rivers' ambitious If These Halls Could Talk program aims to use airy, character-filled old community halls as a departure point to explore the wider history of the Northern Rivers region. In telling the stories of these buildings, they may offer some insight into the general character of regional Australia through an exploration of settlement, environment, politics and changing demographics.
Dreamland, staged in the Eureka Hall (in Eureka, 23km north-east of Lismore), managed this and more with its mixture of rough-and-tumble farce, eclectic musical numbers, uncomplicated dialogue and, most spectacularly, the contortions of acrobat Darcy Grant. Produced by Lismore-based NORPA, Dreamland is the fifth of seven site-specific, multidisciplinary If These Halls Could Talk productions.
Not exactly a play, it's a hybrid performance work written by Janis Balodis and directed by NORPA's Artistic Director Julian Louis. The show opens on a three-person Eureka Hall committee meeting when flippant gasbagging between members is interrupted by a passerby enquiring about using the hall for his soccer team's gala ball. This exchange precipitates the high-octane, often surreal telling of each of the four characters' backstories, in which actors switch roles amid flashbacks and ghostly recollections. One committee member, for example, is a farm owner (Toni Scanlan) wondering how to manage her property as old age approaches, while the soccer player (Darcy Grant) is a 'tree-changer' struggling to find fulfilment (and employment) on the back of a naïve move from the city to this so-called Rainbow Region of northern New South Wales.
photo Kate Holmes
Phil Blackman, Toni Scanlan, Katia Molino, Dreamland, NORPA
These sequences are compelling, thanks in part to some rudimentary but charming dance routines and the exceptional backing music provided by a trio headed up by Fourplay's Shenzo Gregory, their eerie drones and chirpy cabaret melodies only occasionally pulling attention—particularly when a theremin is introduced.
The strongest of these mini-biographies comes courtesy of Katia Molino, whose monologue is delivered as she offers a tray of lamingtons around the audience. Her passionate reflections on the socio-economic hardships that many experience, in an area generally marketed as a breezy promised land, is a genuinely moving highpoint. The fourth character, another ageing farmer (Phil Blackman) has a penchant for partner dancing and is bewildered by the New Age residents in the area.
With employment scarce and the cost of living sharply rising, a sense of existential ennui can afflict many in such places, as explored through the plight of Grant's soccer player. While his cartwheeling and hand-standing make for absorbing spectacle, the character's ultimate listlessness and frustration make a stark point about social isolation.
The prevalence of musical numbers and dancing put one in mind of Britain's great TV dramatist Dennis Potter, while the sharp comedic back and forth between the committee members, in its best moments, has Stoppard-esque echoes as well as occasionally profane local vernacular. At times unsubtle jokes look for laughs and historical exposition seems a touch educational in an otherwise rambunctious, colourful, life-affirming extravaganza.
With an affectionate but not uncritical commitment to locality, Julian Louis and collaborators have brought much-needed life and a modicum of cultural depth to not only a hall, but also an entire region.
Read an interview with Craig Walsh and Grayson Cook, artists involved in other If These Halls Could Talk productions.
photo Kate Holmes
Dreamland, NORPA
Arts Northern Rivers: NORPA, Dreamland, director, devisor Julian Louis, writer, devisor Janis Balodis, musical director, lead musician Shenzo Gregory, performers, devisors Phil Blackman, Darcy Grant, Katia Molino, Kirk Page, Toni Scanlan, lighting designer Karl Johnson, costume designer William Kutana, movement director Kirk Page; Eureka Hall, Eureka, 23-26 Nov, 28 Nov-3 Dec, 5-10 Dec
Forthcoming productions in the If These Halls Could Talk season:
Arts Northern Rivers, If These Halls Could Talk: Grayson Cooke, SCU, Bonnywood Rising, Bonalbo Hall, 10 Dec; Opera Queensland, Tumbulgum and the Countdown to Midnight at the First Supper Between Now and Forever, Tumbulgum Hall, Northern New South Wales, 16-17 Dec
RealTime issue #136 Dec-Jan 2016
© Barnaby Smith; for permission to reproduce apply to realtime@realtimearts.net