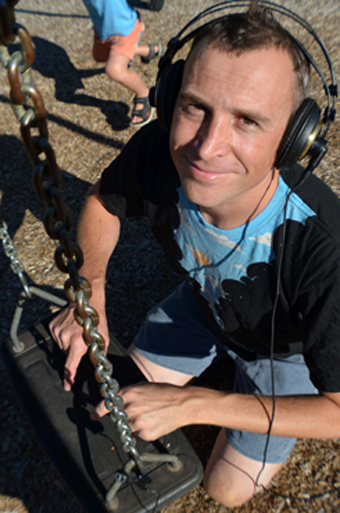 photo Jo Roberts
Jason Richardson
To honour the centenary of Leeton, musician and composer Jason Richardson (aka Bassling) decided a sonic celebration was in order. Fitting the swings, roundabouts and slippery dips of all the local playgrounds with microphones he made recordings that he then arranged into an EP of ambient dance music. He also captured video of the "instruments" in action and has created a suite of audiovisual pieces which have since been exhibited by the Albury Regional Art Gallery and screened outdoors around the local area.
Originally from Canberra, Richardson moved to the Wagga region around 13 years ago and is now based in Leeton. He'd played bass in bands that were more on the rock and roll spectrum, but as home studios became more affordable and digital tools began to dominate he made the transition to electronic music. While this shift to a more self-contained music-making was reasonably compatible with the move to a regional area it also meant that his network became smaller, so he turned to the virtual world for inspiration, connection and distribution.
Virtual mixes
Richardson credits the ubiquity of music on the internet as a significant factor in his move towards more experimental realms of music production, providing him with what he describes (via an email interview) as "the history of recorded music at my fingertips…Levi-Strauss' notion of bricolage has been a key influence. It underpins my interest in remixing, the creative constraint that you use whatever materials are available. I was introduced to remixing through the forum attached to the Ninja Tune website. That community, a decade or so ago, organised remix competitions and I learned a lot from listening to how different producers approached the collection of audio samples taken from a song." For example Richardson was a significant contributor to the Oceandrift project by the 64 Bars Music Collective, a chain in which one musician posted a track that was remixed by a second artist. The third artist remixed the second contribution and so on, like a musical Chinese Whispers. (Listen to Oceandrift here)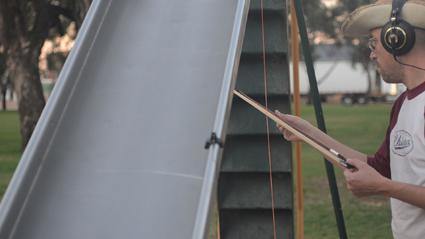 courtesy the artist
Jason Richardson bowing the slide at Waipukurau Park
Real vibrations
Back in the real world, a major influence was the Wagga Space Program which ran the Unsound Festivals in the early to mid-2000s and consolidated Richardson's interest in field recordings (see RT64; RT76). "The Space Program had a cool philosophy that being based in regional Australia was a key part of their sound. That made a lot of sense to me when I started remixing field recordings. I was fortunate to work with Alan Lamb [as part of Unsound 2006]. His large-scale Aeolian Harp [which] he calls 'the wires' changed the way I listen to sound.
"Lamb also introduced me to piezo contact microphones, which I used to record playgrounds in Leeton. You capture the vibrations directly with these, rather than the vibrations in air captured [by] a microphone's diaphragm. It's quite cool to think you're hearing how something feels. They also can transform a wide variety of objects into instruments. Like the fence near the playground at the end of my street that makes an evil double bass sound when there's a strong westerly."
It was the discovery of sounds like this that saw Richardson embarking on the Playground project. "There were a number of ideas it crystallised, like the founding of Leeton which was around the time of Luigi Russolo's noise manifesto and, because a centenary is a young age for a town, playgrounds seemed appropriate…When I started recording playgrounds the project snowballed. My internet friends told me they couldn't see where the sounds had originated. So I started collecting video as well as audio.
"When Albury accepted the three-screen adaptation of Ramponi Park [as part of their] urban art program this year, I decided to organise local screenings of the playgrounds [in Leeton] for the conclusion of the centenary. I ran workshops too, collaborating with kids and a local musician who improvised on a 100-year old pipe organ opposite Mountford Park."
Ramponi Park, exhibited as a three screen installation as part of Albury Regional Art Gallery's urban art program
Fruity loops
Art Misadventures #3 is another recent project Richardson participated in, curated by Sarah McEwan for Leeton's Roxy Theatre Art Space. Six local artists were handed a mystery box and had to come up with an artwork based on its contents in just four days. In Richardson's box were three Red Delicious apples. Of course his first instinct was to stick a microphone on it and record the secret sounds of the fruit and then remix it. Also inspired by graphic novels, he complemented the sound piece with a comic based on a story from "One Thousand and One Nights" featuring three apples.
The project appealed to Richardson because his remixing practice seems to thrive on working within fixed limits and materials. On his blog he says, "When we were brought together for this exhibition I waited a while before taking a numbered seat, taking one that was left next to my partner. When we were encouraged to select the package holding our inspiration, I waited until others had chosen theirs and I think this strategy served me well. Brian Eno says the first part of any project is scoping the constraints, establishing the parameters as much as the resources available." (Hear the Apple Remix here)
Think local, go global
While there might be constraints on the size of a local audience in the real world, thanks to free internet tools such as Soundcloud, YouTube and blogging sites, Richardson has been very proactive in seeking national and international ways to be heard. I suggested that he is very good at documenting his work and he responded, "What you call documentation is expression for me. I don't capture my work to acquit a grant, I do it to interact with an online community because it's a bigger and more responsive audience."
Richardson's next two projects illustrate this balance between local/global, real world/virtual output. For Re-imagining the Murrumbidgee, an exhibition in Leeton produced by Western Riverina Arts and the Murrumbidgee Catchment Management Authority he will create a soundtrack of field recordings of the river composed to "create a sense of the 'big waters' and how far they travel through agricultural exports." Then for his international community he's instigated another remix chain, as a follow up to the Oceandrift project, keen to garner global responses.
Richardson willingly admits there are advantages to working in the country. "One key benefit of working in a regional context is opportunity. People talk about the lack of things, but it can be a good. My ability to produce work is greatly assisted by not having to negotiate a city each day. It frees [up] a lot of time, reduces stress and my thoughts aren't interrupted as often by marketing too."
Most importantly it's the environment itself that feeds Jason Richardson's ways of working and listening. "Alan Lamb's work can only really exist in a regional context. The interplay between the surrounding sounds like birdsong and his wires really captivated me…I was a musician before I moved to regional NSW, but being here has opened my ears to the landscape."