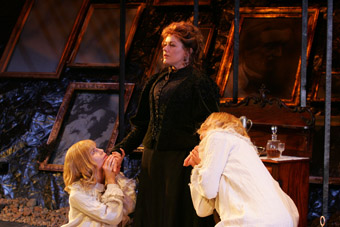 Jodie Le Vesconte, Caroline Kennison, Emily Tomlins
Constance Drinkwater and the Final Days…
In the lively, dialogic atmosphere of Lyndon Terracini's 2006 Brisbane Festival 2006, 3 productions speak usefully to each other.
Based on an outrageous premise that is only so perfectly obvious because Mabou Mines dared to do it, Dollhouse paradoxically expands the architectural metaphor to recreate the pre-realist dimensions of the 19th century stage in miniature, presenting a brilliant pas de deux with Ibsen, infused by that rare egalitarianism of spirit that lifts an audience. This spirit is carnivalesque, theatrical not literary, mixing mutually subversive elements from deliberately fake Norwegian accents, slapstick, melodramatic posturing, music hall song and dance to grand opera to deconstruct Ibsen's mythical paean to feminist emancipation. "Nothing here is real except the pain" (Lee Breuer).
If 19th century women were legal infants subjugated to their husbands, this production makes it physically apparent that men are infantilised and diminished by patriarchy. The dollhouse (Nora's Christmas present to the children) is a child-size replica of an adult drawing room built to the proportions of the male cast (all played by actors of short stature). Women are literally forced to their knees in order to enter this paradigm of a man's world, but Nora grows in stature until the house of cards collapses under the strain, and there is a magical transformation to a 'puppet opera' where the last anguished scene is sonorously played out. Maude Mitchell as Nora towers in the end, while Mark Povinelli as her husband Torvald runs through the audience like a frightened child.
In Lee Breuer and Maude Mitchell's astounding and moving adaptation, role reversal and parody serve to negate an outmoded form of humanism sometimes wrongly attributed to Ibsen. Functioning as dialectical devices, they undermine the centrality of the individual ego. Simultaneously the repressive institutions in which subjectivity has no place are overwhelmed by the abundant variety and innovation poured out in this show. In Ibsen's play, Nora declares that it would take '"the greatest miracle of all" to restore relations with her husband. Ibsen, that old anarchist, perceived that it is the authoritarian state of mind pervading a whole culture that is amiss. The comically subversive portrayal of the maid, Helene, the subtle relegation of the children, the 'miraculous' switch from dollhouse to opera house, and the tiers of puppet Noras and Torvalds all underscore this point. The final image of Nora's daughter astride a rocking horse and brandishing a wooden sword while the son curls up in bed with his Nora doll calls for a different future. This was a big shout in BrisVegas against a world convinced there is no alternative.
Melodrama and a drawing room setting pull in opposite directions in Stephen Carleton's Constance Drinkwater and the Final Days of Somerset. Sometimes the restraint of QTC's production feels like a restraining hand, but the marvellous Michael Fulcher seems to get it right and bursts through the fourth wall in a performance that is, appropriately enough for Carleton's play, 'on the edge.' That said, director Marion Potts sustains a claustrophobic, preternatural atmosphere, an insidious feeling of dreadful suspense building towards Carleton's shock ending. The playwright is masterfully aware of, and in love with, the slipperiness of language yet he leaves the audience with no possibility of retreat into ambivalence. Not only are the threads neatly tied, but any white citizen of this country must feel it in the bone.
The place is a moribund, tropical settlement in Queensland's 'Deep North' that clings to the notion of being "a hybrid capital of a renegade Northern State" at the time of Federation. Thunder crashes. A dissolute sceptic from the South, Professor Crabbe (Robert Coleby), and his Chinese companion, Hop Lee (Darren Yap), a businessman who pays due deference to worlds other than the mundane, have been wrecked in a storm and, with the assistance of a mad Catholic priest, Father Angelico (Michael Fulcher), take refuge in the Government Residency against the wishes of the Governor's widow, Lady Constance Drinkwater (Caroline Kennison). Constance is the Lady in Black, in stark contrast to her wan, febrile daughters. Five children named for the cardinal virtues are already dead. The girls, Hope (Emily Tomlins) and Fortitude (Jodie Le Vescombe), are all she has left. Between passages of black drawing room comedy with their own propensity for disorder and violence, hungry ghosts prowl, the priest emits avian shrieks, a violated girl urinates, the future is foretold and Hope dies. The final revelation is unheimlich (uncanny): the familiar made dread.
Melodrama provides Carleton with stock characters to drive home points about myths of nation building, and also the means to confabulate what has been historically repressed. In the light of Freud's analysis of secrecy and the uncanny having their roots in the home, Gothic features not only delineate a haunted landscape but bring history home to roost in a theatrical tour de force. The interlocking facets of Carleton's ingenious, timely play work well together to recall that, in order to dream its own good, white Australia historically manifests a marked aggression to alterity. Constance's defense of her beleaguered moral universe, her perverse attempt at "the right thing", reflects darkly now that the vexed question of defining national values is abroad again.
In Constance, hungry ghosts are invited to an improvised feast by Hop Lee who seeks to appease them and then cathartically release them back into the spirit world. This is an allusion to the Chinese-Malay tradition of the month-long Hungry Ghosts Festival. Ritual elements of this festivity inform Elision's Moon Spirit Feasting, an eclectic form of 'rough and ready' Cantonese street opera. With music composed by Liza Lim and libretto by Beth Yahp, this Australian work affirms that art is always a floating 'renegade state', and incidentally reminds us how much we have to be grateful for from multicultural policies now in storage.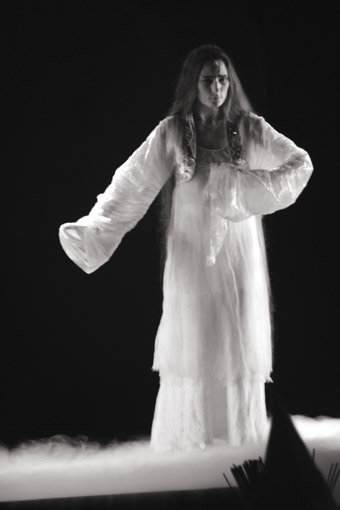 Deborah Kayser, Elision, Moon Spirit Feasting, photo: Sharka Bosokova
Touching on the shamanistic origins of performance (significantly an earlier work by Lim was based on a classical piece of mythic Greek theatre, the Oresteia), Moon Spirit Feasting is a frenetic helter skelter ride of anima-driven, procreative and mystical proportions. Mezzo soprano Melissa Madden Gray (as Queen Mother of the West and Demon Goddess) and the baritone Orren Tanabe (the Archer Hou Yi and Monkey King) contest differing versions of the legend of the Moon Goddess Chang-O (soprano Deborah Kayser). The performers seem possessed: vocal and physical virtuosi. The extravagantly kitsch, super-sensible realm of these vexatious gods makes us feel richly, positively, contradictorily human. And these are not just 9 musicians being conducted by the man 3 seats along, they are monks, ghosts and humans crying out in another and necessary voice. In contemporary chamber music style, the compelling, hybrid musical score uses Eastern and Western instrumentation to transport us from the bustling street to the stillness of the stars. The final, cosmic image of the Moon Goddess Chang-O brings us full circle back via Constance to Nora embodying a similarly solitary, ambivalent freedom.
It is the play of diverse elements in all 3 pieces—the ludicrous and the regenerative, the diabolic and the sceptical, the materialist and the mystical—that challenges the ideological perspective of 'high' art, and indelibly stamps Lyndon Terracini's provocative, transforming and energising festival.
Brisbane Festival: Mabou Mines, Dollhouse, adapted from A Doll's House by Henrik Ibsen, conceived & directed by Lee Breuer; adaptation & dramaturgy Lee Breuer and Maude Mitchell, designer Narelle Sissons, lighting Mary Louise Geiger, costumes Meganne George, puppetry Jane Catherine Shaw, sound Edward Cosler, Gardens Theatre, July 15-22; Queensland Theatre Company, Constance Drinkwater and the Final Days of Somerset, writer Stephen Carleton, director Marion Potts, designer Bruce McKinven, lighting Matt Scott, composer/sound designer Brett Colliery, Billie Brown Studio, July 10-Aug 5; ELISION, Moon Spirit Feasting (Yue Ling Jie), composer Liza Lim, librettist Beth Yahp, director/lighting Michael Kantor, conductor Simon Hewett, designer Dorotka Sapinska, choreography Melissa Madden Gray, Judith Wright Centre of Contemporary Arts, July 28-30
Constance Drinkwater and the Final Days of Somerset has a season at the Stables Theatre, Sydney Sept 30-Oct 28
RealTime issue #75 Oct-Nov 2006 pg. 8
© Douglas Leonard; for permission to reproduce apply to realtime@realtimearts.net