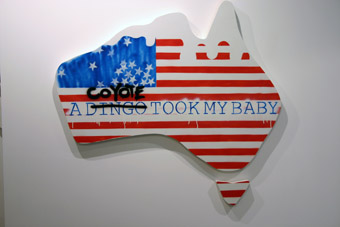 Regan Tamanui
The work of Regan Tamanui is refreshing even in the innovative world of contemporary art. I first encountered this Melbourne graffiti and stencil artist last year when he gave a public forum at Hobart's Art School and had the predominantly youngish audience eating out of his hand. His laid-back, iconoclastic attitude, combined with a dry, laconic wit is echoed in his artmaking which is resolutely anti-big business and against conformity, multinationalism, conservative politics and the police state.
Tamanui has been working in Melbourne's underground stencil and street art scene for more than 5 years and is arguably the most prolific stencil artist in reputedly largest street art city in the world. Yes, that's Melbourne and Tamanui and his colleagues have succeeded in raising graffiti and stencil art from low to high culture status. Going by the tag name of HA-HA, Tamanui has 'graduated' to formal gallery walls. He also has a liking for exhibiting in disused warehouse spaces.
At the Criterion Gallery, his work consisted of 6 installations or composites of enamel on board, all characterised by the strong colours of the commercial spray can. The signature image for the show was the clichéd logo, 'I © NY'. In a simple and funny gesture Tamanui slashes out the NY and sprays in the word 'HOBART', a play on popular culture and parochialism.
All of the works at Criterion were witty, and most were informed by more serious social and political criticism. Tamanui addresses Aboriginal rights, the David Hicks saga, the 'Australian Dream' and notions of Australian citizenship. The Iraq War makes an appearance with stenciled faces of Bush, Blair and Howard (The Meltdown of the Axis of Evil). Then, in the upbeat, large scale work, Identifiable, resembling the pieces of an unfinished jigsaw, Tamanui stencils dozens of iconic faces over a white surface.
Tamanui's work is also notable for the seductively appropriate shape each piece assumes. The David Hicks piece (The Australian Dream) is an angular, stylised Eureka flag, while in The Real Australia the Aboriginal flag appears in a rounded, 1960s daisy-like format (or is it a pool of splattered blood?), with the Aboriginal colours sharp and bright and the words "Aussie, Aussie, Aussie" graffitied across the centre.
Regan Tamanui is a fascinating character and a gifted, self-taught artist dedicated to his artform, producing work that excites and challenges. A newspaper vox pop asks "Is aerosol painting art or just vandalism?" It's art.
Sovereignty, Regan Tamanui, Criterion Gallery, Hobart, Feb 3-March 1
RealTime issue #66 April-May 2005 pg.
© Diana Weekes; for permission to reproduce apply to realtime@realtimearts.net