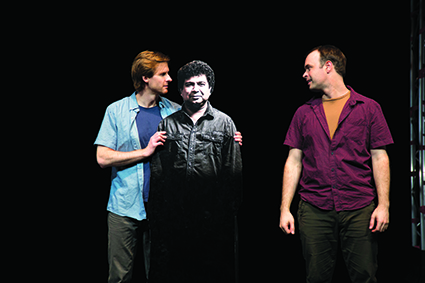 photo Carolyn Nowaczyk
A Sri Lankan Tamil Asylum Seeker's Story as performed by Australian Actors under the guidance of a Sinhalese Director, Merrigong Theatre Company
Relations between regional Australia and refugees are complicated. On the one hand, some of our most conservative politicians come from rural and regional Australia. They have not only endorsed Operation Sovereign Borders, but also demonised anyone who dared to cross those borders, even when they have been found to be genuine refugees. On the other hand, some regional mayors have proven far more progressive than their city counterparts. Mayors in country NSW and Victoria have wholeheartedly embraced asylum seekers as valuable community members and workers who are willing to do jobs the locals are not, such as meat packing and fruit picking. Yet most of the theatre made by, with and about refugees over the past 15 years has played to city audiences. For this reason, A Sri Lankan Tamil Asylum Seeker's Story as Performed by Australian Actors Under the Guidance of a Sinhalese Director, which is playing in Wollongong—a town of about 250,000, a two-hour train ride south of Sydney—intrigues me even before anyone appears on stage.
The play, written by Dhananjaya Karunarathne, dramaturged by David Williams and directed by both, weaves between two realities: that of a Tamil asylum seeker fleeing Sri Lanka and finding his way to Australia; and that of two white Australian actors trying to rehearse and perform a theatrical version of this story. The set consists of two steel arches: one upstage and one downstage. They are connected by a web of red ribbons, which run out into the upper reaches of the auditorium. Some have pieces of paper tied to them: they might be letters from asylum seekers held in detention or they could just as easily be old drafts of the script. It's this line between reality and theatricality that the performance constantly blurs.
The play begins with a crash course on Sri Lanka and its history. The house lights are, unnervingly, still up as the actors debate whether they should wear blackface and/or adopt an accent. It seems unwise. "Any Sri Lankans here?" they ask. "Are you upset yet?" The absent playwright, represented by a roughly life-size cardboard cut-out, is dragged onto the stage and the patter continues. The actors wonder whether Sri Lanka might become the new Bali and muse on the fact that everyone in Australia is a migrant. "Anyone here from Syria?" Silence. "Not yet," they joke. We are invited to sing "We Are One, We Are Many." I can't bring myself to do so, but others do. Finally the patter stops when one actor interrupts the other in character, shouting "Do you have any idea what your people have done to mine? And now you want to tell a Tamil asylum seeker's story for your fucking research or career?"
From here the play engages more fully with the story of a particular asylum seeker, Raja. We see him in a refugee camp, forced to leave his small daughter in the care of a woman he does not know in order to ensure his own survival. However this reality is never allowed to solidify or settle, so it is interspersed with scenes of the actors rehearsing Raja's life in the refugee camp and arguing over who can deliver his monologue with the appropriate amount of emotion. The same thing happens as Raja huddles on a boat while a journalist cajoles and eventually coerces him into telling his story, only for one actor to break the scene and demand: "Where are the props?" While some scenes reference real events, others involve real labour, such as when the two actors, dressed as customs officials, lug heavy body bags from backstage to centre stage. In another moment, there is a false interval: the lights come up and the actors tell us to get out of the theatre. Just as we are about to leave, the lights dim—they just wanted to give us a tiny taste of what it is like to have to leave a place before time and against one's will.
In the last third of the play, Raja, by now in immigration detention, meets a student, Garth, who is doing his Masters in Refugee Studies. The student's interviews play out over several months, during which time Raja's partner falls pregnant. Once again, reality is disrupted, this time by the actors rehearsing different endings to Garth and Raja's final encounter. In one, Garth is righteous and judgmental; in another apologetic and forgiving; in still another, there is a violent confrontation between the two. But this is deemed unacceptable because "it's not a good way to end your story."
Is there a good way to end this story? Or more to the point, will this story ever end? Immigration detention was introduced in Australia over 20 years ago and there is now an abundance of evidence confirming the deep damage it inflicts. Yet refugee policy remains at an impasse. Until recently I thought this might be true of theatre too, however some of the work I have seen this year has made me reassess this (see RT126, p6). Dhananjaya Karunarathne's play suggests that comedy and metatheatricality might provide some unlikely ways through.
Merrigong Theatre Company, A sri lankan tamil asylum seeker's story as performed by australian actors under the guidance of a sinhalese director, writer Dhananjaya Karunarathne, directors Dhananjaya Karunarathne, David Williams, performers Adam Booth and Anthony Gooley, dramaturg David Williams, designer Imogen Ross, lighting Matt Cox, sound design Rob Hughes; Illawarra Performing Arts Centre, Wollongong, Sept 16-26
RealTime issue #130 Dec-Jan 2015 pg. 42
© Caroline Wake; for permission to reproduce apply to realtime@realtimearts.net