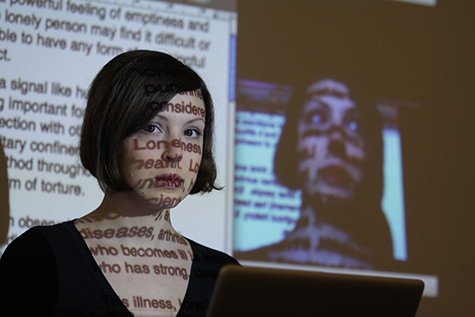 photo Amac Garbe
Brina Stinehelfer, Skype Duet
From 21st-century social technologies to a photographer travelling on foot across Germany, Melbourne's second biennial Festival of Live Art (FOLA) included a number of stage-based and installation works, complementing its expanding program of interactive experiences, unusual transactions and provocative encounters.
On stage, Per Aspera's Skype Duet (USA/Germany) at Footscray Community Arts Centre and Volker Gerling's Portraits in Motion (Germany) at Theatre Works sat interestingly, if not always unambiguously, within the 'live art' context. At the same time, local works—Aseel Tayah's you are not a boy (Footscray) and Amelia Ducker and St Martins Youth Arts Centre's Genius (Theatre Works)—fused installation/performance art and conversation/guided walk, respectively. Embedded in all four works, consciously or not, were questions regarding the degree to which audiences help 'make' the work, and of where the borders lie between participation, encounter and performance.
Skype Duet
In Skype Duet, Berlin-based US ex-pat, Brina Stinehelfer, sits at a desk onstage playing with her laptop. She scrolls through websites titled "How to make friends" and types in searches like "interact with new people online," interspersed with half-hearted visits to chat sites and loneliness forums, or nostalgic trawling through Facebook photos. Her browsing is fed to a large screen for the audience's benefit, including a webcam close-up of Stinehelfer's face. We register every shift in her bemused, amused or forlorn expression, intimately projected. Over time, it's significant that the screen tends to hold our focus, not Stinehelfer's live presence.
The performance evolves into a patchwork of dropped and successful Skype calls, in particular to her friend, performer Arlene Chico-Lugo, in a New York cafe. But having connected, Arlene seems distracted by buddies showing up, a waiter she fancies or the beep of incoming SMSs. While Stinehelfer's pained expression sometimes feels overdone, the sense of simultaneous connection and alienation online is deeply familiar. Especially telling is the practised hyper-naturalness of Arlene, each time she brushes Brina off. The digital world is stuffed with cloying sentiment, and it's writ large here: the sing-song 'I'm-so-sorrys,' the whiny 'I-love-yous,' clingy 'wish-you-were-heres' and big, distracted webcam smiles.
Woven into—or, actually, creating—Skype Duet's narrative is the audience's escalating involvement in the work, and in Arlene and Brina's conversation. 'Technical difficulties' at one point force Stinehelfer to leave her desk and enter the audience, awkwardly starting conversations with strangers. Back online, an audience member is introduced via Skype to Arlene, then Arlene introduces them to a cafe patron, and soon the exchange is purely stranger-to-stranger. The work opens out to include more strangers, until an eccentric lover of ballroom dancing in New York is 'virtually' waltzing with an audience member at our end.
While my later online viewing of a Berlin/New York performance of Skype Duet revealed that much of the apparently spontaneous action is scripted (certainly some of the New York 'strangers' are actors), the conceit reinforces rather than falsifies the work's premise: how many of our own online connections are genuine, actually, and how much are they performed? As the audience, we embrace the flattering illusion that we're creating the work with Stinehelfer and, indeed, by the end we are all enthusiastically waltzing with the strangers in the room, IRL. But what is largely a construction that deflates on close examination is perhaps Skype Duet's achievement, successfully transposing Stinehelfer's experience of the social internet's false promises into our own bodies, even as we enjoy the real connection she injects into the piece.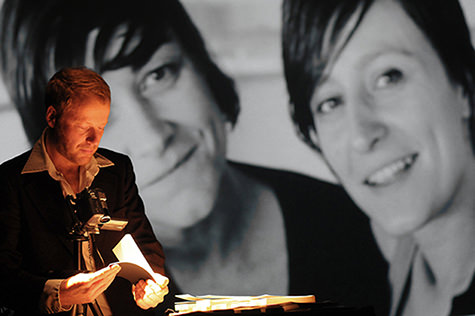 photo courtesy the artist
Volker Gerling, Portraits in Motion, Festival of Live Art, 2016
Portraits in Motion
Conversely, Volker Gerling's Portraits in Motion seems not to be 'participatory' at all: it is a 'moving slide-show' of sorts, in which Gerling uses live video to project his Daumenkinos ("thumb-cinemas," or photographic flipbooks) while he gives a friendly lecture about his techniques and "travelling exhibition." A photographic "journeyman" for part of each year, Gerling has captured images of strangers encountered during more than 3,500 kms of walks through the villages and towns of Germany. Travelling sometimes for months at a time, he takes no money with him, exhibiting his flipbooks from a tray strapped to his body and accepting donations from visitors to this mobile gallery. Each 'photo' he takes comprises 36 frames captured over a 12-second exposure; in flipbook form these become the flickering, intimate, time-based ghosts of his encounters.
Portraits in Motion is like the flipside of Stinehelfer's Skype Duet. In Gerling's work, it seems that the audience has no part in the process; superficially, it is simply photography. But Portraits in Motion unfolds as Gerling's document of an extensive live art project, in which he re-invigorates the role of the travelling artisan, spontaneously engaging audiences from big cities and tiny hamlets alike, creating and entertaining as he goes. Time flexes as Gerling's thumb sets the 'playback' pace of each book he shows us: it stretches, slows down, is reversed or paused. Most interestingly, the flipbooks reveal the live art collaboration at the heart of all portrait photography. His subjects —from happy nuclear families to retired farmers to shy teenagers to curious villagers—are illuminated as co-creators. Their consent, engagement, energy and intimacy with the photographer are all vividly apparent in the moving images.
photo Nikki Lam
you are not a boy, Aseel Tayah, Festival of Live Art 2016
you are not a boy
Young Palestinian-Australian artist Aseel Tayah's you are not a boy is a gallery-based installation work, and as such its inclusion under the rubric of live art could again be queried. However, a weekend performance given by Tayah drew her audience literally into the fabric of the work, implicating onlookers in ways that were both political and intimate: it was both a one-off gift to the senses and a compelling call to action.
Tayah, appearing on the gallery's outdoor balcony in a luxurious, floor-length gown, sings a haunting Arabic lullaby (I later learn it is about a girl-child listening to people tell her what to do). She pauses at intervals to recount stories as she walks amid the gathered audience—stories of women mutilated, verbally abused, chastised or prohibited from speaking out, and told every time that it is "because you are not a boy." On her skirt are pinned squares of fluttering fabric on which the Arabic word for "taboo" is inscribed. As she sings, she removes them one by one and pins them to the clothes of audience members. In an entreaty that is both gentle and firm, she asks us to think about the things our cultures suppress, saying, "When you see these things in future, will you be silent or will you choose to speak?"
Tayah's work is economical, minimalist even. Her installation is simply an illuminated column of translucent fabric inscribed with the Arabic for "you are not a boy" and a set of mirrors painted with the same words, with an invitation to share self-portraits on social media in support of speaking out. In the performance—graceful, gracious and ritualistic—the audience is pinpointed, literally, as the place where taboo might reside. Through the slightest of means, and the seductive, sensory entanglement of stunning song and pointed monologue, Aseel Tayah creates a fleeting yet memorable relationship between us all, uniting the fabric of our respective worlds.
photo Aaron Bradbrook
Will Hager, Genius, Festival of Live Art, 2016
Genius
Genius, by Amelia Ducker and St Martins Youth Arts Centre, introduces audiences to six young 'geniuses', all on the autism spectrum, who've each set up shop in purpose-built circular booths and alcoves within the polished grandeur of St Kilda Town Hall. Over an hour or so, small groups of visitors enjoy short, informative sessions in the Life Advice Boutique with Katrina Chong, the Museum of Endangered Animals with Ted Hargreaves, Will's Art Factory with Will Hager, and The Lingual Lab with Christian Tsoutsouvas. We then come together to witness Julian Jarman revive Gough Whitlam, press-conference style, answering questions from the floor in impressive detail; and a talk from Max Beale in his Kingdom of Crowns, where he displays his comprehensive knowledge of (not to mention personal correspondence with) the royals of the world. Finally, we enter the Hall of Fame, where we view portraits of famous people on the autism spectrum, and mingle and chat with the young performers.
On one level Genius is a community engagement; an opportunity for us to meet one another. On another, it's the performers' gift to us: they put themselves on display, sharing their knowledge and inviting us into the minutiae of their interests. It's a well-crafted live art experience, somewhat formulaic, perhaps—but here, formula doesn't imply laziness. For these young people, the predictability of the format supports the possibility of our interaction; we are asked to enter their worlds on their terms, not ours. But beyond the notion of a 'visit' or interaction, Genius held a meta-layer for me: as a theatre work it created space to place myself in the performers' shoes, to remember my own childhood and the gradual erosion of my unique, personal obsessions in the face of social expectations. Autism Spectrum Disorder (ASD) has regularly been framed in terms of lack of social awareness, but feeling this notion upended, I found myself considering an adult world in which there might be less 'small talk' and social generality, and more listening to the specificity of others' interests, as we had done in this space.
What qualifies a work as live art is bound to remain arguable—and perhaps that's as it must be for such a dynamic, evolving artform. From Skype Duet's apparent-but-constructed spontaneity to Genius' invitation and immersion, all four works reviewed here reinforced the breadth of the form by steering away from centre—often doing 'more with less,' largely avoiding the temptations of novelty and excess, and, not least, successfully negotiating 'immersion' without drowning.
–
Festival of Live Art: Per Aspera, Skype Duet, creators-performers Brina Stinehelfer, Arlene Chico-Lugo, Footscray Community Arts Centre, 10–12 March; Portraits in Motion, creator-performer Volker Gerling, Theatre Works, St Kilda, 1–6 March; you are not a boy, creator-performer Aseel Tayah, Footscray Community Arts Centre, 2 March – 2 April, performance 6 March; Genius, Amelia Ducker & St Martins, concept, director Amelia Ducker, Theatre Works at St Kilda Town Hall, 12–13 March
RealTime issue #131 Feb-March 2016, web
© Urszula Dawkins; for permission to reproduce apply to realtime@realtimearts.net