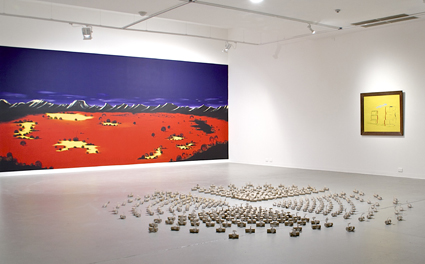 photo Alex Lofting
Blender, installation view of artworks by Allen Sparrow, Dagny Strand and Lorry Humphreys, Australian Experimental Art Foundation, 2013
Since Harald Szeemann reinvented the role of the curator in the 1970s, thematic exhibitions, in which each artwork forms an element in a coherent whole, have become well established. The creative partnership of artists and curators is frequently a primary strategy for developing new art and igniting its appreciation.
In Flinders University Art Museum's magnificently crafted Crystal Palace exhibition, curator Lisa Harms traces exhibitionary practice back to London's Great Exhibition of 1851. Harms invited seven high-profile artists including a poet to make works responding to items in the collections of Flinders University's Art Museum, the University Library, the South Australian Museum and the Museum of Economic Botany, the final form of the exhibition developing collaboratively from this initial concept. She erected a large room inside the FUAM gallery, exhibiting the works within and around this room and in niches in its walls, creating a walk-in cabinet of curiosities, recalling the Victorian approach to collecting and displaying exotic specimens. With around 100 exhibits in total, including Joseph Nash's 1852 illustrations recording the Great Exhibition, Harms's Crystal Palace evokes the Great Exhibition's sensibility and legacy of collecting.
The participating artists responded to selected museum items by making new work or enacting performances. Siamak Fallah, whose delightful illustrations adorn a wall, is himself an exhibit, working at a computer in an office within the installation, furnished with antiques from the Flinders collection to which he responds. Domenico De Clario, reflecting on an Albert Namatjira landscape, performs live and in video playing a spinet, an early form of piano that might have been used by 19th century collectors and colonists, and including a visual record of his recent camping-trip occupation of the university's grounds. Lee Salomone, a long-time collector and exhibitor of domestic objects, shows works made from these, including saucepan lids mounted with bronze castings of fallen leaves, in response to the Museum of Economic Botany's collection. Morgan Allender's oversize still-life painting responds in a painterly manner to botanical illustrations, and Julie Henderson's complex array of objects, including automated mechanical devices, is inspired by the consideration of the relationship between people, space and functional objects.
Contrasting with Crystal Palace is the AEAF's Blender exhibition, for which AEAF director Christine Morrow assembled work by six artists from regional South Australia. Morrow looked for artists who could benefit from the opportunity to expand their work and experiment. She sees the AEAF's role as catalysing experimental and developmental art throughout SA and the Northern Territory, stating, "Blender shapes and informs the dialogue between centres and peripheries in contemporary practice" (catalogue). Port Pirie Indigenous artist Allen Sparrow's depiction of the Flinders Ranges in red, yellow and black (under a deep blue sky) rather than in natural landscape colours is a work of emblematic power that reappropriates the space through the use of the mural form instead of portable canvas or board. Penola artist Dagny Strand's work, occupying half the floor, comprises hundreds of toilet roll tubes each cut to form the silhouette of a tree, referencing South-East SA's forestry industry. Pamela Kouwenhoven makes articulate use of discarded materials in her tableau of car-battery cases mounted on the wall and, standing on the floor, a forest of charred paper rolls retrieved from a paper mill following a fire.
In a parallel AEAF exhibit, James Dodd and NT artist Franck Gohier collaborated in making The Hole in the Wall Gang, an animated video of an imagined dialogue in which Gohier relates a characteristically NT anecdote.
Within the annual SA Living Artists Festival, involving thousands of artists across the State, these contrasting exhibitions demonstrate the diversity of SA art and the balancing act involved in curating it. Blender is a small but significant cross-section of regional art that addresses to city audiences these artists' particular concerns. In Crystal Palace, however, the art object becomes subsidiary to its re-contextualisation, pushing the curatorial role to its logical conclusion. The artists demonstrate how we might interact with and recreate our own histories and cultures, but Crystal Palace acts as a single work comprising multiple elements — the artworks, the specimens, the texts and the exhibition space itself. The necessity for viewers to approach each work both in isolation and in its curatorial context is especially evident in Crystal Palace.
Crystal Palace also interrogates the Great Exhibition as a symbol of transnational capitalism, modernity and colonisation and the effect of "hot-housing" industrial development and cultural cross-fertilisation. Harms says, "Crystal Palace sets out to encourage post-colonial readings of these ongoing, resonant reflections — both beautiful and troubling — against a contemporary climate of increasingly heated and conflicting attitudes towards protection, preservation and exploitation" (catalogue). The works from the museums have gathered significance and meaning since they were made and, through juxtaposition, we're prompted to reinterpret them and weigh their historical value.
The cultural enquiry that inevitably underpins curating propagates cultural re-evaluation and development. Flinders Collections Manager Nic Brown says in her catalogue essay, "By inviting contemporary artists and curators to respond to its collections, Flinders University Art Museum takes the opportunity to be reinterpreted itself." We thus reconsider museology generally. Morrow's Blender establishes a temporary museum of SA regional culture, testing our idea of regional art and the perception of the artist as regional while, importantly, amplifying each artist's voice. By inviting artists to respond to our subjective, cumulative pictures of history, these curators extend the culture of artistic creation that parallels and informs our ongoing self-historicisation.
Blender, curator Christine Morrow; The Hole in the Wall Gang, curator André Lloyd Lawrence, Australian Experimental Art Foundation, 26 July-17 Aug; Crystal Palace, curator Lisa Harms, Flinders University Art Museum, 27 July-29 Sept
Chris Reid is an administrative staff member of Flinders University but is not connected with the Flinders University Art Museum.
RealTime issue #117 Oct-Nov 2013 pg. 46
© Chris Reid; for permission to reproduce apply to realtime@realtimearts.net