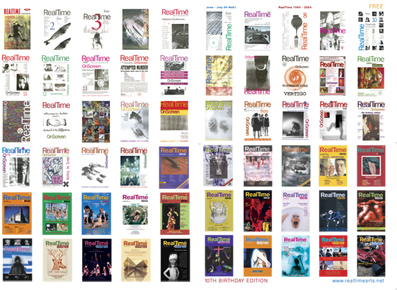 The early years of RealTime now seem like a distant dream, a fuzzy recollection of a fury of creation, learning on the job, reaching out across the country to engage writers and distributors, connecting with artists, knocking out grant applications, labelling bundles and loading trucks, covered in ink, wracked with endless financial trepidation, exhilarated every time an edition rolled off the presses and partying every time (we're no longer up to that). Final layout happened variously in an old flourmill in Newtown (now home to the Omeo Dance Studio), graphic design studios in Surry Hills and, for years, the crowded city office of Art Almanac with artist Paul Saint patiently at the computer through the long nights.
Home work
Our home was our editorial office for several years. A remarkable team would gather in the kitchen on a Saturday every two months to edit a new edition: John Potts, Annemarie Jonson, Jacqueline Millner, Catharine Lumby, Gregory Harvey, Linda Wallace and Michael Smith, with contributions from Colin Hood (a dab hand at droll headlines) and Richard Harris. Our first assistant editor (thanks to the enlightened Jobstart scheme) was David Varga. Judy Annear was our first manager, followed by Susan Charlton and then Lynne Mitchell. When RealTime became full-time we divvied up the management among ourselves. Gail Priest, an integral member of the RealTime triumvirate, started out proof-reading for us and moved into layout and design and advertising sales and web management! Having our own office and computers in the city made everything a lot easier. David Varga moved on, replaced by Kirsten Krauth who also took over and developed OnScreen from the pioneering work done by Annemarie Jonson and Alessio Cavallaro. Novelist Mireille Juchau followed Kirsten who went to work for the AFC. Before Gail, the hard yards of advertising sales had been valiantly run over the years by Michelle Telfer-Smith, Sally Thompson and then Sari Jarvenpää. Nowadays Gail and Virginia make an affable sales team.
Consultative editorial teams were set up in all states and some members have been with us for many years: Sarah Miller, Chris Reid, Josephine Wilson, Darren Tofts, Richard Murphet, Philippa Rothfield, Anna Dzenis, Diana Klaosen, Eleanor Brickhill, Linda Marie Walker, Barbara Bolt and Erin Brannigan. Others have come and gone, too many to name here, and, like the current contributing editors, have all been invaluable.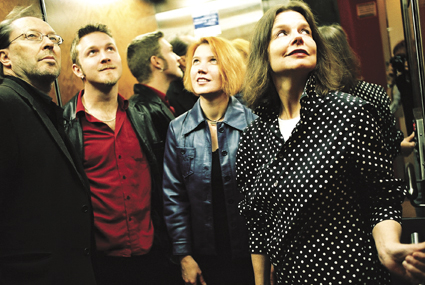 photo Heidrun Löhr
The RealTime team, 2004: Keith Gallasch, Dan Edwards, Gail Priest, Virginia Baxter
Motivation
In 1993 we were lamenting the diminishing coverage of the arts in the mass media and, specifically, the lack of engagement with performance, hybrid practices and what we then called techno-arts. It was the absence of a national perspective that irked us in particular. We watched performing arts and then film magazines struggle and collapse over the years. We wanted to know what was happening across Australia, what was innovative and who was making this work. The Performing Arts Board of the Australia Council was offering seeding grants for arts magazines, we got one and away we went. A trial edition in February 1994 was followed by an unbroken string of bi-monthly RealTimes from August that year, once funding was secured. We had argued in our grant application that we wanted to produce a magazine that looked across the arts because we thought that was the only way to survive and, more importantly, that reflected growing cross-artform practice. We were right on both counts. We encouraged readers to look for innovation and to go beyond their particular artform interests. We provided a broader context for artists' work and the writing about it. At any time almost half of RealTime's writers are practising artists.
The Big Picture
Over the years we critiqued reports by Gonski (bad news for screen culture) and Mansfield (worse for the ABC), tore into Creative Nation and the restructuring of the Australia Council (quite a stoush), screamed arts murder in the wake of the Howard election (see the cover for RT14), and looked at the cultural ramifications of Mabo and Wik. We've addressed issues of censorship, globalisation and Free Trade and countless funding issues. We've monitored the growth of the international marketing of the Australian arts, the changing nature of arts festivals, the rise of the improvisation movement, issues and successes in the arts and disability field, and surveyed Aboriginal film and new media. Through Philip Brophy's inspirational Cinesonic column we all learned to listen to films while Hunter Cordaiy's Writestuff put us in touch with the complex screenwriting side of our film industry. Kirsten Krauth edited WriteSites, an important record of the literary aspect of new media art. We've also surveyed the integration of digital media in performance and dance and extensively reviewed new media artworks and the festivals and conferences that constellate around them here and overseas. Experimental, contemporary classical and improvisational music have always had a place in RealTime. As has sound art, right from the beginning, with a number of the editorial team and some of our key writers in the 90s committed to the field, sometimes as creators for the ABC's The Listening Room. Associate Editor Gail Priest has maintained our commitment to sound culture with its growing number of young adherents. Recently we've addressed the burgeoning video art scene and Mireille Juchau has focused our attention on photography's return to centrestage.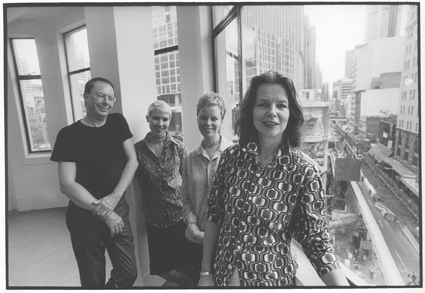 photo Sandy Edwards
The RealTime team, 1999: Keith Gallasch, Gail Priest, Kirsten Krauth, Virginia Baxter
Diversification
The years of knowledge and data that RealTime had accrued in its files and in the hearts and minds of its editors and writers allowed us to expand our publishing.
We're particularly proud of editing and producing the In Repertoire series for the Australia Council in collaboration with designer Peter Thorn. These books on contemporary performance, dance, new media, music theatre, performance for young people and Indigenous art are a logical extension of RealTime's commitment to promoting the work of hundreds of Australian artists, the majority of them innovators and working solo or in small companies. The praise from overseas producers and presenters for the series and the gratitude of artists has been a great reward as has the satisfaction in being a partner with AMD in its vital work. Nor is it just a matter of marketing Australian work to the world: exchange is critical. We have been impressed by the international collaborations initiated by the likes of Elision, Aphids and the PICA-Performance Space Breathing Space program with Bristol's Arnolfini contemporary art space.
There are never enough festivals and reporting them on the ground, in print and online is a RealTime pleasure, another way to diversify our presence and to meet the artists we write about. We've had writing teams at the 1996, 1998 and 2000 Adelaide Festivals, LIFT 97 (London International Festival of Theatre), Asia Pacific Triennial 3-MAAP99, the 2001 and 2003 Queensland Biennial Festivals of Music and Next Wave 2002. This year we'll also be at BEAP (Biennial of Electronic Art, Perth). We also welcome individual festival reports which come in regularly from Australian artists on their travels.
Bad Signs
The odds have been against artists over the decade. Arts funding has remained static or decreased in frequency for many artists. The positive outcome of the Myer Report is essentially a catch-up for visual artists. Federal government initiative funding for the youth and regional arts has been small scale and held out at election time. Censorship has been on the increase. The threat of Free Trade looms. The film industry struggles on with limited funding and little room for experimentation or vision. Sessional teaching by artists in universities has severely diminished. The commissioning of artists by the ABC has seriously declined across the decade. The managerial model increasingly dominates art at the expense of vision.
Certainly there has been acknowledgment of problems, with funding bodies seeking increased funding and commissioning reports. The Small to Medium Sector Report and Resourcing Dance: An Analysis of the Subsidised Australian Dance Sector, however, proved to be impoverished documents. The recent Theatre Board Report on triennially funded companies, on the other hand, focuses on one strand of organisational practice, clearly defines its problems, proposes what needs to be done and puts a price on it.
However, and this is one of the great ironies, Australian artists have still managed to create an embarrassment of riches, gathering increasing international accolades. This proliferation of art and its successes has so far let governments off the funding hook, but how long before the supply side cannot meet the demand because it is so diminished and so tired? Over the decade, we've also sadly watched many talented artists leave the field—quite unnatural attrition.
Good Signs
On the positive side, while federal arts funding in real terms has declined dramatically, state governments over the decade have steadily invested more in cultural funding—though not always reliably—as in South Australia's funding redistributions and the travails of Melbourne's ACMI. The Department of Foreign Affairs and Trade's collaborations with the Australia Council have improved opportunities for the international marketing of Australian arts. Australia's international arts festivals have featured more Australian work since the Kosky and Archer Adelaide Festivals of the 90s. Idiosyncratic festivals like Next Wave, Artrage, This is not art, Noise and others consistently nurture young talent. 10 Days on the Island and The Queensland Festival of Music (with its wonderful regional commissioning model) have shown how festivals don't have to be city-centred. They are mirrored by the growing arts strength of Darwin and centres like Launceston, Mildura, Cairns, Newcastle, Lismore and others from which our arts future is emerging. The advent of Artshub, the Quarterly Essay and the forthcoming arts equivalent, Platform Papers, from Currency House provide us with a growing opportunity to build a picture of Australian culture that we can discuss and debate.
The New
In 1994 and again in 1999 we reported the suspicion with which hybrid and new media arts were greeted in certain quarters, not a little because limited existing funding had to be shared with new forms. Much has changed since, in attitude if not funding. Australian works are consistently acclaimed in Europe and elsewhere for their multimedia and cross-cultural innovations. New media might not be that 'new' any more but what is remarkable is the constant inventiveness and relative ease with which Australian artists explore the relationship between the physical and the virtual, the potentials of interactivity and computer gaming, and the art-science nexus. It is an increasingly rich site for new ideas and tough-minded social critique and it is happening across all art fields, much of it documented in our pages over the decade. Dance, for all its financial difficulties, has excited with its commitment to new media explorations and a burgeoning dance screen culture. In film the assuredness of Aboriginal film directors (and actors and cinematographers) reveals not only great talent but the success of its nurturing through carefully tailored training and funding schemes, let alone a strong sense of community. And across the board there has been, in the last few years, a real intensification of political and ethical concern evident in the arts, finding its way quickly into theatres and galleries and, through documentary (but rarely feature) films, onto screens.
Virginia Baxter, Keith Gallasch, Managing Editors, RealTime 61 June-July 2004

You can download a full PDF of the 10 year liftout, or you can download specific years.
1994, 1995, 1996, 1997, 1998, 1999, 2000, 2001, 2002, 2003, 2004
RealTime issue #121 June-July 2014 pg. 14
© Keith Gallasch & Virginia Baxter; for permission to reproduce apply to realtime@realtimearts.net