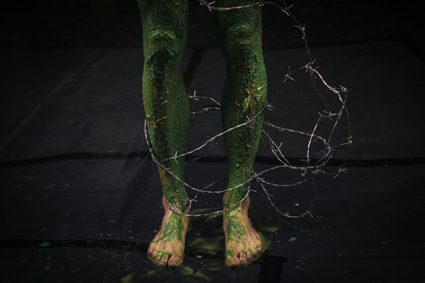 photo Guido Mencari
Martin O'Brien, Last(ing), SPILL Festival
In The Body in Question, writers Ilana Cohn, Barbara Campbell, Antonella Casella and Robert Reid respond to changes in practice, presentation, expectations and artist-audience relations in performance art, circus, dance, live art and new game theatre.
Cat Jones, Julie Vulcan and Madeleine Hodge report on further unusual engagements with the body at the SPILL Festival of Performance in London.
Dancer Rennie McDougall talks with dancer and choreographer Luke George about a work-in-development, Not About Face, in which George plays medium to an audience covered in bedsheets with eyeholes cut out in a fantasy version of spirituality which will reveal "languages of movement from past teachers and choreographers, the traces of which remain present long after."
Anne Thompson kickstarts our new series, Women+performance, a survey of the current generation of innovative contemporary performance, live art and cutting edge theatre artists across Australia, starting with an interview with Adelaide-based Tessa Leong and Emma Beech.
RealTime issue #115 June-July 2013 pg. 3
© RealTime ; for permission to reproduce apply to realtime@realtimearts.net