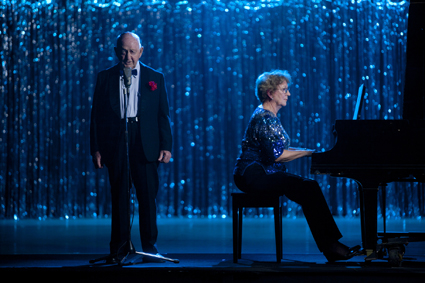 image courtesy and © the artist, photo Jamie North
Vince Lemon, Mavis Noakes, Old Man River, video still, Angelica Mesiti, The Begin-Again
AS WE INCREASINGLY ADDRESS THE PLIGHT OF THE NATURAL ENVIRONMENT, OUR CONCERNS EXTEND TO CITIES, NOT JUST THEIR POTENTIAL FOR GREENING BUT AS SITES OF HUMAN CO-OPERATION AND CULTURAL SHARING. ONE SUCH VENTURE IS THE C3 WEST PROJECT, A COLLABORATION BETWEEN THE MUSEUM OF CONTEMPORARY ART, CASULA POWERHOUSE ARTS CENTRE, PENRITH REGIONAL GALLERY AND THE LEWERS BEQUEST, CAMPBELLTOWN ARTS CENTRE AND COMMERCIAL PARTNERS.
C3 West has extended south to Hurstville with The Begin-Again. Angelica Mesiti, a video, performance and installation artist based in Sydney and Paris, worked intensively with locals to create four video works and a performative installation that could be enjoyed over two nights as you wandered the city centre.
Just outside the railway station on Memorial Square a large screen shows respected senior citizen Vince Lemon sveltely delivering "Old Man River" with an affectingly pronounced Australian accent. Down the main street in a small park by the Bus Exchange, we watch another video projection, intriguingly juxtaposing a driving percussion soundtrack with images of young children in various historical guises joyfully re-constructing the first local railway line and then innocently kicking it apart (a comment it seems on current public transport issues). Despite being dimly projected, the work is enthusiastically received by a large gathering of families.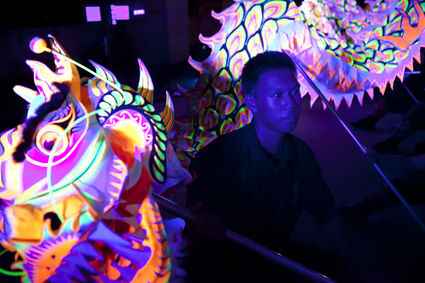 image courtesy and © the artist, photo Jamie North
Kwang Leung, Parking Lot Dragon, Angela Mesiti, The Begin-Again
Down a nearby lane we encounter another screen, this time featuring local ballroom dancers waltzing against a classic TV studio city skyline design. The video is beautifully edited, conveying the charm and confidence of the dancers—another kind of free-floating innocence. Suddenly out of the first night crowd, a popular featured dance pair glide before the screen and execute some deft turns to great applause. Around the corner on an otherwise bland brick wall, Lucinda Liu elegantly performs Water Sleeves, a traditional Chinese dance often shot in medium close-up with orange-red textures to capture the nuances of expression and gesture. At the top of the ramp, there's something quite different, Parking Lot Dragon—four revving, glammed-up cars (smoke machines sensibly providing the mock exhaust fumes), vividly lit from below and darkly sparkling as their sound systems rumble. Darting and looping between them comes a richly fluorescent day-glo Chinese dragon (mythological but also a local sports mascot) whose increasingly sinuous moves are brilliantly executed.
The Begin-Again is not an epic event, but an intimate one built out of protracted collaboration with locals who become onscreen or live performers. Urban Theatre Projects has long engaged communities in Sydney's West through an impressive range of performative means, while here The Begin-Again brings together the cinematic inclinations of a visual artist with local issues and passions.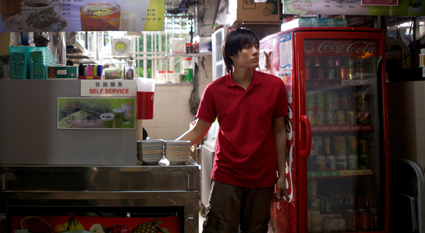 photo Samantha Tio
Leo Mak, Tiong Bahru, Civic Life, Singapore, Desperate Optimists (Christine Molloy & Joe Lawlor)
The UK-Irish pair, Desperate Optimists (Joe Lawlor and Christine Molloy), have taken their widely admired Civic Life project to Singapore, creating Tiong Bahru, a seductive 20-minute 35mm cinemascope film (shot by leading Singaporean cinematographer Daniel Low) featuring citizens as performers in a subtle, un-melodramatic account of the everyday tensions and pleasures in their lives. Tiong Bahru Estate, one of the oldest housing estates in Singapore and well known for its architecture and the excellent food of its hawker centre, provides the film's focus. With the support of 150 locals, the film centres on the lives of four individuals across the course of a day, each faced with the challenge of change. An older woman treasures her home and community, but is pressured to move elsewhere to live with her family. A young man inherits his father's coffee shop but invites paternal opposition in wanting to transform it into a tapas bar. A difficult teenager adjusts to a new foster mother. And a young schoolgirl struggling with her homework completes it as a story, realised on screen, of a group of children wondering what they should do when they find an abandoned baby in the food centre's garden.
The film is accompanied by 19 short films made by locals and a booklet with excellent essays about living in Singapore. Desperate Optimists are visiting Australia with screenings of Tiong Bahru and other works in the Civic Life series in Melbourne at ACMI, in the Sydney Film Festival, at Performance Space and a workshop with ICE in Sydney's West (see websites for dates and times).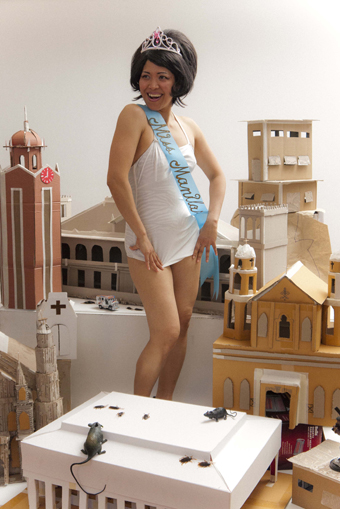 photo Datu Arellano
Valerie Berry, Within & Without, Performance Space and Blacktown Arts Centre
Also in Sydney's West is the Blacktown Arts Centre where, thanks to the inventive creators of The Folding Wife (RT79, p35), you could soon find yourself in Manila: "Audiences [will be] immersed in a physical reproduction of the city…made entirely out of recycled cardboard boxes, shadowplay and surround-sound environments" (press release). Within & Without is the creation of Paschal Daantos Berry and Deborah Pollard in collaboration with Valerie Berry and the Anino Shadowplay Collective from the Philippines. The group's aim is to explore "how capital cities—through their architecture, mythologies and histories—represent and personify the cultural identity of a nation." But don't expect a literal approach to the topic from these performance magicians.
C3 West Projects and Within & Without are just two of a growing number of creative ventures that explore our relationship with cities, suburbs and communities. Campbelltown Arts Centre's Minto:Live was another fascinating example and more will doubtless emerge as the pressures of urban life demand to be addressed through discussion, planning and the engagement offered by art. RT
The Begin-Again, A C3 West Project, MCA and Hurstville City Council, artist Angelica Mesiti, Hurstville, Sydney April 1-2; Civic Life, Tiong Bahru, various venues Melbourne and Sydney; http://civiclifetiongbahru.com/; www.desperateoptimists.com; Blacktown Arts Centre and Performance Space, Within & Without, installation from June 24, 10am-5pm Tues-Sat, performances June 22-July 2, www.artscentre.blacktown.nsw.gov.au
RealTime issue #103 June-July 2011 pg. 2-3
© RealTime ; for permission to reproduce apply to realtime@realtimearts.net