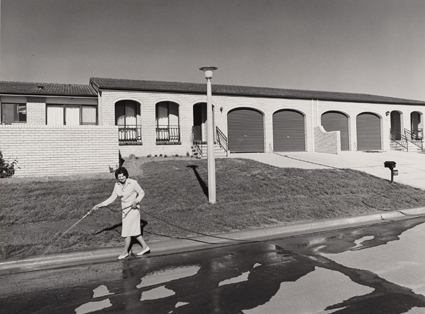 Gerrit Fokkema, Woman hosing, Canberra, 1979, in Australian Vernacular Photography, courtesy Art Gallery of NSW
The term "vernacular" is a very slippery one. Australian Vernacular Photography: The Allure of the Everyday is a compact exhibition co-curated by AGNSW Senior Curator, Photographs Judy Annear and Assistant Curator, Photographs Eleanor Weber. The exhibition is distinguished in particular in the way it repositions the "vernacular," redefining its relationship to "straight photography" (the common, and problematic, term for documentary photography). Three exhibitions that referenced the vernacular serendipitously overlapped in Sydney galleries in early 2014.
Australian Vernacular Photography looks at the work of 16 well known Australian practitioners from the postwar period to the present day. It looks at the overseas influences and exhibitions which impacted on Australian photographic practice and the development of a greater awareness of national and personal identity. One key event was the tour in 1959 of The Family of Man exhibition produced by Edward Steichen at MoMA in New York. This exhibition encouraged Australian photographers to look outwards at what their international peers were doing. As a young photographer I can remember poring over the images in the book that accompanied it.
The "vernacular" is commonly interpreted as photography of everyday life, frequently produced by amateur photographers and often described as snapshots. When researching the genre it surprised me that one of the photographers strongly associated with the vernacular was Walker Evans, a famous American photographic artist who was by no means an amateur. Australian Vernacular Photography strengthens the perception of a broader interpretation of the term with the choice of photographers it features, who were selected from the Art Gallery's collection.
The show embraces documentary photography, the predominant photographic mode in the 60s and 70s, stating, "Photographing the everyday became a way of understanding how Australia saw (and sees) itself with recurrent themes such as beach culture, suburbia, race relations, protest and the role of women among the central concerns."
As a photographer working out of this tradition at the time I would not have called my photography "vernacular." However, one of the strengths of this exhibition is that it offers us a new way of interpreting history. To collapse the snapshot aesthetic with the broad intentions of documentary photography performs a radical shift in perception benefiting both forms. It allows us to re-evaluate the rigid conventions of fine art photography, which needed to be in place to get photography seen as an artform in the first place. However, "The times they are a changing."
A leading figure in the field of photographic studies, Geoffrey Batchen, has argued in his books (Each Wild Idea, 2000 and Forget Me Not, 2004) for the substantial inclusion of vernacular photography in a general history of photography. He writes, "This history, dominated by the values and tropes of art history, was not well equipped to talk about photographs that were overtly commercial, hybrid and banal. I suggest that any substantial inclusion of vernacular photographs into a general history of photography will require a total transformation of the character of that history." "Snapshots are complicated objects. They are both unique to each maker and almost always entirely generic. That doesn't make them any less compelling as pictures, especially for those who treasure them." (Quotations from an interview with Geoffrey Batchen by LG in LesPHOTOGRAPHES.com.)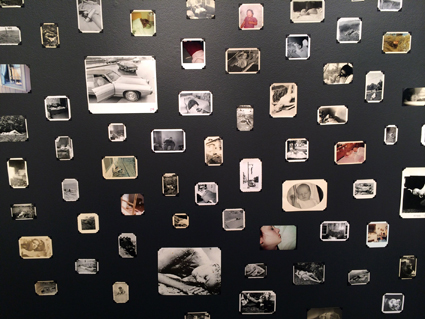 Patrick Pound installation, People who look dead but (probably) aren't, Stills Gallery, Sydney
Now that collectors are taking a serious interest in discarded snapshots, artists have also embraced the found and generic snapshot to use as source material for their postmodern art practice. Patrick Pound, whose show at Stills, People who look dead but (probably) aren't, obsessively collects old photographs and assembles them in clusters based on their generic similarities. In Pound's wall installations relationships are formed between images gathered from multiple sources creating an intriguing and humorous collective visual narrative.
Pound became a collector himself, scouring the internet and antique shops for source material. The found images are strangely endearing in their sense of abandonment and separation from their author. Bronwyn Rennex, Stills Gallery Curator of this exhibition, writes, "By highlighting the 'probablys' and 'possiblys' in our relationship with these images, Pound reminds us that meanings are fragile, and interpretations slippery." Sounds like real life to me!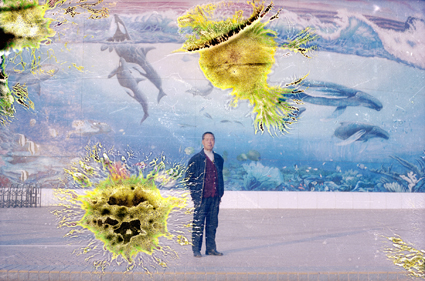 From Beijing Silvermine, 4A Centre for Contemporary Asian Art (2014), Sydney, photo courtesy Thomas Sauvin
Sydney's 4A Centre for Contemporary Art staged a remarkable installation, Beijing Silvermine, by Thomas Sauvin, a Beijing-based French photography collector, editor and curator. It comprised more than half a million photographic negatives amassed, edited, archived and printed by Sauvin. These negatives were destined for destruction in a recycling plant. Xiao Ma, the owner of the plant stockpiles negatives, X-rays and compact discs to melt down their silver nitrate content for sale.
Sauvin offered to buy these negatives by the kilo in a vain and poignant attempt to symbolically rescue "abandoned memories." The lifespan of photographic negative film from 1985 was approximately 20 years. This was the era when 35mm film came onto the market and was widespread in China as it was throughout the world. In 2005 the advent of digital photography brought its use to a relatively dramatic and sudden end.
The poignancy of this exhibition is not only its metaphor for the death of analogue photography but also the memorial it sets up to the millions of anonymous subjects of these photographs. These are the snapshots we universally recognise, covering themes of family, relationship, love, leisure, birth and, by implication, death. I was deeply touched by images of fresh-faced young couples embracing, young women posing for their partners, suited male workmates relaxing after work, families in kitchens and living rooms.
The complex installation represented the enormous depth of the archive. All the images and negatives are in colour (black and white photography had already 'passed away'). Selected images have been enlarged to cover whole walls. Others are hung salon style, also covering walls. Light boxes are covered with strips of negatives left higgledy piggledy, as if photographers had suddenly departed. In one corner thousands of crumpled, postcard-sized prints are piled up suggesting neglect and rejection. Placed within the pile are three monitors rapidly flashing images from the archive. The pace of image presentation is so fast as to render the images ephemeral.
In another room a multi-image screen projection (created by collaborator Lei Lei, a Chinese multimedia animation artist) similarly flashes multiple images from the archive with an overlay of decaying and disintegrating film stock. The pace of the image editing varies, occasionally resting briefly on particular images.
This work had a profound effect on me leaving a residual feeling of loss and an awareness of irreversible historical change both technological and personal. This sense of loss is compounded by the thousands of stories told of individual lives, families, personal relationships and events.
Somehow this powerful metaphor for the brevity of life sums up the significance of photography in general and positions the vernacular photograph right at the heart of it.
Art Gallery of NSW, Australian Vernacular Photography: The Allure of the Everyday, Jeff Carter, Ed Douglas, Peter Elliston, Gerrit Fokkema, Sue Ford, Fiona Hall, Robert McFarlane, Hal Missingham, David Moore, Trent Parke, Roger Scott, Glenn Sloggett, Ingeborg Tyssen, John F Williams, William Yang, Anne Zahalka, 8 Feb-18 May; STILLS, Patrick Pound, People who look dead but (probably) aren't, 19 Feb to 22 March; 4A Centre for Contemporary Art , Beijing Silvermine, Sydney, 11 Jan-22 Feb
RealTime issue #120 April-May 2014 pg. 50-51
© Sandy Edwards; for permission to reproduce apply to realtime@realtimearts.net