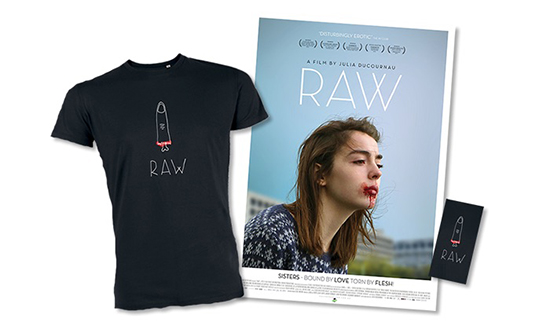 Raw
In writer-director Julia Ducournau's feature film Raw, a young woman, raised as vegetarian, loses her innocence (and mind) when she commences studies at a veterinary college. Our reviewer, Katerina Sakkas, calls it a work of serious horror, "multilayered, rich and strange," with abundant references to classics such as Carrie and American Mary.
We have 5 T-shirts to give away, each with a with double pass courtesy of Monster Pictures.
Available all states except Tasmania.
Email us at giveaways [at] realtimearts.net with your name, postal address and phone number to be in the running.
Include 'Giveaway' and the name of the item in the subject line.
Giveaways are open to RealTime subscribers only. By entering this giveaway you consent to receiving our free weekly E-dition. You can unsubscribe at any time.
Offer closes Friday April 28.
RealTime issue #138 April-May 2017 pg.