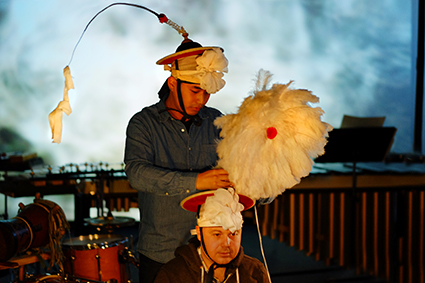 photo Timothy Constable
members of trio Noreum Machi, Earth Cry
Trio Noreum Machi stages contemporary music that draws on South Korean shamanic rituals and the Sori vocal tradition as well as performative drumming including that pioneered by group SamulNori. For Noreum Machi director Kim Juhong, Earth Cry, their recent collaboration with Synergy Percussion, is both a presentation of existing Korean culture and the reflection of that tradition as interpreted in collaboration with Australian percussionists. It is this refraction, born of study and conversation, which interests both groups who are aware of the strange cultural territory they enter when staging cross-cultural projects.
Earth Cry is as much about showing the process of collaboration as about presenting fully-fledged ideas and existing pieces. Synergy director Timothy Constable explained, "There's an ideal that polishing it is not desirable. It's about being true to process. Let it come out, immediate and raw."
The program's title alludes to a celebration of the natural world—like the direction of the wind, the velocity of water and the magic in everyday objects—but also tips its hat to Australian composer and longtime Synergy supporter Peter Sculthorpe who passed away in August 2014. Opening the show was Tree Rain/After Earth Cry, arranged by Synergy and Noreum Machi to include a curious combination of the iconic rhythm Chilche (meaning seven beats) and a melody from Sculthorpe's seminal work Earth Cry which was inspired by an Aboriginal melody from Arnhem Land. This showcased many of the instruments, musical idioms and playing styles that would reappear throughout their performance. The groups' bold yet sensitive juxtapositions continued notably with a duet between Constable on marimba and Kim Juhong playing janggu (Korean two-skinned hourglass drum, often struck with a bamboo slapping stick on one skin and a softer-mallet on the other surface) in a stunning rendition of the Sarabande from Violin Partita 2 by JS Bach.
Most visually exciting were two performances spotlighting Noreum Machi. The first was a 'small drum farming-festival dance' in which Lee Howon danced with a Sogo drum. Attached to his Sangmo headdress was a short rod connected to a long white ribbon that slinked across the floor as he entered. When the drumming became more vigorous he darted his head in figure eight movements that thrust the ribbon through the air in lovely circular shapes—a bit like a fire-twirler. There were times when these neck movements appeared dangerously close to inducing concussion. Impressively the movements enhanced a sense of musical climax that built in accompanying drummers' parts. Another fantastic climax came in a trio for janggu with flashy overhand drumming techniques—the drummers' arms blurring in the light as they rapidly struck opposite drum-skins with the left hand.
Behind the drummers were three big screens displaying videos that Samuel James filmed in the Australian bush. James had not been a part of the two-year musical collaboration that lead to Earth Cry so his pairing of images with Korean shamanism was largely instinctive and based on his understanding that "shamanic music is meant to alter the state of mind through complex rhythms" (Sam James, shimmerpixel.blogspot.com.au). His imagery contributed to a mesmerising feel for "the natural that creeps through the constructed"—just as did the passion of the performers through their complicated percussion. Watery film behind the overhand piece featured waves that seemed to follow alternative rules of physics and complemented Korean rhythmic subdivisions unfamiliar to Western ears.
Constable said when he found Korean drumming, he thought it "would sustain my personal percussion practice for the decade. It had the key to the things I wanted to develop." Synergy first travelled to learn from Noreum Machi in Korea in 2011 and have made many study-trips since. See Synergy's YouTube channel for video of them experiencing shamanic rituals that last several days, usually without sleep. Constable said of Noreum Machi, "They have inquisitiveness about other styles but are shy about assuming they'd be able to play our stuff. But they already tour internationally, have studio space in Korea to host us and are willing to enter a dialogue. Tonight's audience saw Synergy playing Korean music but really we are meeting in the middle with Noreum Machi in a space of post-traditional reverence."
Presented by The Korean Cultural Centre in association with Synergy and TaikOz Ltd, this program was described by Constable as "our confusing little nebula of virtuosic and complex percussion music" acknowledging the ability for such fusion to come across as niche and at the same time as a form of cultural tourism. Each performer demonstrated exceptional skill and devotion to this pursuit and exuded joy in collaboration. It was a captivating show that successfully made unfamiliar instruments, rhythms and musical languages accessible, inviting further interest in Korean arts.
Noreum Machi and Synergy Percussion Earth Cry; City Recital Hall, Sydney, 20 Aug
RealTime issue #129 Oct-Nov 2015 pg. 42
© Felicity Clark; for permission to reproduce apply to realtime@realtimearts.net