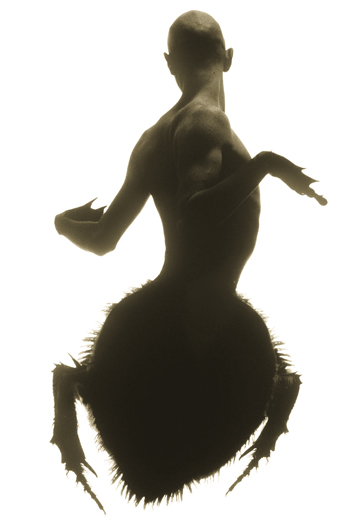 photo Alan Mahon
Random Dance Company, Aeon
Wayne McGregor's Random Dance Company has been hailed as Britain's answer to the integration of new media into dance.
As numerous British choreographers experiment on the small scale in academic and out of the way contexts, McGregor has succeeded in bringing the technology debate onto middle scale stages across the nation. Through a trilogy of full evening productions which began in 1997, with The Millennarium, Random has explored alternative environments for dance.
Working with technology as a source of inspiration for choreography and as a filter through which to run his ideas about movement, McGregor has not ventured far into the 'build-it-yourself' technological experimentation which characterises much of Britain's more experimental artists in this arena. Brief incursions into motion capture have produced stimuli for choreography on bodies, rather than leading to the construction of installation-based work explored by artists such as Susan Kozel. Collaborations with animators have led to the construction of projection-based spaces for dance rather than to the creation of CD-ROMs or online choreography, as explored by artists such as Bruno Martelli and Ruth Gibson.
Random is first and foremost a touring company, funded to create work for large audiences and to engage with them in a discourse about dance, sneaking technology in by the back door through its relation to choreography. The fact that the company has been able to scale up the level of input of technology is testimony to McGregor's growing choreographic invention. Taking energy from his collaborators, rather than becoming lost amidst the melee of intervening media, McGregor has defined for himself a context which sits somewhere between mainstream dance innovation and esoteric new media experiment.
Random performed Aeon, the final piece in the trilogy which began in 1997 with The Millennarium, at the Queen Elizabeth Hall. I have seen this company at close quarters, having worked with McGregor at a time when Random was growing in ambition and scale. Now with 8 dancers and a full evening piece which is burgeoning with design input from a range of collaborators, Random is clearly on a roll.
Aeon opens with a giant amorphous image projected onto several layers of screens. This image dances eerily into shapes which ever more resemble the human form, until suddenly the section ends and tiny Claire Cunningham leaps on stage amidst an assault of projections. Timo Arnall, who produced the searing imagery of McGregor's last production, Sulphur16, has collaborated with an architectural photographer to animate a moving environment of cityscapes with a lumbering, ominous choreography of their own. The disorientating effect of these images, surging over the angled screens and buttresses of Vicki Mortimer's set, frames Cunningham in an alienated world.
McGregor then introduces his dancers one by one, in a series of razor sharp solos. Springing from behind screens into pools of light, the soloists battle the oppression of the environment and find inspiration and relief in their introverted movement sequences. Sharing a common vocabulary of flickering, reflexive movement with blurs of gestural activity at the extremities, each dancer is given the space to show themselves. The addition of new males to the company introduces a weightier accent to the choreography, to contrast the sparky electrical feel of seasoned Random dancers such as Odette Hughes. McGregor himself does not perform in Aeon, and although I missed seeing his dysfunctional movements fire off his attenuated limbs, I am sure it is this new perspective which has enabled McGregor to tune his choreography more finely to his dancers.
At the end of a trilogy's worth of technology, McGregor returns to the engine of his inventiveness, the old-fashioned and enduring human body. Stripping away the technology in the final section of Aeon, McGregor focuses upon his choreography and demonstrates the intensity of his connection with the raw expressiveness of movement. The screens rise, the projections fall away and the music softens from the blare and bite of zoviet*france to classical Corelli. Ben Maher's refined costumes are typically inventive. They sample references to historic periods in jewelled sleeves and extravagant cuffs to contrast the cyber-feel of the earlier sections. Maher's pastel shades and the calm of Lucy Carter's lights introduce a gentler mood to the choreography which takes the dancers into intense communion through duets, quartets, sextets and some glorious octets, where one feels McGregor flex new found muscles with admirable control.
More a beginning than an end, Aeon is the definition of context in which McGregor will now develop his choreography. While new media sneaks increasingly into the British mainstream through the use of projections, film and sound experimentation in work by established choreographers, genuine inventiveness in its use is generally still confined to the fringes. The inclusion of technology-heavy installation work, such as Carol Brown's Shelf Life, or Kozel's Contours in the same season as Random, nevertheless shows that the climate in the UK is changing. With Random trail-blazing an acceptable path between dance and technology the ensuing exploration of the many facets of this relationship can more readily be explored by a new generation of artists.
Wayne McGregor has taught choreographers in Australia through Chunky Move, as well as having collaborated with Company in Space.
RealTime issue #37 June-July 2000 pg. 4
© Sophie Hansen; for permission to reproduce apply to realtime@realtimearts.net