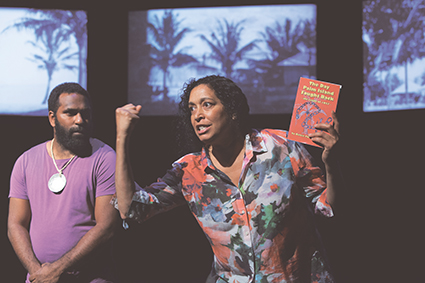 photo Ponch Hawkes
Harry Reuben, Rachael Maza, Beautiful One Day (2012)
RACHAEL MAZA IS THE ARTISTIC DIRECTOR OF ILBIJERRI, VICTORIA'S ONLY PROFESSIONAL INDIGENOUS THEATRE COMPANY AND, TOGETHER WITH WESTERN AUSTRALIA'S YIRRA YAAKIN, ONE OF ONLY TWO SUCH COMPANIES IN AUSTRALIA. SHE HAS JUST RETURNED FROM DUBLIN WHERE THE COMPANY'S PRODUCTION OF JACK CHARLES V THE CROWN PLAYED AT THE SAMUEL BECKETT THEATRE AS PART OF THE DUBLIN THEATRE FESTIVAL. ASKED ABOUT THE EXPERIENCE SHE IS ECSTATIC, "OH MY GOD, JUST BRILLIANT. THE WORK ITSELF …IT STANDS UP AT AN INTERNATIONAL FESTIVAL."
While not a woman's story, Jack Charles' was one that Rachael believed needed to be told and this remains her major consideration when selecting a work. "The thing that really fires me up is the politics…a carry-on from the generation before me and my forefathers."
Rachael's father Bob Maza founded, with Jack Charles, Australia's first Aboriginal theatre company, Nindethana, in Melbourne in 1972 and produced a version of The Cherry Pickers by Kevin Gilbert, considered to be the first Aboriginal play. Later the same year Maza moved to Sydney where he was actively involved with Redfern's National Black Theatre. Rachael remembers these as "high energy times" with "the men very loud and public," so much so that they caught the eye of the media to the virtual exclusion of many incredible women.
Given this background it's perhaps not surprising that Rachael became an actor, although there was a time when she was determined to find a different career. Her first love was music, playing bass guitar in bands. However, while working at a community school in Woolloomooloo she found herself thinking, "Maybe I'd like to do acting." A work colleague mentioned a course in Lismore that offered acting and dancing classes and she decided to give it a try. Lyndon Terracini, now Artistic Director of Opera Australia, was her acting teacher and she credits him with influencing her to do a 'proper' acting course. This College of Advanced Education course had provided her with the stepping stone she needed to enable her to complete a three year acting degree at the Western Australian Academy of Performing Arts (WAAPA).
As Rachael explains, coming to acting via a circuitous route meant self doubt has always been an issue for her: "I've taken nudges, required people to bolster my confidence because it wasn't there innately." She has never seen herself as ambitious or driven and has tended to take a year-at-a-time outlook on her career: "It's like I'll see how it goes; if it's going all right I'll keep going…otherwise I'll do something different." In her current role she is aware that she often tends to step back, handing the credit to all the other creatives involved. "You know you're good at what you do…but I grapple with this inbuilt uncertainty that kicks in at all points." Asked how she deals with this her answer is simple, "I don't know. I just power along."
Rachael Maza's way of working is intuitive and collaborative. "I listen from my gut and through that am able to navigate my way creatively through the space. Often I find myself sitting back in the room and letting the creatives put their input in and then tend to come in and feel like I'm steering it…that's how I cope, that's how I work best." She also works best when she manages to strike a balance between work and family life—an ongoing struggle.
The challenges inherent in her current role are many and varied. One of the biggest is the shortage of Indigenous arts workers at every level of the creative process: actors, writers, directors, designers, production managers, producers, you name it. There is a mass of talent within the community but for some reason not many have gone on to pursue professional careers in the arts. llbijerri does its best to nurture and develop talent but no one theatre company can do everything. Indigenous artists need to have other opportunities to develop their skills and gain experience over the longer term, to have viable career paths.
Rachael does not believe there is a male/female imbalance within the Indigenous arts community, but she does find that the women tend to be less inclined to "talk themselves up." In contrast men come across as far more confident in who they are, what they have to offer and where they see themselves in the future. "I am very aware of concerns from the community that we need more women's stories." This is probably why Ilbijerri has three women's stories (by Katie Beckett, Tammy Anderson and Wilma Reading and Jane Bodie) currently in development.
The reality of limited funding is always challenging; development/rehearsal time is limited and "we have to be very vigilant to ensure Indigenous protocols are followed." Without exception, when developing a new project at Ilbijerri, the protocols involved can mean a very lengthy process of talking to and working with everyone impacted by and involved in that story. The budget is never enough to research, develop and rehearse a work as much as one would like which puts added pressure on all concerned. "Jack Charles v The Crown was one of those blessed experiences, despite the limited budget, because we had the right team in the room and because that story was determined to be told—we got there! Four years later it's still touring. Beautiful One Day [with version 1.0] was another exception to the rule because it was backed by Sydney's Belvoir, giving us the luxury of five or six weeks' development followed by five weeks' rehearsal."
Despite all the challenges Rachael Maza is optimistic about current opportunities for Indigenous arts and artists. "It's a fantastic time to be in the arts; it's a struggle, but there is massive room for growth…a real opening up for Indigenous story-telling. I think a crack's happening in the veneer. There's been a long history of not wanting to go there because it's so ugly, painful, raw. I think something's cracked, there's a want to hear these stories…I think that some time in the future we'll be able to celebrate because this is what makes us unique in this country, something really special, something we can all learn from."
Rachael Maza's fIlm and TV roles include the AFI award winner Radiance (1998), Cosi (1996), Lillian's Story (1996) and My Year Without Sex (2009). She's also worked as a TV presenter, narrator and Indigenous Liaison Advisor on films such as Rabbit Proof Fence (2002). In 2012, she worked as dramaturg on the production of Coranderrk: We Will Show the Country. As performer she's appeared in the Belvoir production of The Sapphires (2005) and Bell Shakespeare's The Tempest. She won a Sydney Theatre Critics Award for her role in Radiance (1994) and a Green Room Award for Holy Day (2002). Her directing credits include Stolen (1992) for Ilbijerri Theatre Company, Sisters of Gelam (2009), Jack Charles Vs The Crown (2010), Foley (2011) and Beautiful One Day (2012).
RealTime issue #124 Dec-Jan 2014 pg. 48
© Jan Chandler; for permission to reproduce apply to realtime@realtimearts.net