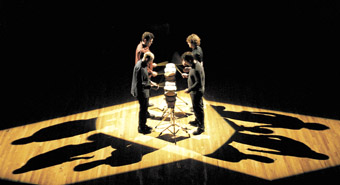 courtesy the artists
So Percussion
LET'S FOCUS FIRST, NOT ON THE SCALE OF THE CANBERRA INTERNATIONAL CHAMBER MUSIC FESTIVAL AND ITS SOUNDS ALIVE PROGRAM—LARGE ENSEMBLES, CHAMBER GROUPS, SEXY VOCALISTS, TECHNICAL PROWESS—BUT ON THE POWER OF A SINGLE FIGURE, AT ONE INSTRUMENT, A CROWD RISING IN A TERRACED WAVE FROM HIS HUMBLE PLACE ON A WOODEN PLATFORM. AS ROB SCHWIMMER PLAYS—SWEET, RIPPLING, STRIDENT, LAUGHING; WHETHER TICKLING IVORIES, OR PLAYING THE AIR OVER THE WACKY THEREMIN TO CREATE SOUNDS REDOLENT OF HAWAII, CRÈME DE MENTHE AND RY COODER PULLING A THROATY RIFF—DISTANCE BECOMES SMALL.
I worry when, in interview, a classical violinist, James Cuddeford of the Grainger Quartet, states that people lose intimacy in the back row (of a 200-seat theatre), presuming contemporary audiences can no longer hear acoustically even through moderate distance. To me this is a furphy. This is not how sound exists. Schwimmer at the piano on stage also plays my throat, my membranes. Vibration becomes a wave becomes vibration, traveling from air through to fluids via folds of skin. Music is this intimacy, a kiss. Perhaps the deepest of contacts we can achieve.
So, whether we listen to Schwimmer playing solo, or in madcap mayhem with co-performers Mark Stewart and Melissa Fathman in Polygraph Lounge, we are not held to arrest by distance. The lounge show yokes Led Zeppelin with Aaron Copland and Moby Dick; plays everything from keyboards to guitar, conch shells and jellyfish with an extraordinary intelligence and musicianship; its success relying on an audience's knowledge of musical timbres, techniques and histories. The physically painful over-amplification of their sensitive performance abuses our subtle organs and misunderstands the nature of both sound and 'fun.'
When the Dean-Emerson-Dean trio performed in a dashingly proclaimed "only fully-acoustic concert on the program!", I travelled easily with them from rasping vast bored spaces to the feather fall of a pin. Paul Dean performs as if his body lives and grows within the bore of his clarinet. His brother Brett's Night Window—an intimate exploration of palpitations, canyons, crevices and small hearts crying in the night—displays an epic depth of craftsmanship: stringy, silken, profound. It is a consummate danse macabre with moments of Shostakovich-like paranoia thrown in.
The Brisbane group Topology created some curious distances. Robert Davidson built his Taken (2002) out of stories from the Stolen Generation. Perhaps Ruth's Story reveals too strong an influence of the docu-dramas of John Adams and Steve Reich. Mimicking the rhythms of Aunty Ruth's spoken voice, Davidson creates a curious distance with his use of cut edits and repetition of 'key' emotional phrases in video footage. The effect, for me, is a truncation of her individuality and in the end the potency of her story. Her magnified face almost becomes a vaudeville mask. Davidson admitted in an interview with Vincent Plush on ABC Radio National's The Music Show (May 16) that he would now utilize those spoken rhythms less prescriptively.
Iain Grandage's Mirramirratjara (2006) for small mixed orchestra is more delicate. While respecting what is and is not his to reveal or imitate ("these are not my songs"), his work yet seems caught between an orchestrated ostinato of white grief/guilt and the very different qualities—pride, joy, a comfortable humility?—evident in the Aboriginal elders' singing and dancing in the projected footage. Perhaps the effect would differ if the elders were indeed present "around a campfire" as initially intended. Still, I perceive, in the footage of clapsticks hitting into sand, an intimacy strikingly at odds with that of the orchestral performers with their instruments.
Donnaccha Dennehy, the director of Dublin's Crash Ensemble, took as his ground base the "moments of ecstasy (both luscious and dark)" of several impassioned traditional Irish Sean Nós songs of love and death. Structurally, the work oscillates between equal tempered and a quasi 'just' tuning, and between free form and measured time. Traditional singer Iarla O Lionaird had his bars counted for him throughout the piece, which provided an intriguing visual cue to the piece's complexities. Relentless as waves breaking over craggy rocks, this piece premiered at an Irish regional arts festival to an audience strongly familiar with the tradition it explores. Epic, driven, exciting and grossly over-amplified, it was an exercise in powerful emotion, textures and motions. I've never heard a trumpet asked to ramp its way through tonal landscapes like this.
In comparison, an evening with New York-based, Czech émigré Iva Bittova (with Sounds Alive director Lisa Moore at the piano) was a night in the arms of a familiar—particularly, perhaps, for the large Czech contingent in her Canberra audience. Bittova's forte, most evident in her own compositions or those of Janacek and Bartok, is her sharp, nasal voice, pulling sounds in a spectrum from human to animal, redolent of the soils of her native country. It is a sound which instils in me, too, a thirst for belonging.
Yet this is not a superlative performance. Some of the concert's repertoire, which ranged from Don Byron to Rufus Wainwright to Ravel, clearly does not suit her voice. It is nothing like the radical vocal expressiveness/expressionism present in the performance of Bingen by Jouissance in the 'mainstream' part of the festival. There, Deborah Kayser's voice carved an achingly layered geology of quarter and semitones, scrolling through melisma with consummate musicianship and passionate grace. Perhaps Bittova is not interested in thus extending her voice or the song form. Her voice does, however, relate very intimately with her violin.
Michael Gordon's Van Gogh Opera is, by contrast, a piece shaking to the bones, in which the singers are in almost constant over-extension. Based on Van Gogh's letters to his brother Theo, the artist's alienation, social awkwardness and endless struggle are captured in a music that is relentless and obsessive, maintaining a hard edge that suddenly breaks us to tears. I found myself begging Gordon to give the soprano some release—but that would be a different composition.
New York's So Percussion performed the whole of Steve Reich's Drumming with an extraordinary mix of attentiveness and release. Fine, disciplined, controlled, graciously aware of each other, their collaborators and the architecture of the work, the performers moved within the piece's comings and goings, its rhythmic and visceral patterns over 75 minutes. This superlative performance allowed full course for Drumming's buildings and breakings of tension across this span of time. This was playing the line between assertion and allowing—one of the great mysteries of intimacy—played at its most generous and satisfying.
Sounds Alive '08 was a discrete program of 12 concerts within the Canberra International Chamber Music Festival. Robert Davidson's Taken and Iain Grandage's Mirramirratjara were also part of the National Film & Sound Archives own, similarly titled Sounds Alive annual program.
Canberra International Chamber Music Festival, artistic director Nicole Canham; Sounds Alive '08, artistic director Lisa Moore; Street Theatre, Canberra, May 7-8
RealTime issue #86 Aug-Sept 2008 pg. 42
© Zsuzsanna Soboslay; for permission to reproduce apply to realtime@realtimearts.net