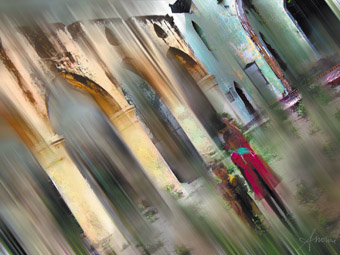 Anoma Wijewardene, Quest
Anoma Wijewardene's Quest, promoted as Sri Lanka's first digital art exhibition, was shown for 3 days in June at the National Art Gallery in Colombo. The foundation for the work is a set of digital photographs Wijewardene took when she visited the north of the country after a ceasefire agreement in early 2003, halting the civil war.
There has been a brutal separatist war with the Tamil Tigers fighting the Government forces for a separate homeland. But with the ceasefire, the road to northern Sri Lanka opened up and people travelled to towns that had been out of sight for 2 decades. Wijewardene also took the journey to the other end of the island and, like so many others, was devastated by what she saw. Documenting her travels using a digital still camera, her experience became the catalyst for Quest.
"From the initial photographs, it took a long time, maybe a year and half or so to actually evolve in to the idea of a digital art work", says Wijewardene. "I had been looking at a lot of video art around the world. I found some of it very powerful, and I wanted to do it. But how do you do it? I didn't think I could."
Wijewardene questioned the possibility of making the work in Sri Lanka. Could she get the necessary technical help? "I knew I couldn't do it without the funding," she recalls. The nature of the project required creative people with different talents.
Though working in digital art is a new experience, Wijewardene is an established artist who has exhibited and sold her work internationally, including in Sydney. Her previous works have been more abstract, but with Quest, there is a clear purpose. "It's the least subtle of anything I have done", she acknowledges, "but it doesn't necessarily mean that's how I am going to continue. But maybe for this subject matter, that is how it was meant to happen."
By August last year, she had raised the necessary finance to make the work. International non-government organisations and Sri Lankan businesses contributed to the project. The exhibition was held in 2 separate spaces at the National Art Gallery. The first space contained prints of stills that had been digitally manipulated, arranged around the walls. Next to each print was a quotation—inspiring words from a diverse group of people including writers, political activists and human rights defenders.
Though the digitally altered stills and the quotations were interesting, the experience provided in the second space, which contained the video art, was much more powerful. Each of the 4 walls had different projections and an evocative soundscape tied the work together. Sequences were created from the quotations and stills found in the first space. The text moved over images that showed the destruction caused not only by 20 years of ethnic fighting, but also by the recent tsunami. The application of digital filters over the images enhanced their presence, conveying a sense of destruction and tragedy, while the quotations offered hope and optimism.
The multiple projections enabled the text to be presented in the 3 languages spoken here: Tamil, Sinhala and English. The appearance of the different scripts within the same space was an important acknowledgement of the multicultural make-up of the island.
"All my paintings are some kind of a quest", Wijewardene says about the title of her exhibition. "It was 'questing' why we are at this point in our lives in this country. I am questioning why this country is self-destructing in an un-winnable war…I have no answers."
Wijewardene claims her art is "dense with many allusions and suggestions." This definitely applies to her digital work also, especially the video installation. "There is an interest in fusion." she says, "and not just fusion of mediums and ideas, but a fusion of cultures, of nations and of races. It's to do perhaps with my background. My father's half-English. My mother and he are of different religions, different castes. And I went to the temple and the church as a child. I went to school in India and art college in England. I am interested in the need to belong. I question what is home."
"Needing to fly flags is very natural", she adds, "but it also comes from a place of such fear and isolation. I couldn't figure out where on Earth I belong and finally I realised I didn't belong anywhere. I don't belong and I am fine—I am comfortable with that. But it took a lot of agony before I could accept it."
It is the idea of a home, of "needing to fly flags," that is perpetuating the conflict in Sri Lanka. Though there is a ceasefire in place, there are killings occurring every day. And there is an attitude among many people that another round of war is inevitable. In this context, Quest became an important intervention.
In Sri Lanka, there is little sense of public expression or outrage about the senseless violence and death the conflict is causing. Life continues, as does the killing. Quest provided a timely space for audiences in Colombo to reflect, on an emotional level, on what is happening to their small island. That space lasted only for a short period of time. Nevertheless, it was a necessary space from which something positive may grow.
Anoma Wijewardene stresses that the intention of Quest was not to make a statement about Sri Lanka's tragic situation. "I am not trying to pass a message on. I want to explore these issues of loss, of identity, of grief for myself. I am exploring my heart, and clearly it reaches out to other people's hearts too."
Anoma Wijewardene, Quest; National Art Gallery, Colombo, June 2-4
RealTime issue #74 Aug-Sept 2006 pg. 30
© Sam de Silva; for permission to reproduce apply to realtime@realtimearts.net