SoftMachine: Rianto, OzAsia 2016
Through varied processes of deconstructing and 'queering' traditional forms of performance and recreation, two multidisciplinary works in this year's OzAsia Festival, Bunny and SoftMachine: Rianto, challenged audiences, opening up questions of participation, spectatorship and authenticity. In doing so, they reflected well on Artistic Director Joseph Mitchell's desire to reshape the Festival, now in its 10th year, as a showcase of the formal variety and conceptual daring of contemporary performance throughout the Asian region. A third work, the double bill Split Flow and Holistic Strata, confronted in a different way, intense displays of light and sound unsettlingly dissolving their lone human subjects and threatening audience members with sensory overload.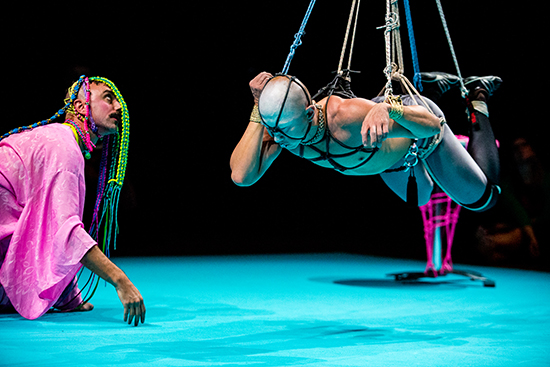 Luke George, Daniel Kok, Bunny, OzAsia 2016
Bunny
In rope bondage, "rigger" is a name given to the person who does the tying; "bunny" refers to the one being tied. Conventionally, a submissive woman assumes the bunny role, a dominant heterosexual man that of the rigger. The conceit of Bunny, a collaboration between Melbourne-based choreographer and performer Luke George and Singaporean dancer and researcher Daniel Kok, hinges on the question of what happens when performers and audience members alike are all cast as potential bunnies.
The gendered nature of bondage's traditional power relations has already been subverted by the time the audience enters the space, which has been configured in the round, like a luridly coloured boxing ring, with cushions and bar stools for us to sit on. A near-naked Kok, in rope harness and head cage, is horizontally suspended from the ceiling, several feet above the floor, while George, sporting long, rainbow-coloured braids and dressed in an open pink robe, ties a few supplementary knots and sets his partner slowly spinning. In his gentle way, George instructs us to keep Kok turning and, one by one, we dutifully comply, making us complicit from the outset, with no stated consent, in his domination.
The ropes have an aestheticising effect on Kok's muscular body, but they also turn it into an object, uncannily recalling the sight of a hogtied animal awaiting transport or slaughter. Conversely, the rope-bound objects that litter the stage—a vacuum cleaner, a fire extinguisher, a pot plant—seem imbued with a kind of subjectivity that defies their inanimateness, emphasised when Kok, after his release with the assistance of a member of the audience, activates the fire extinguisher and, hilariously, slow wrestles the switched-on vacuum cleaner.
There are many changes of pace throughout the performance, moments when the work's default meditativeness is violently interrupted by a loud burst of pop music or thrash metal. A tension is created between these two states and intensified by George regularly selecting random audience members who are prompted to tie him up with the futomomo leg binding tie common in Japanese rope bondage. It forces him to crawl around the floor for much of the time. Alternatively, participants are directed to hit Kok on the buttocks with a strap or submit themselves to an increasingly arduous regime of rope binding.
An elderly man has his legs and arms tied where he sits and is left like that for the remainder of the performance. To ripples of uncomfortable, thank-god-it's-not-me laughter, a woman is made to lie down, her head propped up on a pillow, as she is bound at the wrists and ankles and has her purse riffled through, its contents carefully set out on the floor by Kok as though for forensic examination. In the work's erotically charged climax, a blindfolded young man is tightly bound and strung up as Kok scales the lighting rig, sweat dripping onto the stage from head and body, an electrifying live recording of Jimi Hendrix's Voodoo Chile reverberating around the space.
Bracingly transgressive, Bunny poses many questions around consent, privacy, trust, power and collective responsibility and moral agency. Nevertheless, its atmosphere is predominately a safe one that, even as the work slowly breaks down conventional social and theatrical boundaries, momentarily binds together everybody present—performer, participant, observer—in ways that can't be seen.
SoftMachine: Rianto, OzAsia 2016
SoftMachine: Rianto
Since 2012, Singaporean artist and performance maker Choy Ka Fai has travelled extensively throughout Asia to research and interview nearly 100 dancers and choreographers. The project, named after William Burroughs' novel The Soft Machine (1961) which so christens the human body, is intended to convey the richness of contemporary dance practice in Asia through a series of documentary performance works. To date, the series has taken in India's Surjit Nongmeikapam, China's Xiao Ke x Zi Han (soon to appear in Performance Space's Liveworks in Sydney), Japan's Yuya Tsukahara, and Indonesia's Rianto (also in Liveworks), whose practice spans folk and classical Javanese dance, the Lengger tradition of Banyumas, Central Java, in which men dance as women, and the contemporary styles of Rianto's current home city, Tokyo. Each work provides an intimate portrait of its subject, deepening our understanding of their divergent lives and choreographic processes through the interspersing of live dance sequences with film excerpts featuring interviews and footage of places where the artists live or grew up.
In mask and traditional dress—hair bun, torso wrap, elaborate jewellery and makeup—Rianto begins his iteration of SoftMachine with a seductive Lengger dance, wrists and ankles astonishingly supple, neck loose and elongated. This, in East Javanese mythology, is Sekartaji, separated lover of the prince Panji. The dance is accompanied by recorded gamelan with its evocative palette of chiming metallophones and low, insistent hand drums.
Since this is a documentary work, however, the spell is promptly broken by Rianto stepping out of character to speak directly to the audience. He outlines the Lengger tradition and Panji story—though with a disarming irreverence that, I learn as the night progresses, typifies his personality—before completing the other half of the dance in which, having swapped masks, Rianto embodies the warlike prince.
The transformation is remarkable, and will happen again before the night is out as Rianto shifts from traditional to contemporary forms of dance, blurring feminine and masculine choreographic modes with hard-won ease. The work more broadly de-emphasises such dichotomies too, even suggesting that Rianto's interpretation of Lengger is 'impure,' that folk dance, while it continues centuries-old performance traditions, is not fixed in time.
Hiroaki Umeda, Split Flow Holistic Strata
Split Flow and Holistic Strata
Like Japanese composer and visual artist Ryoji Ikeda's Superposition, which featured in last year's OzAsia Festival, Hiroaki Umeda's Split Flow and Holistic Strata are rooted in installation practice and make the transition from art space to stage via a maximalised aural and visual design. Umeda's two short works, which run together as a double bill with a brief intermission, are accompanied by Sequential Movement, an exhibition in the Adelaide Festival Centre's Artspace Gallery. The exhibition, which also features three video works by Japanese director and choreographer Mikuni Yanaihara, includes two pieces that complement Umeda's work in the main program: the multi-monitor video panel kinesis #1, and the room-sized installation which shares the name Holistic Strata and reproduces its dizzying choreography of free-moving high-speed pixels as an immersive experience for the audience.
Split Flow, derived from a 2011 light installation of the same name, deploys bursts of strobing and high luminescence lasers—in red, blue and green, shading the work in the manner of a movie seen through 3D glasses—to deconstruct the dancer's body (Umeda confined to a small square of white light centre stage) into a rapidly shifting series of lines and abstract shapes. Each burst is accompanied by mixed-frequency digital sounds, some vexingly high, others locating themselves in our chests in big, bassy rumbles. Umeda's choreographic vocabulary, meanwhile, is twitchy and violent, an accumulation of small, pointed gestures that hold our focus even as the work's design elements assault his body, and ours.
In contrast, Holistic Strata frames the dancer's presence as a still point. Here, Umeda's body moves less frenziedly, almost sinuously, refracting the vast constellations of pixels—scrolling star fields and heaving galaxies, transient shapes like geysers and tornadoes—that ebb and flow around it. Eruptions of pink noise, precisely synchronised to the moving pixels, prove unsettling, as do the big data-like visualisations, impossibly dense with millions of individual points of light, that periodically fill the cyclorama. Even allowing for the distance lent by the size and shape of the Playhouse stage, Holistic Strata is a memorable sensory event both revealed and felt through the body.
–
2016 OzAsia Festival: Bunny, creation, performance Luke George, Daniel Kok, Nexus Arts, 23-24 Sept; SoftMachine: Rianto, concept, direction Choy Ka Fai, performance, choreography Rianto, Space Theatre, 24-25 Sept; Split Flow and Holistic Strata, choreographer, dancer Hiroaki Umeda, sound, lighting design S20, Dunstan Playhouse, 27-28 Sep; Sequential Movement, Hiroaki Umeda, Mikini Yanaihara, Artspace Gallery, Adelaide Festival Centre, 9 Sept-2 Oct.
RealTime issue #135 Oct-Nov 2016
© Ben Brooker; for permission to reproduce apply to realtime@realtimearts.net