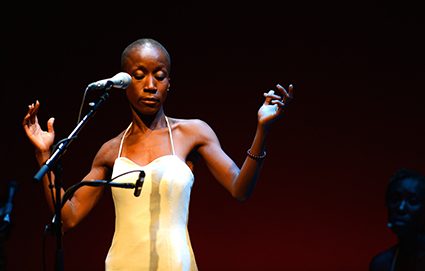 photo Mark Alan
Rokia Traoré, Desdemona
It's been more than 10 years now since Peter Sellars first locked horns with Toni Morrison over the merits of Othello. To the American director, Shakespeare's tragedy was best forgotten, having far outlived its usefulness, if indeed it ever had any. To Morrison, Nobel- and Pulitzer Prize-winning novelist, the play was as suffused with Shakespeare's singular insight and humanity as any of his mature works. The disagreement resolved into an informal accord: Sellars would create a new staging of Othello while Morrison would open a performative dialogue with Shakespeare's play that would interrogate those aspects—the muting of the non-white and female characters and the perceived racist/orientalist overtones—that have long troubled the play's critics.
In 2009, Sellars' Othello opened at New York City's Public Theatre with John Ortiz as the title character, Jessica Chastain as Desdemona and Philip Seymour Hoffman as Iago. With its futuristic aesthetic, long running time of four hours and self-conscious references to Obama, the production's critical reception ranged, for the most part, from indifferent to hostile. In contrast, Desdemona—scripted by Morrison and directed by Sellars—was warmly received on its premiere in May 2011 at the Akzent Theatre in Vienna. It subsequently toured to London, New York, Berkeley and other cities, and is being presented at this year's Melbourne and Sydney Festivals.
I spoke with Sellars on the phone from Los Angeles, his hometown, where he was in rehearsals for FLEXN, a new dance work featuring Flex, a form pioneered by young African Americans in Brooklyn, and part of this year's Brisbane Festival program. When I called, he told me he was in a good mood and I decided not to potentially jeopardise this by telling him I was calling from Adelaide where, infamously, his artistic directorship of the 2001 Festival of Arts ended prematurely in controversy. I began, instead, by asking him to return to that initial conversation he had with Morrison about Othello.
"I've always disliked that play," he began forthrightly, "because clearly Shakespeare didn't have any black friends! The previous play Shakespeare wrote was Hamlet and, boy, do you know what that character's thinking. He has soliloquy after soliloquy. Othello, by contrast, is with white people the whole play and is alone for 10 lines where he gets to say something that maybe he himself is thinking and not performing for others around him. So, that absence of a kind of inner space, an inner life is one of the first things I noticed. The other thing that was on my mind is, where is Africa in relation to Shakespeare's England, and in relation to us now? And this has been a long discussion my whole life. And Toni challenged me. She said: "Are you kidding? That is simply one of the greatest plays ever written."
Morrison, Sellars explained to me, connected her high regard for the play to her love of language and her fascination with how Othello's adversaries use language to manipulate, deceive and, ultimately, destroy. Sellars, with all the zeal of a recent convert, put it to me this way: "They use language to convince you to betray everything that you love. That is, in the play Othello, they don't kill what you love—they get you to kill what you love."
Morrison had been present at many of the rehearsals for Othello, but it wasn't until Sellars' work on the production was complete that the pair's continuing discourse began to crystallise into a second, even more lateral response to the play as conventionally imagined. Sellars explained: "I said to Toni, I think there still needs to be an answer to, and a dialogue with, Shakespeare. In the 21st century, we have a different set of relations and a different set of possibilities." Both Morrison and Sellars came to feel that [their production of] Desdemona should take as its starting point the black characters and historical and personal narratives that, in effect, amount to an absent referent in Shakespeare's play.
"We found this amazing sentence," Sellars told me, "that comes just before Desdemona sings the famous Willow Song. She says to Amelia: 'I can't get this really sad music out of my head. It's the song my mother's maid, Barbary, sang when she died of a broken heart.' And so, in one line of Shakespeare, you get three things: you get that violence doesn't just rely on strangulation but that you can die of a broken heart; that her mother had a maid, that Desdemona's parents didn't really raise her, they were out fundraising every night for her father's senatorial career; and you get that the maid was named Barbary."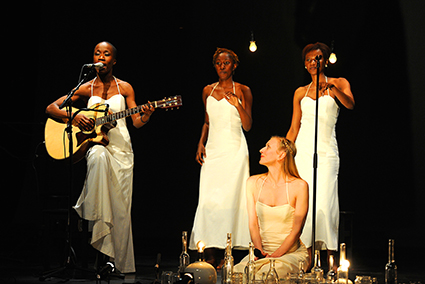 photo Mark Alan
Desdemona
Barbary, as Sellars explains, was code for Africa in England at the beginning of the 17th century. "So," he continued, "for Shakespeare in 1604 to use the name Barbary is to say to everyone, there is another African character in the play of Othello. And, of course, we learn from Othello right at the beginning of Act I that he and Desdemona fell in love when he started telling her stories. When we realise in Act IV that this brilliant, courageous white girl who picked this black guy as soon as he walked in the room was actually raised by a black woman on African songs and African stories, you get that when Othello told her these stories she knew them—and of course they fell in love. And so there's this giant missing African link in this play. And so, with Toni, we said, let's set about filling in this missing link."
The key to this process was Sellars' invitation to Malian musician Roki Traoré to play the part of Barbary and to create the songs that Desdemona heard when she was growing up. In contrast to received notions of what constitutes African music, Traoré's songs, played live on stage with the aid of vocalists Fatim Kouyaté and Marie Dembelé and musicians Mamah Diabaté and Toumani Kouyaté, are not percussive and rhythmical but lyrical and meditative—"the equivalent of late Beethoven sonatas," Sellars effused. In this conception, he believes, Shakespeare's Africa—a strange, abstract image—is reinstated as a living dimension populated with "real human beings and real history. So you have, parallel to Toni's writing, a genuinely African mode of storytelling [Traoré is trained in the griot oral tradition] that suddenly opens up completely new perspectives and a new emotional domain. And Africa is no longer ventriloquised—it is speaking and singing in its own voice. And meanwhile," he continued, "I invited Toni to make the missing links between Barbary and Desdemona [played by Tina Benko]. And, of course, leave it to Toni to come back and say, 'what's missing from history is the women's version of everything.' So Toni has you meet all of the women in Shakespeare's Othello in a world where they no longer have to be afraid, they no longer have to hide."
Among Morrison's innovations were, first, writing the single, passion-filled night Desdemona and Othello share that, in Shakespeare's play, we only ever hear about and, second, rekindling their relationship in an afterworld following their deaths. "One of the most surprising things about the evening," Sellars told me, "is watching Desdemona get things wrong, over and over again. And so it's interesting because it's not just an expected feminist reading. Toni is willing to show the limitations of Desdemona's self-regarding, liberal white enlightenment. As she puts it, rather shockingly at one point, Desdemona's trying to get credit for marrying a black man and Amelia says, 'but he murdered you, right?'" At this, Sellars gave a wicked, wholehearted laugh. "So Toni really does change it up and she challenges the established narratives on all sides. And that's part of her genius—that she takes you into the place that great art takes you, where there are no simple certainties and everything is presented with these inner dynamics, just surprising you over and over again."
Desdemona, Melbourne International Arts Festival, Southbank Theatre, 16-19 Oct; Sydney Festival, Roslyn Packer Theatre, 23-25 Oct
RealTime issue #129 Oct-Nov 2015 pg. 28
© Ben Brooker; for permission to reproduce apply to realtime@realtimearts.net