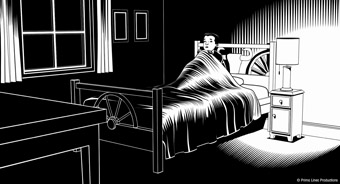 PeursDuNoir [Fear(s) of the Dark] – Burns 06, Charles Burns
THIS YEAR'S MIAF WAS FLUSH WITH RICHES. SELECTED FROM OVER 2000 ENTRIES, THERE WERE 150 FILMS IN COMPETITION AND 150 OUTSIDE OF IT. THERE WAS AN EIGHT-PROGRAM INTERNATIONAL SELECTION, MUSIC VIDEOS, DIGITAL ANIMATION, STUDIO AND PRODUCER SHOWCASES, A SERIES OF SAN FRANCISCO HISTORICAL ANIMATIONS, ANIMATED DOCUMENTARIES AND THEMED PACKAGES WITH TITLES LIKE LATE NIGHT BIZARRE AND STRANGE IDEAS AND BAD CRAZINESS. THERE WERE GRADUATE, TEEN AND KIDS PROGRAMS, ANIMATION 101 SESSIONS AND THE CAREERS IN ANIMATION FORUM, ALL ADDING TO THE CRUCIAL WORK MIAF DOES IN BUILDING A VIBRANT ANIMATION CULTURE FROM THE GROUND UP.
The technique focus this year was on puppet animation. I've been bored with CGI's dominance so I welcomed it. MIAF curator Malcolm Turner, introducing the Icons of Puppet Animation screening, highlighted how puppetry can uniquely express the soul of an animated character. Jiri Trnka's allegorical masterpiece The Hand (Czechoslovakia 1966, 17mins) was the exemplar. According to Turner, this was one of the first puppet animations to feature static faces, telling the story of a down-at-heel sculptor making art in his small apartment. An enormous, live-action hand breaks the frame, filling the apartment with its bulk and forcing the artist to make sculptures in its likeness, attaching strings to the artist and manipulating his actions, or destroying whatever non-hand art the artist produces. The allusion to totalitarianism is clear, but the state's capacity to endlessly erase and reinscribe its own identity in order to control and dominate is also apparent. This is reinforced by the contrast between the puppet-artist's mournful, unblinking face, which becomes a screen for the audience's imagination, and the hand's everchanging bulk, trying every trick it can—even dressing its fingers in lacy lingerie—to lure the artist.
Another Icon standout was Balance (directors Christoph & Wolfgang Lauenstein, Germany 1989, 8mins). Five identical, skinny, bald characters with sunken eyes and prison-camp greatcoats stand on a platform suspended in space with no visible means of support. If one moves, the platform tips and they all go sliding close to the edge and oblivion; therefore they must work with each other to maintain balance. It's finally a devious and deadly game as curiosity, then jealousy, brings them undone. The bleak monochromes of the set and costume design give this an existential charge that is hard to shake off. Kataku (The House in Flames, director Kihachiro Kawamoto, Japan, 1979, 17mins), a fable about attraction and choice, is like a Japanese doll set come to life, all slow movement, glossy faces and hair, watercolour backgrounds and scenery, almost imperceptible stillness melting into exquisite motion poetry, mixing noh and bunraku styles. Pygmalion (Arnold Burovs, Latvia 1967, 9'45mins) is a brilliant union of clockwork figures and metronomic sound design as a sad, bearded inventor creates a mechanical woman only to become lost in her gaze and ultimately the op art scenery surrounding her. The Philips Broadcast of 1938 (Holland 1938, 9'30mins) featured George Pal's amazing and beloved Puppetoons, incredibly flexible puppet characters that contort and shape shift with sheer glee, so skilfully realised and synchronised via Pal's replacement animation technique [using multiple puppets or parts for each character move. Eds] that they look hand-drawn.
Of the contemporary puppet animations, the standout was Madame Tulti-Pulti (Chris Lavis & Maciek Szczerbowski, Canada 2007, 17'25mins), an intricate stop motion that took me somewhere I've never been before. The titular Madame boards a strange, steampunk train powered by an enormous turbine. Dressed like a 30s Parisienne, she settles into her compartment and tries to read a book. On the overhead bag rack, two men are hunched over a chess set. Whenever the train hits a bump, the chess pieces fly into the air and rearrange themselves in different combinations on the board. A freaky kid stares at the woman. Then a beefy pervert makes the fucking signal with the time-honoured 'O' sign of one hand penetrated by the index finger of the other. Poor Madame. She nods off and wakes up to find everyone gone and an alien green mist polluting the compartment. Shadowy figures glide past and, when she investigates, it appears that everyone but her has been the victim of, I think, an organ-stealing black market operation. Perhaps. I won't pretend to know what it's all about, suffice to say that Madame Tulti-Pulti has quite clearly taken a train ride to hell. The other remarkable aspect of this film, besides the scenery, the stage sets and the character of Madame herself, wafer thin and etched with grain, is the filmmakers' technique of compositing live-action human eyes onto the puppets. A kind of hellish variant on the 60s animated TV series Clutch Cargo, it has a supremely bizarre, preternatural touch that plunges the viewer deep into an uncanny valley.
Live Life (Jonathan Pasternak, Israel, 2006, 5'30mins) is a self-consciously odd Day of the Dead puppet musical featuring decomposing versions of Albert Einstein, Joey Ramone and other celebs all gathered in The Ossiary, the famous Czech church adorned with 40,000 human bones. This lunatic troupe is led by Johnny Cash in a rousing rendition of the William Shatner song, "Live life like you're gonna die, coz you're gonna." Even the Ossiary's skulls join in on the chorus. I loved The Bridge (Vincent Bierrewaerts, Belgium, 2007, 13mins), about a boy who lives with his father on a mountain top. When he accidentally kills his dad, the boy grows up alone, thinking he's trapped up on high, watching the bombing of the city far down below in some unnamed war. The only access to the outside world used to be a bridge that fell down long ago, but eventually the boy finds a tunnel down through the mountain and wanders the shell-shocked city alone. The puppet boy is masterfully rendered: pure expressive innocence memorably etched onto his bulbous eyes and round head.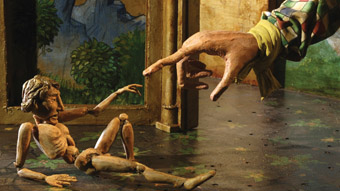 L'Animateur, Nick Hilligoss
The Australian Panorama was maybe the best Australian animation program of the last few years. L'Animateur (Nick Hilligoss, 2006, 3'45mins) takes a corny premise, the Garden of Eden, and infuses it with a meta-narrative on the joy of animation itself. A medieval jester lands on an planet uninhabited save for a few frogs. He unpacks a little portable stage set and places two lifeless wooden puppets on it. They are attached to strings but then he zaps them with some kind of beam and they move about autonomously. They see a tree with apples and, naturally, eat them. Flesh subsequently grows on their bodies, there is music cranked out by the jester and the frog audience dances in thrall. When the humans are fully realised, the jester pulls the floor out from under them and they fall to the ground. The jester packs up and flies to another planet, leaving behind the first human life on Earth and a performance those frogs will always remember.
Other Australian standouts included the hilarious, affecting Monkeynaut (Snooze Animation, 2007, 7'15mins) about what really went on in those early chimp-only space missions (hint: it involves lots of long, yellow fruit). Professor Pebbles (Pierce Davison, 2006, 12'45mins) is inventively realised with its tale of a minion of Satan who has a mid-life crisis on his 500th birthday and decides to go above ground for a change of pace, yet can't quite shed his wicked ways. The lurid colour scheme and claymation weirdness make an imprint on the retina. The Goat that Ate Time (Lucinda Schreiber, 2007, 7mins) is really beautiful, both in terms of its textured technique and its sentiment, about a voracious goat who eats everything under the sun including clocks and watches, with the timepieces and their chronological 'nutrition' slipstreaming her into an endless, timeless present.
And, now, just as I ran out of time to see everything at the festival, so too I'm out of space, with just enough words to big up the portmanteau film Fear(s) of the Dark (Canada 2007, 85mins). Based on the work of 10 graphic artists and comic-book creators, and almost entirely monochrome, it weaves nightmares from the most basic of materials, black and white, for all nightmares emerge from the shadows. My favourite scary story was Richard McGuire's about a man who is lost in a snowstorm and takes refuge in an abandoned house. Inside, he has to find his way around in compete darkness, the brief flickering of light from his candle exposing what looks to be floral patterned wallpaper, but may or may not be a woman's dress. And 'she' may or not be holding a meat cleaver. The floral shapes melt back into the dark as the candle goes out and the games of illusion begin again. In the morning the whiteness of the outside world proves as treacherous as the black of night, with a glimmer of help for the man frustratingly melting back into the snow-covered landscape as clearly as it emerged.
Finally, congratulations to MIAF for its bold, imaginative programming. The only sour note is that all events weren't sold out. Readers, do you know what you have in your own backyard?
Melbourne International Animation Festival 2008, ACMI, June 16-22, www.miaf.net/2008/home.html
RealTime issue #86 Aug-Sept 2008 pg. 24
© Simon Sellars; for permission to reproduce apply to realtime@realtimearts.net