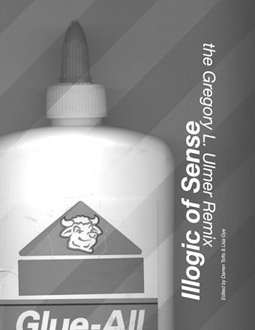 Illogic of Sense: The Gregory L. Ulmer Remix
GREGORY ULMER HAS BEEN DUBBED A 'RISING STAR' OF THE US ORATORY SCENE, A SOPHISTICATED VEHICLE FOR ERUDITE JUDGEMENT AND A 'DRIVING FORCE', IF YOU WILL, IN THE LAWS OF TRANSMISSION AND DISPATCH. OH, HANG ON, SORRY THAT'S THE OTHER GREG ULMER: THE AUTOMOTIVE LITIGATOR FROM HUSTON, TEXAS. IF YOU'RE FAMILIAR WITH THE INVENTIVE POETICS OF MEDIA THEORIST GREGORY L ULMER, YOU'LL GET THE POINT. TO WRITE, LET ALONE TO READ ULMERIAN DEMANDS ADVANCED LITERACY SKILLS IN THE "UNFORESEEABLE PROCESSES OF DISCOVERY AND ASSOCIATION."
As an undergraduate I wrestled, resolutely yet unhappily, with Ulmer's idiosyncratic blend of poststructuralist theory, technological pedagogy and avant garde aesthetics. It was much easier to read Derrida than to apply Ulmer. And that seems the rhetorical aim of this new ebook from Alt X Publishing, inspired by Ulmer, with lush design by Joel Swanson. As editors Darren Tofts and Lisa Gye explain, introducing this collection by academics, artists and creative writers:
Ulmer has never advocated the prescription of a method to be mimicked or simply emulated. Rather his ideas are offered as a means for enabling others to make creative work of their own, to use his work as raw material for invention.
These contributors use Ulmer's hypermedial research as "an invocation to invention" responding with an eclectic sampling of pop cultural debris, anecdotal whimsy and arch theory. Yet despite, or perhaps because of, the exhortation to read Ulmer as "generative concepts for the making of new and experimental work" his presence is a central problematic of the ebook. Ulmer's name, for example, is entirely absent from Niall Lucy's sophisticated speculation on death, identity and a disregarded Bic lighter, "The King and I: Elvis and the Post-Mortem or A Discontinuous Narrative in Several Media (On the Way to Hypertext)." Across distributed platforms of music and theory, Lucy deftly 'posts' Elvis through Pynchon, Nixon and Derrida so that YouTube clips of the King are placed in dialogue with the poststructuralist apocalypse. And if that's not enough, he slights Ken Wark's hair. Lucy's piece is an eloquent demonstration of the editors' argument that Ulmer represents aesthetic inspiration rather than theoretical imperative. As Michael Jarrett explains in his inventive piece, "On Hip-Hop, a Rhapsody", Ulmer offers "a readiness strategy" a kind of "gangsta writing" for the "electronic paradigm."
The absence of Ulmer acts as an altogether different rhetorical device in Linda Marie Walker's elegiac ode, "Surface to Surface, Ashes to Ashes (Reporting to U)." For Walker, the coincidence between the second person pronoun and Ulmer's initial provides the symbolic framework through which to explore the lacunae of desire and the impossibility of communication. Reminiscent of Derrida's enigmatic epistolary work, The Post Card, Walker explores the uncertainty of address and destination by teasing the reader about the intended recipient of her intimate thoughts: "I almost didn't hear a question, just your voice speaking to me, and your voice is the voice of a lover, so I didn't mind, even as I knew I would fail with my answer." Conversely, for Teri Hoskin Ulmer is the destination. Her lyrical hypertext art, the evocatively named "Soliciting Taste: How sweet the lips of salted bream", is dedicated to Ulmer both explicitly and through the design itself.
If the addressee of Walker's piece is indeterminate (perhaps her musings concern the Other Ulmer, the one who protects the law of transmission) then references to Ulmer are more straightforward in Jon McKenzie's "StudioLab UMBRELLA" and Marcel O'Gorman's "From Mystorian to Curmudgeon: Skulking Toward Finitude." Straightforward, however, does not exclude a certain 'anxiety of influence.' Both authors provide fascinating accounts of what it means to teach via Ulmer. Working through pedagogical principles of "cultural performance", McKenzie develops the media literacy of StudioLab where students produce "critico-creative projects." O'Gorman is less sanguine, admitting to being "nauseated" by his "sense of nostalgia" for the prelapsarian days of early hypertext theory and Mystory 101. There's a critical edge to O'Gorman's suggestions that, arguably, Ulmerian "auto-psychoanalysis" encourages excessive subjectivity, a celebration of the individual, rather than its critique.
Although subjectivity is a key issue for Rowan Wilken, self-indulgence doesn't figure in his piece, "Diagrammatology", on contemporary architectural theory and historical poststructuralism. This is a lean, mean fighting machine of an essay: rigorously argued and beautifully researched. Anyone grappling with those still contested sites of 'subjectivity' and 'space' in networked, distributed settings should use Wilken as a guide. Indeed, this is the strength of Illogic of Sense itself: functioning as a guide on how to produce and read our emerging media cultures. And, finally, the Other Ulmer who has shadowed this review, the Texan lawyer of the car business, is realised in Craig Saper's "The Two Ulmers in e-Media Studies: Vehicle and Driver." I guess it's true what they say: you can never escape the puns of the father.
Illogic of Sense: The Gregory L. Ulmer Remix, Darren Tofts and Lisa Gye eds, Alt-X Press ebook, design by Joel Swanson, 2007:
http://www.altx.com/ebooks/ulmer.html
RealTime issue #80 Aug-Sept 2007 pg. 38
© Esther Milne; for permission to reproduce apply to realtime@realtimearts.net