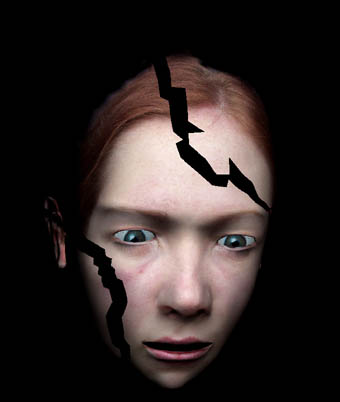 Wojciech Pisarek, Lilly,Virtual Lives
In part 2 of our ongoing survey of new media and multimedia performance and dance, the themes of Part 1 (RT#51) recur: the interplay of the past and possible futures. the integration of live and virtual performance, the generation of performance spaces, and a desire to escape the inflexibility of the conventional screen. Wojciech Pisarek adds to these themes the role of the digital animator as puppeteer in productions where live performers and animated figures co-exist. Teresa Crea and Samuel James address distance and the role new media has in diminishing but also exploring it, whether between countries, cultures and artists, or between city and rural youth in Australia, and generating new models of performance and collaboration. Since the publication of Part 1, Company in Space and NYID have mounted the productions anticipated (see pages 6 and 7) and Tess de Quincey & Co have performed Shiver for the Gay Games Festival (see www.realtimearts.net).
Wojciech Pisarek
Adelaide-based puppeteer and animator Wojciech Pisarek writes: "The subject of my PhD study is to examine coexistence of virtual and live actors in theatre performance and to develop a unique language of expression for acting avatars. To conduct my research I have created a low cost interactive computer system to create digital masks, using readily available 3D software. The virtual actor can be as simple as a cube or have all the complexity of the realistic image of a human being.
"As opposed to using a motion capture suit and facial tracking devices, in my research digital input hardware is based on puppetry—controlling devices—the human animator is connected with his character, a digital puppet, through electronic strings. Virtual actor motion and expressions are created or generated in real time by a digital animator in response to character emotions and stage action. In this sense, the animator acts as puppeteer for his digital character. A combination of mouse, joystick, keyboard, MIDI keyboard, MIDI pedals and digital gloves comprise virtual strings linking the 3D character with the animator.
"One outcome was Virtual Lives, at the Australian Performance Laboratory, Flinders University, the first Australian theatre performance where virtual actors animated in real time performed together with their live partners. The purpose of this creative development project was to see if digital characters created in front of the computers work in real theatre space and with live actors. Samuel Beckett's Play was chosen for the production simply because in this ingenious piece of theatre only the heads of acting characters are visible."
Kate Champion
Kate Champion is the creator of Same, same But Different (RT 47 page 6), a successful multimedia dance theatre work (Sydney & Melbourne Festivals 2002) that very effectively combines live performers with their virtual selves. Champion use a forestage wall of black, sliding surfaces that can receive images and also open to capture pockets of framed live movement (eg a series of falls or figures dancing). A large screen to the rear shows the whole company meeting itself in a frenzy of flirtation. For this production Champion worked with lighting designer Geoff Cobham, filmmaker Brigid Kitchin (who worked with Champion on About Face, RT44, p36) and projectionist Sydney Bouaniche (also a significant contributor in Michael Bates' The Projectionist, see page 13 & 15).
Champion and collaborators (Force Majeur) are presently at work on the earliest stages of a new work with the working title ZOOM. She writes that she has "a keen interest in continuing to integrate video/film (multimedia) as a signature of our style. I think integration is possibly the key word. My main concern is with incorporating film in as physical a way as possible, ie as interaction with live performance where the media work in tandem thematically and physically."
She emphasizes that this is a very different experience from showing the images in a cinema—in the theatre "the live element gains an almost magical effect that would not be possible without the images." For Champion, "the most challenging task is striking a balance between the live and the projected [image which] can be so seductive and often consumes live bodies dancing in front of it."
Champion described to us the challenges of creating this kind of work, revealing that story-boarding came as a breakthrough. Even so, the logistics of Same, same.. were sometimes restrictive: the order in which the set had to be operated was often locked in and images had less of their area exposed than hoped for. Not surprisingly, she's attracted to the possibility of live editing in ZOOM. The set-in-concrete nature of film has also meant that cast members have had to maintain haircuts over a very long period (not always easy for freelancers) and when one performer was not available, re-shooting had to take place—a costly venture. For the filmmaker, she thinks, the process is not always exciting or creative given the large number of functional and logistical demands, let alone re-shoots.
For ZOOM, says Champion, "I would like to move away from flat, square screens and projection points. I want to experiment more with making moving images more 'moveable', and, as always, push the subtextual as subject matter that avails itself when the mediums interplay." She feels that this approach will be less cinematic than Same, same… and will allow more sleight of hand. The virtual performers, she hopes, will be able "to move more, shrink, reappear, work with furniture." Champion here recalls performing with the UK's DV8 when they projected onto a steamed up perspex box and against veils of water.
para//elo
This Adelaide-based company with its Australian multicultural focus and radical approach to cultural globalisation, is very much a new media outfit. Artistic Director Teresa Crea and her collaborators have created multimedia works, some of them site specific, online raves (between young people in Italy and Australia) and conferences, and are now adding to their output solo and group works from a range of artists (including Jason Sweeney, see Stereopublic review).
The company's current work is the distance project, which began as an online/web work, writes Crea, "involving European and Australian artists responding to the notion of distance and the sometimes strong emotions that this provokes in migrant cultures." After exchanges for 8 months, the artists submitted short digital works (text, image/sound) which were curated online. "We are now looking at how to weave this content and the kind of 'navigational flow' that it offers into a live performance."
For Crea it is the capacity of new media for community building that is paramount. "Now that we have all gotten over the first 'evangelical' response to technology, I think that reality is proving to be far more intriguing. Sometimes the simplest of exchanges are the most profound, for example the ability to set up a community of artists across the world to essentially do creative development and research…" The convergence of media and artistic practice through the collaboration of a wide range of practitioners is, Crea thinks, also significant: "this phenomenon (rather than what you do with the software/hardware) is what will really drive the development of a new aesthetic."
Samuel James
Samuel James plays an increasingly significant role in contemporary performance, dance and youth theatre in Sydney. His elegant, inventive video work (for Julie Anne Long's Miss XL), manipulation of projected images (for Monica Wulff's Troppo Obscuro) and the transformation of spaces (PACT Youth Theatre's Replicant Hotel) keep him in demand. His approach is uncluttered and very effective. In the recent Heartland for City Moon Vietnamese Australian Theatre and Powerhouse Youth Theatre, his evolving images glide above us along the length of a humble community hall ceiling in a prelude that meditatively lifts us out of ourselves, anticipating Heartland's youthful and admirably intense contemplation of place and belonging.
James writes: "Both Heartland and Wide Open Road (Outback Theatre from Hay and Pact Youth Theatre from Sydney, The Studio, Sydney Opera House, Dec 6-7) use video as an integral part of devising and performance. Both involve creating a unified performance work over long distances. Video helps this process greatly.
"For Heartland we took 3 field trips out of the metropolitan area, to the desert (Broken Hill), the farm (Albury) and beach (Kiama). A visual and sensory study of these places led to performance workshops in these sites with, initially, video acting as a documentary device, recording a real experience of performers and place. This material then went through a transition from experience and diary to performance. The combination of reality video and theatricality creates a new kind of theatrical realism.
"Wide Open Road is a collaboration between regional and urban youth theatres which combines the current experiences of young people living in South West NSW and Sydney. The process began with 30 second video postcards being sent by email, making introductions and trying to describe young people's experiences of growing up in 2 very different environments. Bridging this distance through new media with brief compressed impressions (spoken word, drawings and short films) is an efficient and effective way of producing material for hybrid performance." James points to how the pre-physical contact stages of building a work are different from in-house performance making because they engage with the very idea of distance. "New Media is in this case tangibly able to bring distant spaces and experiences into the theatre."
He also thinks that "new media performance offers an alternative for filmmakers", enabling them "to create work that doesn't brainwash the audience with the hypnotising experience of 24 frames per second in the dark…As a real performer enters the space and upstages the film, the audience can make decisions about the material being presented. There are many more choices to be made in a live space." He also thinks that "the proliferation of the video aesthetic…has stripped back the romanticised beauty of theatre and it means performance makers have to be more conscious about ideas first before images."
Part 3 of this survey will appear in RealTime 53 (February-March 2003), featuring Cazerine Barry, IGNEOUS, Keith Armstrong and the transmute collective, Tess de Quincey & Co, Hill & Nash, and skadada. The work of Sarah Neville, the Adelaide-based dancer working with new media, is discussed on p27 of this edition.
RealTime issue #52 Dec-Jan 2002 pg. 32
© Keith Gallasch & Virginia Baxter; for permission to reproduce apply to realtime@realtimearts.net