Carolyn Connors, The Book of Daughters
The Book of Daughters, three nights of richly varied and purposeful sonic art at Melbourne's Meat Market, focuses largely on women as subjects and makers. Australian talent—vocalist Carolyn Connors, performance poet Berni M Janssen, harpist Mary Doumany, percussionist Louise Devenish, the BOLT and Hullick-Duckworth Ensembles and Amplified Elephants—will play alongside guest artists from Japan: vocalist Noriko Tadano, Yoshimio (aka Yoshimi P-We of the Boredoms and OOIOO and xxx) on drum kit, electronics and vocals, and shamisen virtuoso Yumiko Tanaka. It's an impressive and characterful lineup.
I spoke by phone with JOLT Arts Artistic Director James Hullick, musician, composer, nurturer of the Amplified Elephants ensemble of artists with disability, and father of two young daughters—a likely key to the title of this ambitiously conceived event. Hullick is at pains to point out that the event is not solely his vision: "It's been curated collectively with JOLT and a lot of the artists who have worked with us in the past. It's a collection of performances presented in 25-30 minute blocks, three different shows per night. It's a bit like seeing bands but the context is sound art. It's a model we've been using for JOLT events in Japan and it works there and in quite a few Asian countries. The Book of Daughters has come out of our experiences in Asia and that's reflected in the program with our Japanese guests."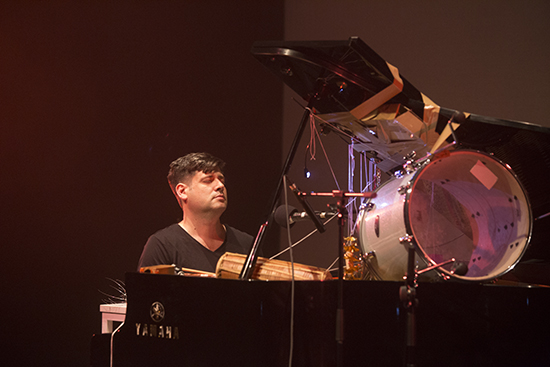 James Hullick, Rotation Post-Sapien performance, Hong Kong (2015)
The connection with Japan is ongoing, Hullick explains: "JOLT first presented a sort of mini-festival in 2012 in partnership with Test Tone, the Japanese sound art organisation, and we've been doing them annually in some form since. They're significant events in their own way with major acts like Merzbow, Phew and Haino Keiji."
I ask Hullick what the Asian connection does for JOLT and Australian music and sound art. "Australia needs to wake up to the fact that, at least in the sound art world, it's part of an international movement. I would argue that sound art is one of the few art movements that has grown up as an international baby rather than necessarily being located in one city or region or country. It's emerged as international with artists from different countries improvising together and immediately understanding the language they're working with and doing quite amazing things without heaps of preparation. That's evidence of an international language."
I'm curious about the title, The Book of Daughters. Hullick tells me, "We were originally looking at responding to gender balance within sound art, which has been traditionally male-dominated. But, collectively, we didn't want to call it a 'women's event' or somesuch, because it's about celebrating great artists, full stop. What audiences will be seeing are different chapters of people's perspectives on sound art and many of the authors happen to be women. Some of the contents are quite feminist; others are just straight ahead sound art and might happen to be made by a woman, or not."
Who are the "daughters" in the title? "In my life, I have two daughters, aged five and eight and certainly there are other people within JOLT who have daughters or are daughters. A conversation had been growing about what the future is looking like in terms of gender balance."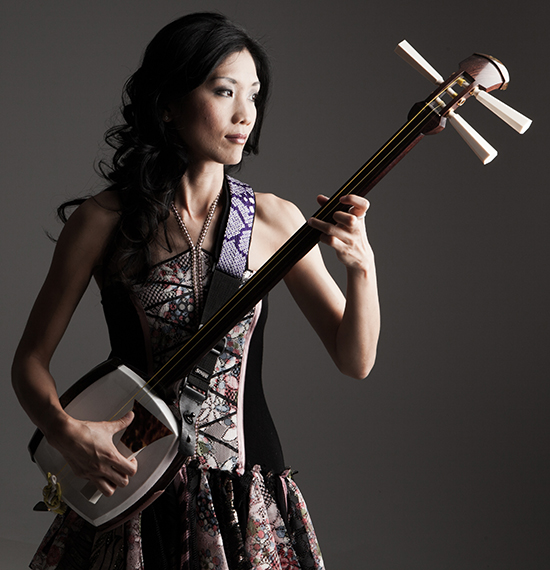 Noriko Tadano, The Book of Daughters
I ask where Hullick's own contribution to the program, Slow Riven Whirl, fits the theme. "It's one half of a kind of 'mirror' project. Slow Riven Whirl (played on 12 November) is mirrored by Windspoken (10 November). Both works are performed by Berni M Janssen and the BOLT Ensemble. For Windspoken Berni Janssen, a great Australian poet, has written the text and it's the women of the BOLT Ensemble performing, not the men. Belinda Woods, the ensemble leader, has co-directed Windspoken with Berni. I have directed and written the text for Slow Riven Whirl from the perspective of a father talking to his daughters, but with words delivered by Berni. You'll hear sentences like "I am your father" uttered in a woman's voice. The notion of mixed-gender is a big part of the event. I'm talking to my daughters, saying, 'Look, I'm trying to understand your perspective, what you're going to grow into, the issues you're going to face and I really want to help but I really don't know how to do that…'
"Slow Riven Whirl rolls straight into a performance by Yoshimio, this amazing Japanese drummer and leading sound artist from Japan, an amazing and heroic woman in my eyes. She's an incredible performer. So, I'm hoping there will be an arc across that night in the way the team has programmed it." Windspoken, says Hullick, includes some elements of Berni Janssen's life as a poet and a woman in the context of the Australian landscape, "but not literally; her work is very metaphorical."
As for instrumentation, Hulllick tells me, "in Windspoken it's flute, viola, cello and double bass. It's a smaller ensemble but this means the individual has more room to speak. In Slow Riven Whirl, it's an ensemble of eight musicians. It's an interesting dynamic because the text has been written by a man for an ensemble of women plus the orator, the leader, who's also female, taking on that text and music and translating it into a new context. I think it would be very different if it were performed by men."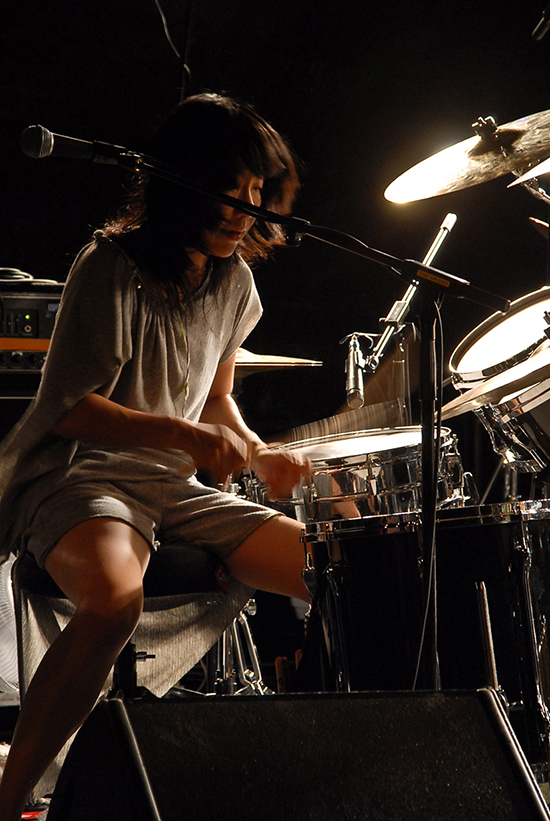 Yoshimio, The Book of Daughters
One of the distinctive nightly features of The Book of Daughters is Sonic Flock, originally presented in the 2013 Melbourne Festival and staged prior to each night's three works. "There are seven black tepees and, inside each, one performer and an audience member. Overall it's set up like an installation in a gallery through which people can wander and have intimate experiences for two to three minutes with The Book of Daughters' artists. Depending which night you attend you'll encounter Carolyn Connors with her extended technique vocals or Kathryn Sutherland, who's from the Amplified Elephants, playing found percussion or Yumiko Tanaka on shamisen or Cal Lyle, a Canadian-Japanese musician, playing prepared banjo. You can also hear all the improvisations from outside the tepees—a kind of collective abstract texture. It's a gentle welcoming to The Book of Daughters."
Hullick tells me, "It's quite a big network that's been involved in this project and next year it's going to tour to Asia; not all but about half of it. The artists will be collaborating with predominantly female artists in the cities they visit."
Making it clear that JOLT is not alone in promoting the work of women artists. Hullick says, "We acknowledge Liquid Architecture's focus on feminist programming and all the work that has gone into other music events that celebrate women." What is admirable is the carefully fostered interplay between Australian and Japanese sound cultures: "The key is maintaining long-term relationships with particular ensembles, people and organisations within Asia, rather than just show up, do your thing and go home. It just doesn't work that way in Asia. That's what I think JOLT has been really good at, these collective relationships."
With the The Book of Daughters, JOLT and its co-programmers looks to the future, creatively addressing gender balance in sound art, extending cross-cultural relations with Asia, embracing artists with disability and, above all, has programmed with festive intensity great performers, idiosyncratic compositions, collaborations and doubtless remarkable improvisations.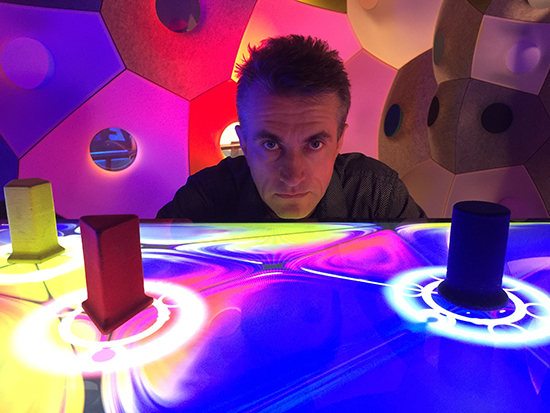 Robert Duckworth at his Resonance Table, The Book of Daughters
JOLT, The Book of Daughters, Arts House Meat Market, Melbourne, 10-12 Nov
RealTime issue #135 Oct-Nov 2016
© Keith Gallasch; for permission to reproduce apply to realtime@realtimearts.net