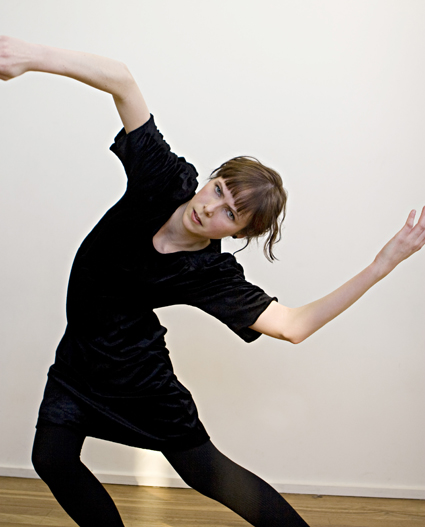 photo Belinda Strodder
Fiona Bryant, In the Dark
WHAT DOES A BODY LOOK LIKE WHEN IT'S DANCING TO THE TUNE OF DEBORAH HAY? NOTHING IN PARTICULAR OR, AS HAY WOULD PUT IT, "THERE IS NO WAY IT SHOULD LOOK." THIS MEANS THAT THERE ARE NO PREDETERMINED MOVES OR GESTURES WITHIN HAY'S WORK; THE USUAL CHOREOGRAPHIC LURE FOR COMPOSING THE BODY TO ACCOMPLISH PARTICULAR MOVEMENTS IS ABSENT.
This lack of predictability concerns performer and audience alike, which is not to say that the dancing is arbitrary. To watch a person engage with Hay's choreography is to access a precise mode of experience. When we see the work 'working', we see a dancer on the edge of an abyss, oriented towards an obscure future. This isn't merely the opacity of not having experienced what is yet to happen, for that is something every dancer faces. Rather, Hay's work offers the dancer a heightened sense of not knowing.
Hay's choreography intensifies the abyss of the future through turning the present into a void. Like Wile E Coyote in the Roadrunner cartoon suddenly poised over that dang canyon, there are no supports. Now what? To my mind, this is a key element of Hay's work: to intensify the performative present by taking away what is usually there.
The title of this piece, In the Dark, indicates the sense in which the performer retains an open attitude towards an imminent future. The choreography could be seen as the means by which this is achieved. Over the years, Hay has developed numerous choreographies, complex combinations of left-field instructions, inscrutable, paradoxical, yet oddly concrete. They are, after all, the dancer's only companion.
In the Dark arose from an intensive workshop held in March at the Bundanon Artists Residence, NSW, led by Hay with the assistance of dancer-choreographer Ros Warby. The workshop consisted of 10 dancers working solo. Each dancer was to practice their solo daily over the three months, so as to keep the choreography and its strategies alive. Come June, four Melbourne dancers presented a season of solos at Dancehouse. Three soloists performed each night. On night one, I saw Fiona Bryant, Atlanta Eke and Carlee Mellow. Unfortunately, I missed Luke George's performance.
Each dancer brought one or two objects with them, a kind of security blanket or shamanistic fetish. Bryant was first, clip-clopping her way around the stage in boots according to an imperceptible rhythm. It was a good choice to begin with Bryant, who has some prior experience of Hay's work. Her face was open, empty, drained of her usual persona. One had the strong feeling that she had no idea what was coming, that the horizon of oncoming movement was completely obscure. This is an incredible thing to sustain on stage with a pile of people staring at you. There was no ostentation in Bryant's performance, no flourish, no demonstration of resident technique nor impressive gesture. She had the courage to simply stick to whatever was required from moment to moment. As a result, we saw a modest range of activities, lacking in pattern, eschewing recognition, jumping across the void again and again.
Since I have no real idea of the underlying choreography, what follows is pure speculation born of inference, for I am also in the dark. It looked like the dancers were engaging the near impossible, that attempting unachievable quests swallowed up their everyday dancing selves. There is a tinge of the postmodern in this work, not because it is pedestrian but because it challenges the knowing subjectivity of the dancer, because there is no space to display what one knows.
Atlanta Eke found her own way of engaging with the choreography. At one point, she stripped herself of her clothes, as if to shed her everyday self. She also broke with her dancing to incorporate a performed Q and A session, reminiscent of Xavier Le Roi's recently performed autobiography. Why not fold audience participation into the moment, why not allow reflection in? At some point, Eke asked the audience whether the discussion was going on too long, whether she should finish. Some brave soul said 'Yes' and the solo was brought to an end.
Finally Carlee Mellow, probably the most challenged by the work precisely because she is the most experienced performer. Mellow had to find another way to dance, without resorting to past familiarities, to confront the choreography without the benefit of hindsight. She seemed to manage this, singing, stepping arhythmically, finding herself dancing in the work, without time to pause.
By the third solo, patterns began to emerge, the audience could anticipate the form if not the content. It's no easy thing working in the dark and letting others see you doing so, but that's what we saw: peeling away the layers to allow for another kind of dancing. The question then concerns what it is that emerges and where that comes from.
The Deborah Hay Solo Performance Project was a collaboration between Dancehouse, Critical Path, STRUT Dance and Bundanon Trust. For more on Hay's methodology for this project, see www.deborahhay.com/spcp.html. For the dancers' reflections on In the Dark, see www.dancehouse.com.au/research.
In the Dark, choreography Deborah Hay, 4 solo Adaptations by Fiona Bryant, Atlanta Eke, Luke George and Carlee Mellow; Dancehouse, Melbourne, June 17-20
RealTime issue #98 Aug-Sept 2010 pg. 22
© Philipa Rothfield; for permission to reproduce apply to realtime@realtimearts.net