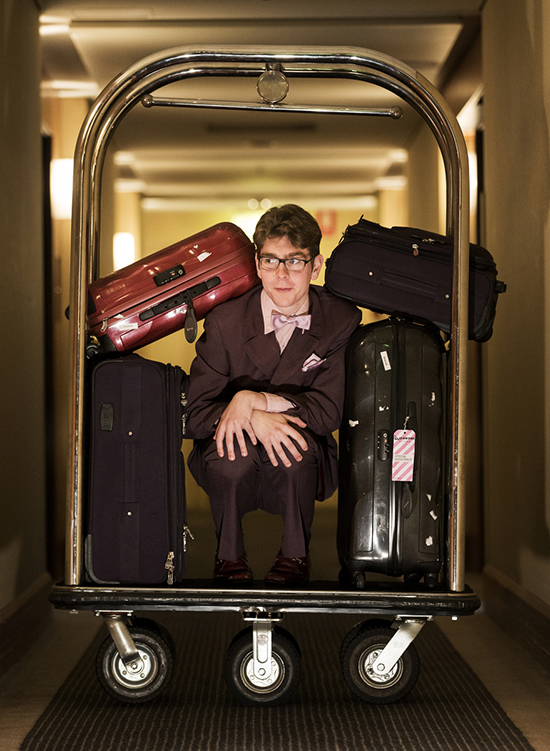 photo courtesy Restless Dance
Michael Noble, Intimate Space
It's heartening that two Adelaide-based companies, Restless Dance Theatre and Gravity and Other Myths, will make their Adelaide Festival debuts this year in Artistic Co-directors Neil Armfield and Rachel Healy's first of three programs. Both companies, one featuring dance artists with disability, the other a circus theatre ensemble, will venture into unfamiliar spaces for their performances.
Restless Dance Theatre, Intimate Space
Hotels are liminal places. Not quite public, not quite private, their shared spaces tease and tantalise the observer with glimpses of other people's lives. Their occupants rarely stay for long, usually leaving for less transient destinations near and far after only a day or two. Little trace of them remains: a faint paper trail, a stranger's remembered glance, something left behind in the rush for a red-eye flight. To the passerby, hotel rooms remain a mystery and back of house, as it's called—kitchens, service corridors, loading bays— is the preserve of staff alone. Only the bar is open to all. Or is it?
Michelle Ryan, Artistic Director of Restless Dance Theatre since 2013, lives near a large city hotel. Watching its patrons come and go, fleetingly hunched over drinks and laptops in the ground floor bar, it occurred to Ryan that she rarely saw anyone with a disability, hardly a person who reflected her own existence—she was diagnosed with multiple sclerosis in 2001—as a wheelchair user. "I think I've only seen one person with an intellectual disability at the hotel," Ryan tells me. "There's not that visibility. I've always wanted through my work to bring that to the foreground. Everyone has the right to be part of the community so why is it that people aren't being embraced in that way, or prepared to take the risk to go out into those places?"
And so, 18 months ago, was born the idea for Intimate Space, a site-specific work for a promenading audience featuring performers from Restless' youth and senior ensembles, as well as three acting students from Flinders University whom Ryan met during a workshop last year run by UK physical theatre company Frantic Assembly. The Hilton Hotel, which overlooks Victoria Square in central Adelaide, accepted Ryan's proposition to use multiple spaces in the work, including those normally off-limits to guests, and during an unusually busy period in the city's events calendar known locally as "Mad March."
photo courtesy Restless Dance
Kathryn Evans, Chris Dyke, Intimate Space
"We did look at another hotel but the Hilton has some great features that I thought would work well," says Ryan. "For example, there's a function level, one up from the ground floor, that has a view directly into the bar area. So audience members will have a voyeuristic experience as the dancers perform, and hopefully the bar patrons won't realise that they're part of the work as well." Scenes will also take place in other parts of the hotel, sometimes with Geoff Cobham's minimal lighting but mostly as found, including kitchens and the laundry—one of the last in operation in an Adelaide hotel—where Jason Sweeney's soundscape will intermingle with the rumbling of industrial dryers. All the while, the hustle and bustle of the hotel's underworld, its shadow life of endless, frantic maintenance and preparation, will continue as normal.
The most intimate of the work's vignettes is a duet in a guest suite, where each intake of 10 audience members will gather around a double bed occupied by two performers. "It's not naughty," Ryan tells me, "but there's a level of inference and it's very up-close and playful. I've shown the duet to a couple of people now and they are always surprised. They find themselves thinking: 'should they be allowed to do that?' I don't want the work to be overly confronting but people with disabilities are sexual beings and I want this fact to make audience members question what they perceive or think should be happening, both in the work and the world." For Ryan, Intimate Space opens up not only questions of visibility and autonomy, but authority too. "The audience will not be passive," she says, "they will be engaged in certain ways and led at all times by our dancers. I'm interested in how audience members will feel about following someone with a disability to areas unfamiliar to them."
"The beauty of this work," she continues, "is the detail of its choreographic language. Because the audience is so close you can say the most important thing with the smallest movement. We'll rehearse things over and over again until they're the way I want them to be, but it's also a question of thinking about space. It's important, especially in areas that are far more confined than a conventional theatre, that the interactions between the dancers and the relationships they have with each other are really clear." Unlike the two previous works Ryan has directed for Restless, In the Balance (2014) and Touched (2015), Intimate Space will not end with a "big, happy dance number. There might be a dance," Ryan says wryly, "but it'll be subtle."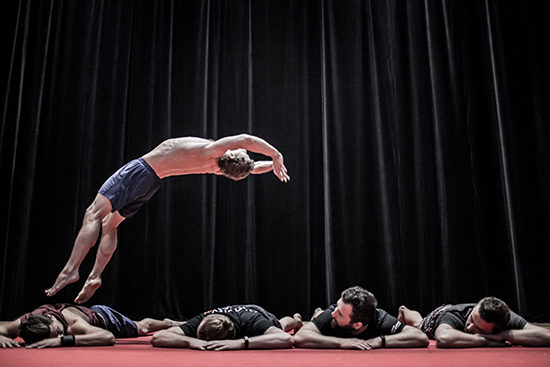 photo Kate Pardy
Backbone, Gravity and Other Myths
Gravity and Other Myths, Backbone
Like Restless, Gravity and Other Myths is something of a local institution, a fixture in an unstable arts ecosystem. Formed in 2009 by alumni of the Cirkidz circus school, the company has developed a national and international profile through its works, most notably A Simple Space (2013) which combined acrobatics and physical theatre with a stripped-back aesthetic that emphasised physicality over elaborate stage effects. Their festival offering, Backbone, will see the company upscale from small fringe circuit venues to the 600-seat Dunstan Playhouse with its proscenium arch and wide, deep stage. Its director is Darcy Grant, a former acrobat who taught many members of the company's current ensemble when they were kids.
I begin my telephone interview with Grant by suggesting that the work's theme of strength is a vexed topic at a time when the world seems at the mercy of dictatorial strongmen like Trump and Putin and a resurgent far-right. "The work loosely touches on that," Grant says. "I've got three clear streams of material: personal strength, which is self-explanatory, then what's immediate—the people who are close to you, your family, friends, community, your country even—and finally there's a global sense of strength, the question of how you react to what's happening out there. I know that particularly my generation—but everyone I speak to actually—feels quite disempowered. How should we respond when there are tyrants getting into power and protests don't seem to work any more and social media seems too manipulated?" While Grant acknowledges that the theme is multivalent, he stresses that he is "trying to find the ways that we are strong and powerful, and answers to the question of how you remain strong when lots of stuff is quite depressing."
The work is also, in part, a response to the company's internal dynamics. Grant explains, "We have interrogated the actual relationships that exist within this group of people—who have known each other for some time, in some cases 15 years—and looked very specifically at what each member is to the group. At the moment we have a scene in the show that we're calling 'Keystone' where the longest-serving founding woman in the company, who's kind of a pillar of strength, really subverts the idea of female power we see in tattoos and flexing biceps and puts forward other ways of being strong, such as how women can bind a group of people together. By examining what she is to the group and how she is strong, we've arrived at a whole bunch of new physical material."
Grant describes the physical vocabulary of Backbone as an evolution of, rather than departure from, the group's previous works, retaining their muscularity and directness of form and purpose. "The thing I always say about Gravity and Other Myths as a relative outsider is that they have an incredibly good sense of what they aren't." In Grant's mind, this is what he refers to as "chamber circus," the discipline's popular form in Australia that is "vacuous and poetic. One person climbs on another person and they look like they're struggling and so on. There is a formula there and while we recognise that that is our heritage as a circus company we are not interested in being slaves to it. Many of Backbone's scenes begin in that space, as a form of circus theatre sports, and then grow in complexity after that. These performers are in what I describe as the sweet spot where they're mature enough to have strong conceptual ideas but still have bodies that obey their commands."
The challenge, as the group reaches the halfway point of its final rehearsal period, is to maintain the close connection with audiences it is used to while also adapting to the necessarily distancing nature of the Playhouse stage. "With MFI [Major Festivals Initiative] support behind us," Grant says, "this feels like a big opportunity. So the company doesn't want to do something with it that's very safe or too familiar. For instance, we're doing something completely new with our designer Geoff Cobham, covering the stage with this sort of granulated earth-coloured gravel that accentuates sliding and movement by flying through the air whenever it's kicked or scooped up. That's something we discovered through a fairly arduous process of looking for points of difference from, as I described earlier, the chamber circus model—vacuous space, minimal set—which is pretty popular right now. Gravity and Other Myths describe themselves as everyman or every person circus, so everybody should be able to get something from these works. But that doesn't mean it can't be sophisticated and layered. The word that keeps getting thrown around in rehearsals at the moment is 'epic'."
–
Adelaide Festival: Restless Dance Theatre, Intimate Space, Hilton Adelaide, 3-19 March; Gravity and Other Myths, Backbone, Dunstan Playhouse, 14-19 March
RealTime issue #137 Feb-March 2017
© Ben Brooker; for permission to reproduce apply to realtime@realtimearts.net