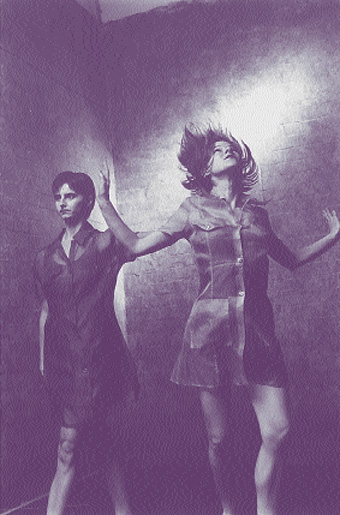 photo Jeff Busby
Ros Warby and Lucy Guerin
• The once and future Premier launches extensions to the Dancehouse (Carlton) space. There is indeed some truth in the glorious statement with which he concludes his proceedings: "I am the Lord of the Dance" (sic). If Chunky Move thinks it's autonomous, take note.
• The launch is followed by a showing, seating guests with pillows on the floor. The once and future Premier gets a sore arse, complains bitterly in the stalls.
• Between the rhetoric and the dream, is a
place of hard work, lonely hauls, less funds. Sometimes, not even a pillow. Funding in Victoria has been so draconian that over the last six or so years, middle-range companies and spaces have folded, practitioners sat and wept as some of Babylon's multifarious voices died. In 1996, needing a new director and perhaps new criteria in order to survive, Danceworks called for expressions of interest to see in which direction they might move. At that time, the Board invited a limitless submission of ideas on how the company might metamorphose (into a production facility; towards performance…). It seems they couldn't then decide, asking Helen Herbertson to hang on as caretaker for another two years. With the appointment last month of Sandra Parker as AD, the company now seems intent on consolidating its identity as a group focused on the production and development of dance. Hopefully, she'll please the still-incumbent Lord.
Parker, whose work as dancer and choreographer has been seen at Green Mill, PICA, WAAPA, VCA, Tasdance, Vis-a-Vis and Next Wave, and includes collaborative work in Australia with filmmaker Margie Medlin [in absentia, March 96] and in New York with Shelley Lasica, is planning a year focussing on dance craft, with less emphasis on multimedia development than in her previous work. Her links in choreographic thinking with makers such as Lasica is apparent in Two Stories, an architectural piece shown at the red-brick shell Economiser Building in November. The four dancers—all quite recent graduates of VCA—are technically proficient in a space that lends itself to abstract contemplations across spatial planes. Two neon-edged, black with red-bordered squares mark the two "stories", which are zones of physical exploration of relationship to time, pattern, and space rather than narratives of plot or character-line.
Whilst this has the feeling of a major work, I found the piece cold, despite the very fine lighting by Ben Cobham and competently-structured electronic score by Amelia Barden. These features did not distract from an essentially neutralised dancer presence only occasionally, and troublingly, disrupted by deep-breathed bodily feeling. Particularly problematic was the inconsistency of embodiment between the male and female dancers' bodies. Suddenly, in the last quarter of the piece, David Tyndall's dance is infused with muscular bite and personality. The work speaks through a potentised being. Thereafter, there are glimpses of this in one or two of the women dancers. The inconsistency gives the clue to perhaps an unresolved relationship between personal and abstract, or, alternatively, the potential in future works for explosive choreography.
I find similarities between this work and Lasica's Situation Live for two dancers. A similar exercise in dance architecture (though in a space one-fifteenth of the size), this piece also explores human interrelationship, in an odd combination of extension and stasis in the dancers' bodies. Amongst intriguing squarish shapes, edgings, lifts and slides, steppings and rollings patterned into well-structured configurations, the dancers exhibit a consistent and strange angularity. Their rod-like shoulders and contained upper ribs somewhere need release. Abstraction is not cold per se, but becomes such in the context of tight (or uninhabited) bodies.
In one of the segments, the two dancers armwrestle as if on both ends of a Chinese torture-stick—an interesting moment which hints less translucently at the work's stated source in a scripted scenario by Robyn McKenzie about relationships. For the most part, however, the idea of a text "behind" the work is both misleading, and a paper tiger: as in Two Stories, the narratives are based in physical and textual interrelationship, here pocked with rigidities which detract from the success of the abstractions.
The fabrics of the dancers' costumes provide nice antitheses: sleeved tops and fitted skirts in contrasting full-blown floral and 60s abstract lines and stripes. This image is a successful working on the difference and tension between passion and abstraction, which the choreography might have reflected elsewhere. Francois Tetaz' Balinese-influenced electronic score likewise develops its own counterpoints between the developing forces of texture versus melodic contour.
Helen Herbertson's Danceworks swansong was to curate the December season at Athenaeum II, recalling three current or previously New York-based Australian dancers to present new works. Each shows a distinctly dry New York flavour, with the occasional spice of blarney. The programme is satisfying overall, but intriguingly poses questions to do with immediacy and residue: what impacts, and what holds over after viewing.
I am struck by how much each dance suits one or other of the dancer's (never the choreographer's) bodies better. In each piece, this is a surprise, denoting the importance of collaboration, of seeing and exploring, sculpting and training in long term partnerships between performers. This is surely one of the principles of ensemble and sustained work in theatre and dance, which in Australia is becoming so difficult to maintain.
Rebecca Hilton's House, invigorating and quirky, shows a hip sensibility and independent mind with nonetheless a concern parallel to Phillip Adams and Lucy Guerin with dance bodies, dolly bodies, music-box girls and molls. Hilton's choreography perhaps mocks the confines of house, family and home by playing rebelliously with catwalks and waltzes, shivas and leather-rebels, with leaps and jumps that square the stage. Bodies trick each other, as limbs refuse to catch but make a space to loop another through. Adams' Grey Area is also athletic—Hilton especially revelling in the work's muscularity—but distracts me with its carrying of chairs and sorting of objects, reliant on furniture to turn its humour. I feel there's an urban joke here failing me (or the fabrics fail my fancy). Despite the sludge of white noise between scenes, the chair-edges hold me too surely in a dance piece whose title and envoy means to focus on the speechless in-betweens.
Geurin's Robbery Waitress on Bail (with a new sound score replacing the one used last year in Sydney) works more with characterisation than the other two. Initially, this quality makes me like this piece the least, although such a linear narrative tends to make it, initially, the easiest to recall. Ros Warby in particular infuses her characterisation of the waitress caught in the act of faking her own kidnap with her boyfriend with a sullen immaturity, rocking and hugging her hips as if in moral exclusion of a rich and judging world. Her and Guerin's uniforms are tight and short; they blow bubble-gum in the face of the waitress' role of availability. It is these held images which intensify in memory: rocking against the huge Athenaeum walls, two small figures in huge blank spaces. Extracts from the source news story projected onto small suspended screens, whilst not a particularly likeable device, nonetheless amplify the contrast between such concentrated news abbreviation and the vacuum in which daily transgressions are dared.
The ghosts of ballet are teased and prodded within these three works, alternately stroking and grating against the way movement in our culture is codified. Such spirits are as potent in their own way as the ghosts in Asian dance traditions which Arthur and Corrine Cantrill evoke in their short film of a Balinese dance. Their Moving Statics programme—one day in a well-curated and important film component to Dancehouse's bodyworks festival—seems concerned with capturing either the body-intelligence with which a performer ripples into shape from one moment to the next (close-up footage of mime artist Will Spoor); or, ancestral spirits infusing ritual music and movement (single-frame time-exposure footage of a Ramayana ritual dance); or, the way the retina itself imprints a sequence of images and constructs meaning from a composite of expectations. Any looking is ghosted by memory and such composing of meaning; Dancehouse' dance lumiere component lets film technique further expose dance to this process.
Although one can see the Cantrills' curatorial logic, the other pieces in this afternoon do not match the quality of their own work. Christos Linou's self-portrait shadow piece shows little structural invention; his Animated Doll film fetishises movement and confounds "wonderment" into eminently forgettable, breakable parts. John Harrison's film forgets that Kali is goddess of creativity as well as of destruction, obsessing with dark swirlings and black eyes. His acid bathing of film-stock creates interesting ghost-effects, but is relentlessly one-sided; and no-one can convince me that blasting human eardrums with intentionally bad-quality sound can ever effect anything of symbolic value.
In a workshop context, it was nice to see where Rosalind Crisp's work has developed from her solos into a two-hander at the Double Dialogues conference, Theatreworks. Partnering another dancer seems to have released a different spirit in her work. Crisp cites a workshop with American Lisa Nelson (at Sidetrack's CPW8 last year) which challenged and freed her previous focus on personal emotion, with the result that Julie Humphreys seemed to take over Crisp's usual persona, leaving Rosalind free to stride the stage like a watching angel, animating the strings of space with a kind of fully-embodied detachment that seemed to carry even more power. At times, I thought I was watching Rodin's l'homme arme crossing the stage.
The conference itself was full of the awkwardnesses, disjunctions and non sequiturs that happen when practitioners start to theorise and theorists at times introduce practitioners without a clue as to how they engender work. That said, some fine working and speaking was heard and shown in the corridors between conclusions, and edges (thank god) remained frayed. Mark Minchinton, in his keynote address, debunked the keynoting put upon him, and insisted that the point of any analysis, or indeed, of any interdisciplinary activity, is to poke, prod and stir and that under no circumstances should performing arts research forget about fun. Minchinton spoke, teasingly, about the necessary teasing between the two fields of play and analysis (twin propellants of creative making), and positioned himself like a fierce but amiable and protective lion on the portal to this Dialogue.
The conference event reminded me that the moat is often more powerful than the castle. Let's cushion no blows: both launches and talk-fests can lose the point. Though dance tugs at the lords, no-one can really lord the dance. Pillows or not.
–
Two Stories, choreographer Sandra Parker, The Economiser Bldg, November 25; Situation Live: The Subject, Director/choreographer Shelley Lasica, La Mama, Nov 12; Return Ticket, works by Rebecca Hilton, Phillip Adams, Lucy Guerin. Danceworks season curated by Helen Herbertson, Athenaeum II, December 14; Moving Statics, curated by Arthur and Corrine Cantrill, Dance Lumiere, Bodyworks 97, Dancehouse, December 7; Double Dialogues: Lines of Flight, Deakin University School of Visual, Media and Performing Arts/School of Literary and Communication Studies/Theatreworks conference, Theatreworks, St Kilda, December 5.
RealTime issue #23 Feb-March 1998 pg. 35
© Zsuzsanna Soboslay; for permission to reproduce apply to realtime@realtimearts.net