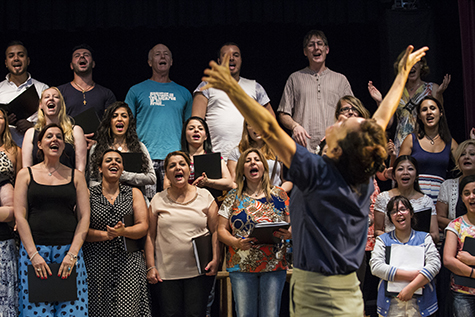 photo Jamie Williams
Catherine McClements and choir members, The Events, Sydney Festival, 2016
SPOILER ALERT: THIS PRODUCTION WILL BE PLAYING IN THEATRES AROUND AUSTRALIA THIS YEAR.
The Events, by UK playwright David Greig, may well have been lauded in the UK for its moral acuity and compassion, but I was angered by its loaded scenario and an absence of thematic thoroughness in its approach to post-traumatic stress disorder.
A young man (Jonny Carr) possessed by extreme right wing fantasies slaughters members of a church choir. The vicar (Catherine McClements) tries to rescue her remaining "choir of vulnerable people" by putting them back to work, but as her own post-traumatic stress disorder takes over she tests her relationship with her partner and ventures on a quest to understand the killer. She speaks with a provocative journalist, with a friend of the young man ("We were both unpopular…You see how bad people are"), a politician (opposed to "state-funded multiculturalism") and the boy's father. She discovers the boy's mother died when he was 15 and that he's gay. His intemperate father accepts it, he tells her, having yelled at the loner, "Get out and get yourself a boyfriend!" (Carr also plays all the characters the vicar seeks out.)
Curiously, for someone who felt that her soul left her when she and a friend were threatened with the last bullet in the killer's gun and asked by him to choose which of them should be shot. Instead of her church, she turns to guru-led therapies for herself and her choir, which they reject: "We just want to forget." Her greatest desire is to understand the killer, despite the advice of her partner and her psychologist; so she campaigns to be allowed to speak with him, becoming in the press "the forgiveness lady." She doesn't want to think he's a psychopath: "It's something else…beyond reason." Was it his fault? Is there such a thing as evil? Is he 'empathy impaired'? Her partner sees this quest as masochism.
Greig's scatter-gun approach is loaded with complications—the priest is lesbian, the mass killer gay and, pivotally in a late 'reveal,' he tells the vicar he took in a girl who had just been assaulted outside his home by three Arab males. And played a computer game with her. This man? With his attitude to women?
What is interesting about The Events is the priest's decline, not least into kinds of violence: a kiss with her partner turns into a struggle; she unconsciously shoplifts; she imagines herself as a nurse smothering the killer when he was a baby; fantasises herself and her partner finding and adopting a lost boy ("He's happy; he's dead"); she almost kills herself; and in her encounter with the killer in prison is infuriated with his inability to account for his motivation and smashes his coffee cup to the floor. What kind of catharsis for her is this, if any? If the 'message' is that there is no answer, the vicar certainly doesn't countenance it. Anyway, the visit seems enough to return her happily to her multicultural choir, her "one big crazy tribe," as she calls them. We, however, recall the killer's elaborately realised dream of a return to tribalism, to "buy back our souls." Has the vicar found her soul again? The final joyous song seems as ironic as it is feelgood. At least Greig makes that point.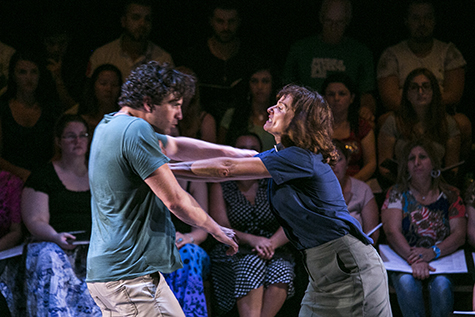 photo Jamie Williams
Jonny Carr, Catherine McClements and choir members, The Events, Sydney Festival, 2016
This highly portable work is plainly staged with its two actors and choir (mostly a different one each night). Catherine McClements subtly grades the sorry trajectory of the vicar's moral confusion, growing isolation and potential self-destructiveness. The choir, admirably coached and conducted by Luke Byrne from the piano, not only sing with verve but deliver lines individually and collectively join in a witty Q & A with the characters. It's a dramatically effective device, providing both a sense of community and vulnerability, although the choir ultimately plays no role in the vicar's salvation; but she can at least return to it.
Carr is a solid presence and best as the killer (that's where the writing shines), but all his characters speak without vocal differentiation (as in UK and US productions), the audience often only aware of who's speaking once clues are picked up from the conversation. Save for moments of anger there's a flattening of overall affect and limited opportunities for nuance. At best it emphasises that we are party only to the vicar's increasing delirium as her post-traumatic stress disorder unravels her—until an unlikely recovery. Will she now simply forget 'the events'?
–
Belvoir, Malthouse, STCSA, The Events, writer David Greig, director Claire Watson, set & lighting Geoff Cobham, musical director Luke Byrne; Granville Town Hall, Sydney, 13-17 Jan
RealTime issue #131 Feb-March 2016 pg. web
© Keith Gallasch; for permission to reproduce apply to realtime@realtimearts.net