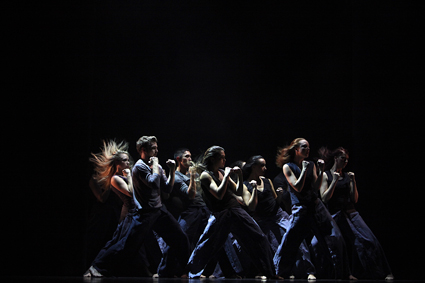 photo Fiona Cullen
Twelve Ascensions, 2013, featuring Dance students from Creative Industries Faculty, QUT
In June-July, RealTime approached tertiary teachers of performance, acting, dance, technical production and design diploma and degree courses across Australia. Our thanks go to those who participated. To those who we missed, who were on leave between semesters, we hope to catch up with you in due course. As for the proliferating commercial drama school sector we'll address this in a forthcoming edition of RealTime.
The survey revealed signs of change, some adaptive as budgets tighten, but most made with a sense of grasping the present and looking to the future. Schools are re-writing degree courses; creating new degrees; increasingly engaging directly with professional theatre and dance companies; increasing training time spent on designing, directing and acting for screen and film; and running with expanded notions of performance that have evolved over recent decades—just look at the variable use of 'performance' and 'theatre' in faculty, degree and course titles. The more performance opens out, the more possibilities for new forms of creativity and unanticipated careers.
There is also growing competitiveness, sometimes expressed bluntly on these pages, for and against training without rigorous academic demands; issues relating to class sizes and hours; commercial versus artistic imperatives; and just what is meant by training for autonomy.
Potential students browsing these offerings will be attracted to the prospect of commitment to developing a single expertise while others will see in more open-ended courses a host of often unexpected career opportunities. The range of courses and locations, not all of them in big cities, offer an incredible diversity of experiences. All emphasise teamwork, inventiveness, creative collaboration and relationships that extend into careers. You'll see the same focus in our articles on Monash University, VCA and the Adelaide College of Arts on previous pages.
Ken Boucher, Director, National Theatre Drama School
Located?in St Kilda, Melbourne the school offers a three-year full-time Advanced Diploma in Acting, which is nationally accredited and VET registered. Ken Boucher, a widely experienced theatre director, writes, "The course aims to prepare industry-ready graduates with skills in live and recorded performance or as performance-makers and producers." Staff are all active in the industry and "the School's alumni includes well-known names such as Kat Stewart, Brett Tucker, Richard Cawthorne, Lawrence Mooney and Rick Davies."
Boucher is adamant that "at a time when higher education providers are increasingly deserting undergraduate actor-training and/or massively increasing class sizes in the courses that do remain, we place strict limits on our intake (16 in the first year) in order that each student is given maximum support, encouragement and assistance….In their final year students have the opportunity to present their screen work through a professionally produced and nationally circulated showreel and their live performance skills via devised performance and a showcase presentation to industry." Sessional teachers come from the industry and "provide great contacts for students."
Associate Professor Kim Durban, Arts Academy Federation University, Ballarat
Durban, a VCA graduate who has directed for major companies, emphasises the care the Arts Academy has for its students and the praise it receives from graduates: "We work as a team, we aim to inspire and we succeed. I am passionate about ensuring we have great guest artists, strong contact hours and screen acting as part of the program."
Students engage directly in cultural events in Ballarat and graduates have "created companies such as [the all-male comedy troupe] Aunty Donna who this year have been invited to present at Gilded Balloon in Edinburgh." The Academy's Professional Practice course, writes Durban, "is firmly based on survival skills. Acting graduates know that they will be responsible for creating their own success beyond the Industry Showcase."
Dr Erin Brannigan, Lecturer, Dance Studies, UNSW
The distinctiveness of Dance Studies at UNSW, writes Erin Brannigan, co-editor of Bodies of Thought, 12 Australian Choreographers (RealTime-Wakefield Press, 2014) and Dancefilm: Choreography and the Moving Image (New York: Oxford University Press, 2010) comes in the form of "three broad areas of study, Thinking, Writing and Making, linked by the key terms of corporeality and movement." The breadth and depth of the approach makes the course ideal for producing "dance artists, writers, researchers, educators and arts workers ready to enter the performing arts industry and secondary and tertiary educational institutions."
While Thinking covers "the history, theory and analysis of dance in diverse cultural contexts, locating dance within a larger ecology of related national and international practices" and interdisciplinarity in current practice and thinking. Writing encourages students "to develop a writing practice alongside their creative or theoretical interest in dance, and to explore the various relationships between writing and dancing." Making involves movement practices and techniques and acknowledges the role of studio-based learning."
Dance Studies at UNSW, writes Brannigan, "has strong ties with local industry through teaching staff and professional residencies, and is aligned with the existing ecology of dance practice in NSW with a focus on self-authored movement research, offering clear pathways to higher research in Creative Practice and Dance Theory."
Rosalba Clemente, Head of Acting, Drama Centre, Flinders University
Actor (most recently in the State Theatre Company of SA's The Seagull), director and former STCSA Artistic Director, Clemente singles out "learning driven by a strong core pool of arts practitioners and theorists and supplemented by excellent outside practitioners in both classes and production blocks; engaged industry partnerships with student participation including industry workshops; and student exposure to more than one methodology [with the] opportunity to apply diverse processes over at least nine diverse productions in live performance and film over four years as well as class work."
Creative Development of new work is experienced with outside writers and directors (at present Philip Kavanagh and Nescha Jelk). Clemente rates highly the opportunity to work in "a strong artistic community—artistically, politically and socially aware—with an emphasis on how to work, not just what to make. The aim is "actively encouraging the protean artist: an actor/director/writer/maker/cultural leader/producer [with the] penetrative discipline of the thoroughbred artist. The Centre has yielded diverse talents such as Tim Maddock, Xavier Samuel, Sara West, Sam Haren, Amber McMahon, Alirio Zavarce, Cath McKinnon, Geordie Brookman, Catherine Fitzgerald, Caleb Lewis, Melissa Reeves and Benedict Andrews."
Clare Grant, Lecturer in Performance, Theatre and Performance Studies UNSW, School of the Arts and Media
In tune with contemporary theatre, performance and live art practices, lecturer and performer (most recently in My Darling Patricia's The Piper), Clare Grant writes that Theatre and Performance Studies (TPS) offers "a mix of theoretical and practical experiences in the study and making of theatre, encompassing a culturally broad definition of performance." The integrated courses span cultural theory, Australian drama and theatre, acting and performing theory, solo and group making and writing processes, multimedia practices, the classic repertoire and a range of 20th century European performance practices."
Grant singles out "the unique-in-Australia opportunity to experiment with contemporary theory and practice with the support of the Creative Practice Lab in the Io Myers Studio and the capacity to develop fundamental performance skills." Graduates enter careers as diverse as performance making, marketing, arts administration, teaching, academia and event management."
As well, TPS offers study at Honours and Postgraduate levels in theoretical and practical areas of study with a number of recent graduates winning prizes for research and performance writing while staff members are working on major national and international research projects. TPS has an impressive list of graduates working in a variety of roles including RealTime writer, former Online Producer and academic Caroline Wake; writer, reviewer Bryoni Trezise, Lecturer in the UNSW School of the Arts and Media; Frances Barrett of Brown Council; Jessica Bellamy, Rodney Seaborn Playwrights Award, 2011; Emily O'Connor of Hissy Fit; from post, Mish Grigor and Zoe Coombs Marr (the latter also Philip Parsons Fellowship for Emerging Playwrights, 2011); Anthea Williams, Literary Manager Belvoir St; performer Janie Gibson, MA Manchester University; Teik Kim Pok, performer, RealTime reviewer, Outreach Co-ordinator Playwriting Australia; Grant Moxom, residency Blast Theory, 2012; and Bernice Ong, freelance artist, technician, curator, Singapore.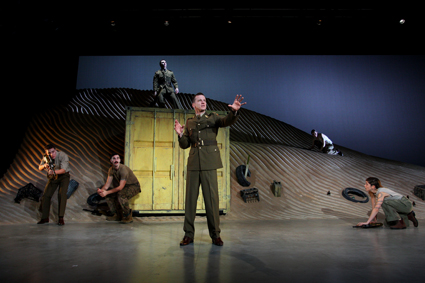 photo Lisa Williams
NIDA students perform Stephen Sewell's Kandahar Gate, 2014. Stage design by NIDA Design students Charles Davis (set), Emma Vine (costume)
Michael Scott-Mitchell, Head of Design for Performance, Director of Undergraduate Studies, NIDA
A leading Australian theatre and opera designer (including the State Opera of South Australia's Ring Cycle, 2004) and himself a NIDA graduate, Mitchell is thoughtful: "The essence comes down to the simple fact that a conservatoire based training is to be cherished in an institution where you get such a high level and detail of training with a pretty remarkable staff-student ratio. I take eight students handpicked from 60-70 around the country each year. This is done deliberately to ensure they have the best possible training but also that there's a place for them in the industry when they leave the building. I see each candidate for an hour. In some ways I'm casting because they have to live in an intense pressure cooker for three years while doing undergraduate training and 15 months for the MFA. I want to know how this person thinks. How does their imagination relate to their perception of the world and can I help them? It's intimate training and I have to think about not only the eight individuals but how they'll work together and deal with the pressures of being in a studio—it's beneficial but there are times when things fracture."
As for arriving with drafting and artistic skills, Scott-Mitchell says, "I'm not obsessed with them walking into the audition with a fabulous model—which they have to do for their application. We're good at training in the basic communication skills in drawing, documentation, freehand drawing and model-making. I can't make someone a fabulous designer. I can find people with the right kind of ingredients in terms of their talent and then give them the tools to express themselves well. They do need to have clocked that they are going into something where they'll rely on people around them to create an artwork, a very different experience from working alone.
"In the new Bachelor of Fine Arts [BFA], the first year is broadly skills development and design exercises of increasing complexity in the studio and they also get to work on two productions building and crewing, so they see how they fit in the process. They're attached to the designer of the production essentially as assistants.
"The second year is almost entirely a studio year. I wanted them to have a longer theoretical exploration and, importantly, it's the year they start working with the student directors. For example, they used to develop an opera project first, which seemed slightly insane [LAUGHS] so I moved that to the end of the year and they start instead on smaller works. Egil [Kiptse, Head of Directing] and I have spent the last six years trying to craft that relationship building process, starting with small exercises and taking the students to a festival—during the day we do quick exercises, then we see a show, meet the next day and discuss it. The second years also crew the third year designers who are making films.
"In third year almost everything has a practical outcome: a short film, a major exhibition at the end of the year, designing the directors' graduation productions, so that relationship building comes to fruition. They also create six JJJ video clips each year. There's been an increase in screen design to six to eight months across three years."
Scott-Mitchell is particularly pleased with the introduction of lighting design into the BFA [Design for Performance] for the first time. "In first year lighting design students will do their course with the set and costume designers who will also have lighting training, which also has never been done before. In second year their training is ramped up but they'll keep intersecting with the projects other designers are doing."
Forming enduring bonds between directors and designers is important, says Scott-Mitchell: "Design students work with both second and third year directors, doubling their opportunities to form long-term partnerships from six or seven to 12 or 14."
Associate Professor Helena Grehan, School of Arts, Murdoch University
Dr Helena Grehan, writer and editor (co-editor with Peter Eckersall of 'We're people who do shows,' Back to Back Theatre: Performance, Politics, Visibility, Performance Research Books, 2013, RT121, p38) describes the Major in Theatre and Drama in Murdoch's BA as designed to provide students with a broad range of skills and experiences in the area of theatre, drama and performance studies. Students are trained in acting, directing, design and script development and they have the opportunity to work as part of a large team in their third year on a major graduating production. Each student is exposed to all areas of production so that they have skills in the running of a show as well as in being part of an ensemble."
Guest professionals include performance writer and novelist Josephine Wilson who is coordinating the Performance and Creative Arts unit, "working with students on both the theoretical and analytical skills needed to read and respond to creative work as well as in devising. Zoe Atkinson, an internationally recognised set and costume designer who designed fellow WA artist Matthew Lutton's production of Wagner's The Flying Dutchman for Opera NZ in 2013, will work with second and third year students in the Design unit." Grehan adds, "in recent years students have had the opportunity to tour to Singapore and/or Malaysia with a troupe from our Childrens' Theatre unit and this has given them valuable opportunities for cultural and artistic exchange and team building skills." As well, students majoring in theatre also participate in the five or so student theatre companies on campus, operating at graduate and undergraduate level.
Grehan writes, "There is strong sense of belonging and pride amongst the students in Theatre and Drama Studies and they are very supportive of one another." Graduates have gained places as actors, composers, designers and crew members in theatre companies in Australia and Malaysia, in Drama Departments in Malaysia and Singapore as well as in the primary and secondary education sector in Australia."
Dr Julie-Anne Long, Lecturer in Dance & Performance Studies, Macquarie University
Lecturer, dancer, choreographer and a key figure in the NSW dance scene, Julie-Anne Long rates the absence of auditions for the dance course at Macquarie University as distinctive. However, although no dance experience is required, "many students have extensive dance training in ballet, tap, jazz and contemporary. Others may be hip-hop dancers or have experience in cultural dance forms. Plus there are those who have an interest in dance alongside another art form, say music or film."
The diversity of dance origins is reflected, says Long, in the Department of Media, Music, Communication and Cultural Studies (MCCS), the largest department within the Faculty of Arts, "offering unique cross-inter-multi-disciplinary opportunities for students." This presents opportunities for students to combine dance practices and creative processes with screen and digital media production skills. Long also singles out double majors or double degrees, partnering say Education or Law or Commerce with Dance as being attractive to students. "We encourage students to ask what dance can offer other fields and how they can apply embodied principles, choreographic skills and collaborative practices to other world applications. Dance is therefore addressed in everyday, cultural and social contexts and students are encouraged to generate their own directions and creative possibilities alongside workshops in contemporary dance techniques, choreographic performance, music and theatre, as well as experience with intermedia production."
Tim Maddock, Program Convenor, Performance and Theatre School of Arts, English and Media, University of Wollongong
A graduate of Flinders University, Adelaide, Maddock was a founding member of the Red Shed Theatre Company, directed for Brink Productions and subsequently for Malthouse, Griffin and Sydney Theatre Company. He states with conviction, "We develop students' whole cultural and aesthetic awareness—only university courses can deliver this. Rather than being a skills or entertainment based course we're constantly contextualising everything we do in terms of historical and contemporary practice."
The Bachelor of Performance and Bachelor of Creative Arts [BCA] Theatre degree students share an identical foundation year developing "voice, acting, movement and singing skills intensively, two hours each a week. They do stagecraft which introduces them to the basic languages of the theatre, playing with the components and experimenting…and getting them out of some bad practices they might have picked up."
The BCA Theatre degree equips students with skills in a broad range of performance areas involving performance skills, stagecraft, stage management, technical production, dramaturgy, history and theory and other possible areas of study including art history, creative writing, design theory, media arts, graphic design or technical theatre. The Bachelor of Performance, which requires audition, is "an intensive, specialist course that develops students as self-reliant, highly-skilled performing artists through a strong, practice-based program…with an emphasis on collaboration and ensemble practice"(website).
Bachelor of Performance students engage in four major productions across their course "and switched-on students drive their own productions in the break." Current works include Tim Crouch's Nothing to See Here involving visual arts and other students, and an installation based work. Several Honours students develop work each year in which other students are cast. The overall output, says Maddock, is prodigious; a technical production student itemised on YouTube 44 productions she had been involved in across her course.
Students study dramaturgy with Dr Margaret Hamilton (Transfigured Stages: Major Practitioners & Theatre Aesthetics in Australia; Rodopi 2011), contemporary Australian Theatre, contemporary theatre practices (Robert Wilson et al) and Theatre History.
Maddock says that Wollongong is a lovely campus and that students appreciate being in a strong cultural cohort, educate each other and establish long-lasting relationships as evidenced by the emergence of successful performance ensembles Team MESS and Appelspiel and writer-director Mark Rogers' home-based Marrickville Woodcourt Art Theatre. "We make units of people who will go out and create; we're not an industry sausage machine." Adding to the cultural intensity at UOW is a strong contingent of postgraduate researchers including Nikki Heywood, Deborah Pollard (RT120, p40) and Nigel Kellaway.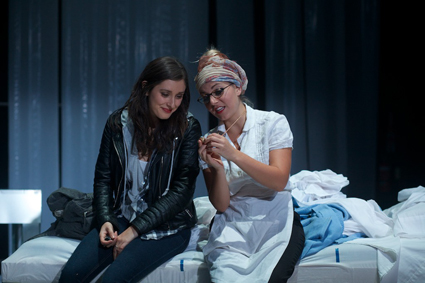 photo Fiona Cullen
Sophie Don, Sophia Stratton, Mnemonic, QUT
Sandra Gattenhof, Head of Drama, School of Media, Entertainment, Creative Arts, Drama, Creative Industries, QUT
Associate Professor Sandra Gattenhof, a specialist in drama/arts in schools and communities, postdramatic theatre and contemporary performance for children and young people, cites "a benchmarking survey in 2009 with other Australian universities that offer similar degrees; at that time and still, we are the largest drama department and the only one within a university that offers acting, tech production and the generalist degree in drama. Others offer one or two but not all three."
The BFA Acting degree requires interview and audition, Technical an interview and Drama the appropriate tertiary entrance score. Drama students, who receive a strong theoretical and academic grounding can do a one year postgrad course to allow them to become drama teachers in schools.
In terms of annual student course numbers, Gattenhoff says there are 16 in Acting, 25 in Technical and around 85 in Drama. She points out that Acting and Technical students do not work to the university semester schedule once in second and third year because they are constantly in production daily and many evenings. "We mimic life-like experiences but have six-week rehearsal periods, a luxury for guest directors, but vital for student training."
Gattenhoff is thrilled that the faculty is moving into a new building "which will provide purpose built facilities for the first time—rehearsal rooms and workshop spaces on Kelvin Grove Road opposite La Boite Theatre and highly visible to the public." She believes, "we are the only drama faculty that has had any kind of new building in the last 10 years. All the surfaces are digital skinned and all rooms are sound-separated. It's a 21st century facility."
A new and distinctive feature appears in the re-written acting course for third year students: "There are units on entrepreneurship—how to create your own business and how to market yourself so that you're not just at the mercy of agents. This is in response to what we see our post-degree students doing."
As well, Gattenhoff emphasizes an increasing shift to actor training for film and screen work, learning how to audition for screen tests, making showreels and preparing "auditions for iPhone that can be sent to Hollywood within 30 minutes if we get a call about seeing someone's work. It's the future."
As for the BFA Drama students, "most of them go into independent theatre. All of the third year is about making, producing and marketing your own work and developing your collateral with two dedicated units on entrepreneurship and business skills."
RealTime issue #122 Aug-Sept 2014 pg. 18-20
© RealTime ; for permission to reproduce apply to realtime@realtimearts.net