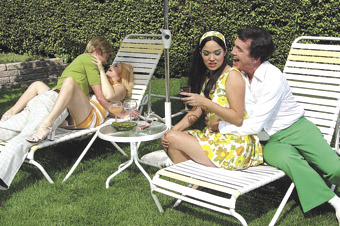 Swingers
AT A TIME WHEN THE FUTURE OF THE TRADITIONAL FILM FESTIVAL IS A MATTER OF SOME DEBATE, TWO OF AUSTRALIA'S NEWEST FESTIVALS ARE FORGING AHEAD. WHILE ADELAIDE HAS JUST SEEN ITS MOST SUCCESSFUL EVENT BOTH CRITICALLY AND IN TERMS OF ATTENDANCE, PERTH'S REVELATION FILM FESTIVAL IS ABOUT TO CELEBRATE ITS 10TH BIRTHDAY WITH A LARGER AND EVEN MORE INNOVATIVE PROGRAM, MORE FILMS AND A NEW ARTISTIC DIRECTOR. MEGAN SPENCER, DOCUMENTARY MAKER (LOVESTRUCK: WRESTLING'S NO. 1 FAN; RT78, p20) AND FILM CRITIC FOR TV AND RADIO, HAS LEAPT ENTHUSIASTICALLY INTO THE TASK OF KEEPING REV ONE OF THE MOST IMAGINATIVE AND CHALLENGING ANNUAL EVENTS ON THE SCREEN CULTURE CALENDAR.
While the more established film festivals are trying to adapt to new ways of looking at cinema, and still grappling with the rather delicate balancing act of satisfying their older, subscriber-based audiences with more traditional offerings while attracting the very necessary newer and younger audience with diverse and provocative programming, younger festivals don't have this challenge. Their audiences are risk-taking, attracted by innovation; these events can grow organically with their audiences, can enjoy the new ways of both making and experiencing the moving image.
Unlike the larger and more traditional film festivals, which developed naturally from the film society movements or from a city or a community's need for such an event, the Revelation festival emerged from a desire to screen underground films from all over the world, and a need to take cinema into different environments. Now the event is very healthy; it has state and federal government support through Screenwest and the Australian Film Commission, triennial funding, and a strong sponsorship base.
Rev began in 1997 as an underground event in a basement, Perth's smoothest jazz venue, where it screened everything on 16mm and included live music and poetry. On its tenth anniversary—titled Revolution. Retrospective. Revelation—Rev will screen around 100 features, documentaries and short films, as well as music videos and experimental work, include a late-licensed festival club and other music and film related activities, and present them at both established cinemas and at nightclub venues. Rev hasn't abandoned its underground beginnings: Cinema Tabu will present a microcinema showcase of strange films from around the world in a bar environment. Brent Hoff from San Francisco is editor of Wholphin DVD Magazine (an offshoot of cool literary journal, McSweeney's) and gathers together rare and unseen films to release on DVD. He will screen a selection of these as part of Cinema Tabu.
Already a filmmaker and reviewer, Spencer hadn't been planning to look for a job as artistic director of a film festival. When she actually considered accepting such a role, however, she realised that every experience she'd had "coalesces and becomes relevant. I've got the benefit of being a filmmaker, and of knowing what filmmakers want and hope to get from a film festival. And I've seen thousands of films. I'm aware of the cultural and critical connections. I understand the lie of the land and I think I know what to program for the audience to connect with." And, she says, becoming artistic director of Rev is really a natural progression. "I've cheered it on as an exciting new event, I've had films screened there, I came over to Perth twice with SBS's Movie Show. I think I understand what the audience wants."
Unlike most festival directors, she hasn't been able to travel to overseas festivals to put her program together. Instead, she's been programming from the internet, through other festival websites, festival reviews, and the many new avenues offered ("MySpace has been a very good source"), while Rev's growing identity has, of course, made it attractive, with over 500 films submitted for selection from local and international filmmakers. Working closely with Rev founder Richard Sowada (now Head of Film Programs for the Australian Centre of the Moving Image in Melbourne, but still chairman of the Rev board and very involved) in choosing films, she's particularly excited about the queer cinema strand, which includes John Waters' Pink Flamingos (1972), Anna Biller's Viva (2006; a parody of 60s sexploitation films) and Mary Jordan's documentary, Jack Smith and the Destruction of Atlantis. "I'd never heard of him—I was just stunned when I saw the film. It's amazing when you discover someone like that, and other filmmakers fall into place."
Spencer hopes the activist strand will encourage at least some audience members to, well, become active and do something. There's Iraq For Sale (2006) by Outfoxed (2004) director Robert Greenwald, on war profiteering; God's Ways, by German filmmaker Evan Neymann, on two street kids in Odessa; and Soft Words, an Australian short film by Adrian Francis on political spin about asylum seekers and how it abuses language. Rev's strong documentary strand this year includes something Megan Spencer is particularly excited about: a mini-retrospective of the work of famed documentary-makers the Maysles brothers, with two short films showing Truman Capote and Marlon Brando in a fresh and unexpected light.
Super 8—that little film gauge that just won't go away—is the surprise element in Rev's 10th birthday, forming the basis of the new film competition, Revel-8. ("The more we go forward in time, the more incandescent Super 8 becomes", comments Spencer.) Former director of Perth's lost and lamented Pandora's Box Super 8 Film Festival and ECU lecturer Keith Smith takes charge of this new event celebrating the fusion of image and sound, inviting both experienced and novice filmmakers resident in WA to participate. "Super 8 is the original DIY medium and is still finding new devotees after 40 years of glorious imaging. It's not just the unique look, there's something magical about working on Super 8 which brings out a special creativity", he explains. Filmmakers are challenged to make a silent, unprocessed film, edited-in-camera, on a single Super 8 cartridge, lasting just three and a half minutes, on the theme, "Birthday", using an experimental, animation, drama or documentary approach. Then the best 20 films will be scored by composers at the WA Academy of the Performing Arts and screened in a 5000W flickfest at the Rev Club on Friday July 20, with lots of creative and genre prizes on offer.
A major element of the festival is the Screen Conference, which was initiated last year as a space for filmmakers and those involved in many aspects of the film industry to discuss and workshop a range of related issues. This year the conference has grown, and its guest list includes representatives from the international distribution scene, local and international filmmakers, composers, editors, cinematographers and writers. Featured conversations, masterclasses and workshops include two sessions on HD Heaven (a masterclass with Toby Oliver ACS, on working with HD); Art of the Music Video, with both an international and local focus; The Art of the Short Film; Loving the Alien: The Relationship Between Documentary Filmmaker and Subject; Shedding Light: Performance For Screen; and DIY or Die on digital filmmaking and alternate modes of exhibition and distribution.
Special festival guest and anime proponent Phillip Brophy will be presenting Tezuka: From Manga to Anime, on how Osamu Tezuka transformed his manga into anime. Rev is screening Brophy's curated program, Focus on Tezuka (already seen at the Art Gallery of NSW and ACMI), with its kids' flicks component of Astro Boy and Kimba The White Lion, and five fantastic adult animations. Brophy will also be represented in his filmmaker and sound design artist mode; during the festival he'll be performing The Planets, a remixed presentation of his exquisite cinema scores live, and screening his Evaporated Music series of big-budget, high-gloss video clip images reworked to monstrously alien sound. And his notorious sci-fi horror comedy from 1993, Body Melt, will have a rare screening.
Strange Culture (2007) is a convention-defying documentary by Lynn Hershman Leeson which screened earlier this year at the Sundance and Berlin Film Festivals. It documents the extremely paranoid reaction of US security authorities in the case of internationally acclaimed artist and professor Steve Kurtz when his wife Hope died in her sleep of heart failure. Police arrived, became suspicious of Kurtz's art, and called the FBI. Within hours the artist was detained as a suspected 'bioterrorist', his computers, manuscripts, books, his cat, and even his wife's body were impounded, and he still awaits a trial date. While Strange Culture manages to reinvent an old form while telling an urgently topical story, what makes it even more memorable is that the Sundance Film Festival screened the documentary in Second Life, the first feature film to be screened on the online community. Rev will not only be screening the film, but will also include a panel on Second Life as part of the Screen Conference—Second Life and Beyond: Virtual Communities and Making Media in a Digital World, organised by Mick Broderick.
Megan Spencer hopes that her first festival will continue the great work that Richard Sowada has done in making Rev a very distinctive event. Sowada himself is cautious about the future for film festivals: "a not-for-profit event has to exist in an exhibition culture that's commercially based, that's totally geared to making money. Rev is all about audience development, and that's a very difficult area to navigate right now." Spencer thinks that "what makes Rev special is that it opens up a dialogue with the individual filmmaker, and brings in people from all aspects of filmmaking. What I'm trying to do is blur it all: see how digital culture is affecting film, how much feature film has taken from music video—and vice versa. It's important to recognize what's going on, and to discuss and debate it. I believe in plugging film into film culture, rather than the industry, and I think that's what Rev does."
Revelation Perth International Film Festival 2007, July 12-22, www.revelationfilmfest.org
RealTime issue #79 June-July 2007 pg. 21
© Tina Kaufman; for permission to reproduce apply to realtime@realtimearts.net