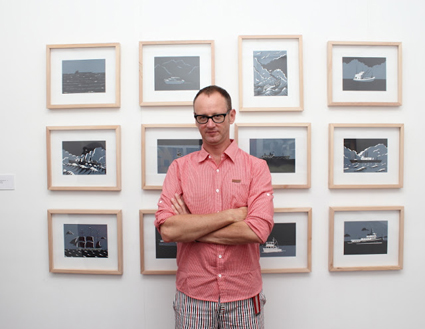 photo Dito Yuwono
Malcolm Smith at his exhibition opening at Lir Space in Yogyakarta, 2012
reason for travelling
Smith is currently based in Indonesia.
contemporary art—ancient culture
Throw a stick in Yogyakarta (usually referred to as Yogya, and pronounced Jogja) and chances are you'll hit an artist. Throw a couple more and you'll hit a foreign artist here on a residency, exchange program, research grant or just escaping the winter back home. The relaxed pace of Yogya, the city's reputation as the cultural heart of Java, the fact that it's home to one of the country's largest art schools and the cheap cost of living make it the perfect place to immerse yourself in art for a few weeks (months, or even years…).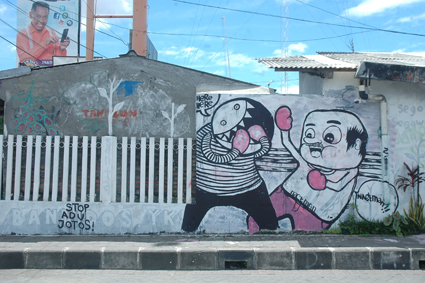 photo Agung Geger
Here Here, street art, 2012
Located in the centre of Java, Yogya is surrounded by the ancient Borobodur and Prambanan temple complexes in the East and West, the active volcano Mount Merapi in the North and the fabulous beaches of Parangtritis and Wonosari in the South. In the centre of town, amongst centuries-old palaces, rambling marketplaces and narrow streets there is also an ever-expanding range of contemporary art spaces.
for culture…
The venerable Cemeti Arthouse should be the first stop on your Yogya Art Tour. Cemeti opened in 1988 and ever since has played a key role in the development of contemporary art practice in Indonesia. A short walk away are Kedai Kebun Forum and Langgeng Art Foundation, both of which host exhibitions by local and international artists, as well as regular seminars and performances. Ten minutes to the West is Sangkring Artspace, a complex of enormous spaces that host some excellent shows. Taman Budaya Yogyakarta and Jogja National Museum are public venues that regularly host contemporary art events, including the Yogya Biennale and Art Fair Jogjakarta. The next ArtJOG12 will run July 14-28.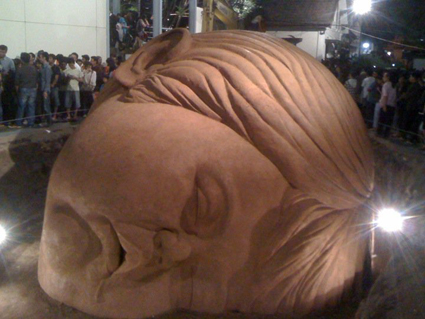 photo Malcolm Smith
Eddie Prabandono, A Sleeping Child, opening night, ArtJOG11, 2011
For those with more specific interests, there is a proliferation of small collectives and artist-run spaces. As in any city, they tend to come and go, but some that have lasted several years are House of Natural Fibre, aka HONF (for science/art projects), Mes 56 (photography), Survive Garage (street art), Kunci (cultural studies/theory), Paper Moon Puppet Theatre and Theater Garasi. The Indonesian Visual Art Archive houses a vast library documenting art practices over past decades and is an excellent resource for curators and researchers. You can pick up a great map of Yogya artspaces from IVAA or Kedai Kebun, or download it here.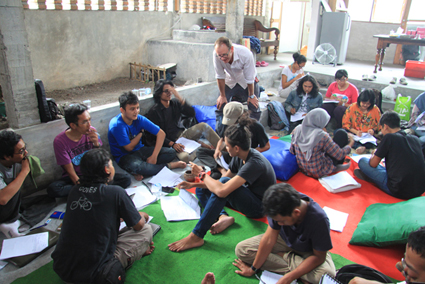 photo courtesy IVAA 2012
Malcolm Smith, grant writing workshop at IVAA Yogyakarta
If you are planning a trip to Yogya I recommend you do a little research and contact one or two of the above organisations. Artists are warmly welcomed in this city and well looked after (if you get a chance, you can return the favour one day). Giving an artist talk or a workshop is a great way to meet the locals, make friends and get access to a side of the city most tourists never see.
getting around…
There's very little public transport in Yogya and the streets (like every Asian city) are swarming with small 150cc motorbikes. If you are prepared to brave it, they are a great way to get around and can be hired for about $4 per day. Otherwise you can hire a bicycle for about $2 per day or hail a becak (rickshaw). Remember to negotiate the fare before you climb aboard.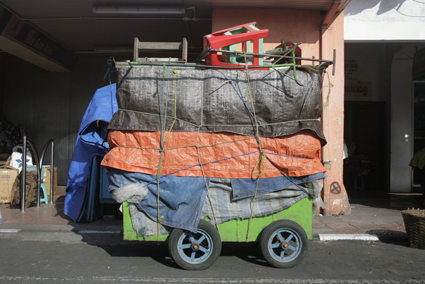 photo courtesy the artist
Anang Saptoto, Mobile Display (from the series Indonesian Zone) 2011
for accommodation…
The Prawirotaman area is close to all the galleries and cheap, good restaurants. Hotels here range from $10-$40 per night, but paying more doesn't necessarily guarantee a better experience (or even a clean bathroom). Some of the smaller homestays offer much better value. ViaVia Homestay or Rumah Eyang have small but clean rooms in a good location with friendly staff at $15-$20 per night. If you are looking for a bit of luxury in the midst of the rice paddies, D'Omah Retreat in Tembi is unique and beautiful, if a bit out of town. Their rooms range from $60-$100 per night.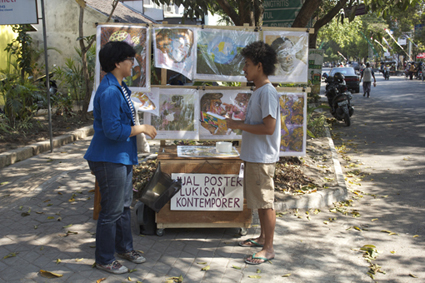 courtesy the artist
Pirated contemporary Indonesian artworks for sale on Yogya's sidewalks, $1 each, (Prihatmoko Moki, 2012)
other recommendations…
Javanese culture goes back a couple of thousand years and contemporary society reflects the complexity of its history. The Javanese are famous for being excessively polite but at the same time are very laid-back. Service is slow, rules are more like recommendations and if you ask someone for directions they will always stop and help you, but there's no guarantee they understand where you want to go, or how to get there. Most of the arts community here speak English, but the rest of the population probably don't, so learning a few basic phrases of Bhasa Indonesia and taking an interest in the history and culture of the place will open doors to a world that is endlessly interesting and surprising.
links
Cemeti Arthouse www.cemetiarthouse.com
Kedai Kebun Forum kedaikebun.com
Langgeng Art Foundation langgengfoundation.org
Sangkring Artspace www.sangkringartspace.net
Taman Budaya www.thewindowofyogyakarta.com
Jogja National Museum jogjanationalmuseum.com
Art Fair Jogjakarta www.artfairjogja.com
HONF http://www.natural-fiber.com/
Mes 56 mes56.com
Survive Garage survivegarage.wordpress.com/
Kunci kunci.or.id
Paper Moon Puppet Theatre http://www.papermoonpuppet.com/
Theater Garasi www.teatergarasi.org/
Indonesian Visual Art Archive www.ivaa-online.org
Jogja Pages http://www.jogjapages.com/en/yogyakarta-map/art-map.htm
ViaVia Homestay http://www.viaviajogja.com/viavia_jogja_guesthouse.htm
Rumah Eyang www.rumaheyangjogja.com
D'Omah Retreat http://domahretreat.com
—————————–
Malcolm Smith is an artist, arts manager and curator currently based in Yogyakarta, Indonesia. Before moving to Indonesia he managed exhibition programs in contemporary art spaces around Australia, including the Australian Centre for Photography, Object: Australian Centre for Craft and Design and 24HR Art, the Northern Territory Centre for Contemporary Art. www.invisibleman.net.au
related articles
the riches of rusting
RealTime issue #64 Dec-Jan 2004 p34
malcolm smith: tracks dance company, RUST
look back, move forward, cross borders
rebecca conroy: contemporary indonesian performance
RealTime issue #93 Oct-Nov 2009 p5
art becomes village becomes art
RealTime issue #79 June-July 2007 p14
jan cornall at perfurbance#3, yogyakarta
fire and blood—indonesian performance art
jan cornall at perfurbance#2, jogjakarta
RealTime issue #73 June-July 2006 p8