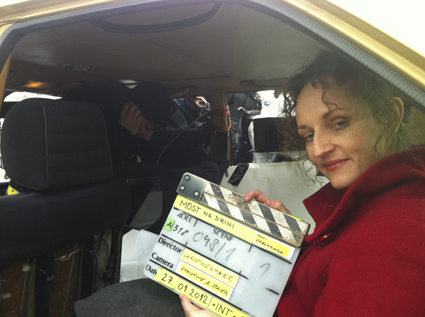 Kym Vercoe
reason for travelling
After performing in Sarajevo last year, I was approached by renowned Bosnian filmmaker Jasmila Žbanić, to work on the adaptation of my theatre show seven kilometres north-east, a solo piece I created in 2010 for version 1.0, working with video artist Sean Bacon.
zima (winter) in sarajevo
At Sarajevo Airport, trying to leave, in early February 2012, I clutch my boarding pass as I stare out the window at a wall of white. Is it just heavy snow or fog? Both maybe? Isn't there a huge mountain right there? Welcome to winter travel in Sarajevo.
I'd been in Bosnia since early December, my fifth visit, and my first time building a snowman. But nothing could have prepared me for the weather that blew in that weekend, quickly throwing the city (and most of Eastern Europe) into a State of Emergency as the shops, trams and streets closed. But the city soaked it up in true Sarajevo style as people and dogs took to the streets, enjoying the craziness.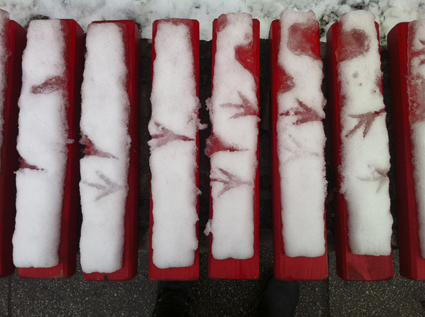 photo Kym Vercoe
Cold bird's feet, Sarajevo
Sarajevo is a city steeped in culture, given its history as a place where East meets West. This mash of cultural influences pops up all over town, from the food to the architecture. You open the map and see a mosque, a synagogue, an orthodox church and a catholic cathedral all on the same block. If you head down the main pedestrian street called Saraći, you eventually pass onto Ferhadija. At the meeting point between the two streets you will notice a distinct change in the architecture. Look back down Saraći and you're in the Ottoman era. Turn onto Ferhadija and you're greeted by grand Austro-Hungarian buildings. (You're are also at Slatko Ćoše —or sweet corner—so take your pick of a café and get some cake before continuing on!) This historical mix brings a great richness to Bosnia.
for culture
Sarajevo hosts a lot of festivals throughout the year. The two biggest are the MESS Festival of Experimental Theatre in October every year and the Sarajevo Film Festival in July. Both program interesting work from across the globe and the city embraces the festival atmosphere. Last July I could dance all the way to my front door as the streets came alive.
There are also smaller theatres and galleries around town. SARTR (Sarajevo War Theatre) has an interesting and eclectic program, while Kino Meeting Point serves as an alternative local cinema and a place for cool folk to hang out.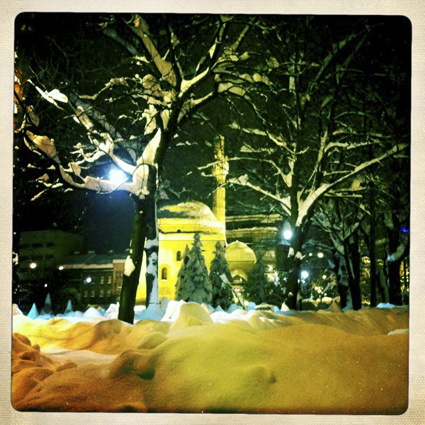 photo Kym Vercoe
Zima Džamija (winter mosque), Sarajevo
The Boris Smoje Gallery is a small, smokey gallery/bar that exhibits local and international artists. While Sevdah Art House in Baščaršija is a lovely place to go for coffee and to listen to some live traditional Sevdah music (melancholic folk songs). At the end of the day head for Zlatna Ribica, a quirky bar where even the toilet is worth the visit.
for refreshment
Much of your time in Bosnia should be spent eating and drinking. It's amazing how easily a five-hour lunch will roll into a five-hour dinner. A change of venue, a fresh glass of travarica (a herbal rakija or herbal sljivovice) and you're away. Some traditional Bosnian dishes include ćevapčići (grilled meat), pita or burek (pie) and čorba (soup). There are also lovely local cheeses—livanjski, travnički and kajmak—wash down well with a local red—try Blatina or Vranac.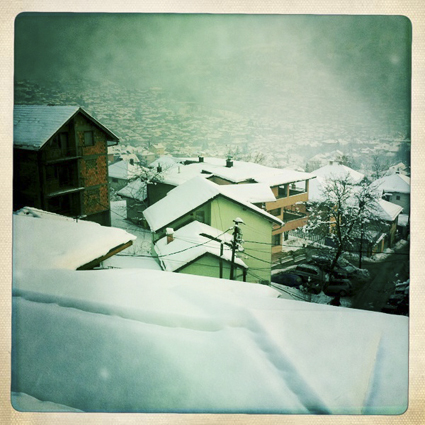 photo Kym Vercoe
Rooftops from Kibe, Sarajevo
Some good local places for traditional food include Buregdžinica Bosna (for pita), Hodžić (for ćevapčići) and my favourite, Kibe, for all things delicious. Kibe is situated up in the hills so you get a spectacular panorama of Sarajevo. You also have wonderful Mediterranean options, notably Delikatesna Radnje and Noovi. If you want to grab some local produce, pop into Markale Market and find a place for a picnic after you've stocked up.
In Sarajevo it's always lovely to spend a day wandering around Baščaršija (the old town), stopping to have a traditional coffee, kahva. Baščaršija is the Ottoman heart of Sarajevo—a labyrinth of small alleys, full of interesting people and shops. The centre of Baščaršija is Sebilj, a square with a fountain of the same name. From here, choose any direction and meander to your heart's content. But don't forget to stroll up Kazandžiluk (coppersmith street), just off Sebilj. Here you'll see craftsmen at work. Kazandžiluk literally glitters in the sun and is a great place to pick up presents.
Baščaršija is also the centre of kahva culture in Sarajevo. Further into town you're more likely to pick up an espresso. So, if your up for kahva served in a traditional džezva (copper pot) and fildžan (small cup with no handle), then try out one of my usual pit-stops, Morića Han, Đulistan or Havana.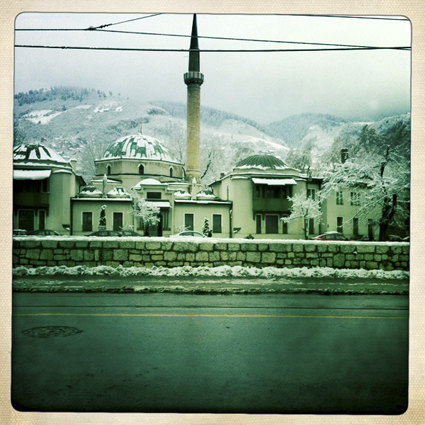 photo Kym Vercoe
Across the Miljacka River, Sarajevo
for history
If you want to discover more about the Siege of Sarajevo (1992-96) there are two good museums to visit, The History Museum and The War Tunnel Museum [http://www.visitsarajevo.biz/sightseeing/attractions/historical-sarajevo/war-tunnel/]. The History Museum has a good range of photos and artefacts from the siege, an opportunity to appreciate the inventiveness of people struggling to survive an extreme situation. The Tunnel Museum is onsite in Ilidža, in the house where the tunnel entered the besieged city. The tunnel ran underneath the airport runway, and provided the only entry and exit to the city during the entire siege. You can pick up a tour guide in town.
final recommendations
There are a number of places where you can get a great view of Sarajevo as a whole, nestled as it is amongst the mountains. Park Prinčeva is up in the hills above Bistrik. Grab a taxi, they are cheap and reliable and a good way of getting around to places where the trams don't go. You can always wander back down on foot after a drink and soaking up the view. On the opposite side of town, you can walk up to Kovači. Up above the cemetery you'll see an old fort wall. It's a nice place to sip a beer and chat to the local dogs, while you take in the view down the whole rolling valley.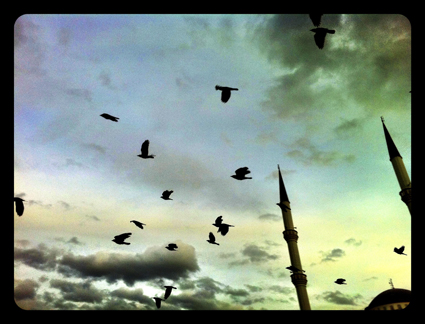 photo Kym Vercoe
Goražde dusk, Sarajevo
links
Sarajevo Film Festival http://www.sff.ba/content.php/en/main
MESS Festival of Experimental Theatre http://www.mess.ba/2011/en/home
SARTR (Sarajevo War Theatre) http://www.sartr.ba/
Kino Meeting Point http://www.infobar.ba/kategorije/go-out-calendar/obala.php
Boris Smoje Gallery https://www.facebook.com/people/Galerija-Boris-Smoje/1578561055
Sevdah Art House http://www.artkucasevdaha.ba
Kibe http://www.restaurantkibe.com/en/main.php
The War Tunnel Museum http://www.visitsarajevo.biz/sightseeing/attractions/historical-sarajevo/war-tunnel/
—————————
Kym Vercoe is a devisor-performer who has worked with a range of contemporary performance companies including Theatre Kantanka, ERTH and Theatre Physical. She has worked extensively with Version 1.0 on Wages of Spin, Deeply Offensive and Utterly Untrue, THIS KIND OF RUCKUS, A Distressing Scenario and The Table of Knowledge. Most recently a solo performance, seven kilometres north-east, exploring the entanglements of place, tourism and atrocity has been presented by Version 1.0 at the Old Fitzroy Theatre, Sydney, as part of the 2011 MESS Festival, Sarajevo and at the Adelaide Fringe Festival 2012.
For a selection of Kym's work reviewed in RealTime see:
the many modes of erasure
caroline wake: version 1.0, seven kilometres north-east, old fitzroy
a melancholy theatre
keith gallasch: performance from sydney to wollongong including version 1.0's the table of knowledge
contagious matter, infectious stuff
caroline wake: theatre kantanka with ensemble offspring, bargain garden
ageing and [in]difference
bryoni trezise: theatre kantanka, missing the bus to david jones
violations: sex, history, form
keith gallasch: recent sydney performance including version 1.0's this kind of ruckus
deeply abhorrent and utterly entertaining
bryoni trezise: version 1.0's deepy offensive and utterly untru
miraculous critique
bryoni trezise: sidetrack performance group, sanctus