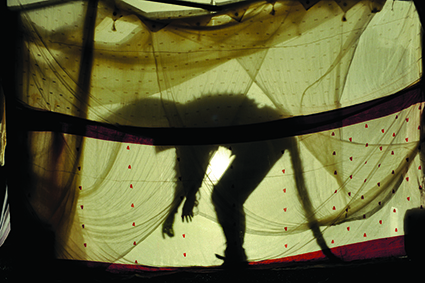 photo Heidrun Löhr
U.F.O. (Unidentified Female Object), Rakini Devi; costume Evangelos Laios and Jason Patten, Siteworks 2015, Bundanon
Arthur and Yvonne Boyd's Bundanon property was gifted to the Australian public in 1993 as a centre for education and to support creative arts practice. Their bequest also insisted on public access to the site. Arthur Boyd obsessively painted this landscape and its anima mundi—or rather, his particular struggle with and against it. Many of his works examine the 'guilt' of an artist's relationship to looking at and representing the natural world with an outside eye:
"Although I do the painting, everyone else who then looks at it is in the same position as myself. I hopefully have helped them to face their guilt also" (quoted in Grazia Gunn, Arthur Boyd, Seven Persistent Images, 1985).
This is especially evident in Boyd's Nebuchadnezzar suite, which illustrates the fate and anguish of the King of sixth century BC Babylon who was banished for usurping a will and order higher than his own.
It is apt that Siteworks 2015 invited representatives of landcare, feral animal management, sociologists, philosophers, artists and architects to examine "The Feral Amongst Us"—an investigation of whether and how we humans place ourselves above or outside of the 'wild.'
As recently as 2008, works proposed for Bundanon residencies that engaged with the site were not encouraged. Since 2011, Siteworks has perhaps overturned this tendency, but my 'perhaps' points to a caution around how we presume we relate to our environments. Is there actual dialogue between our bodily fluids and the rivers, our bones and the soil formed over our lifetimes and beyond? Is it too easy to transport cultural myths or practices from different landscapes (as did Boyd; as does Butoh) to help understand a landscape's meaning and dreaming?
It is a boggy, wet drive over Clyde Mountain from Canberra in late September towards Bundanon. The sun peels the sky open at odd hours. It strikes me that most open-air events hope for clear skies. Indeed, a few of the Siteworks performances are cancelled. The four-hour talk-fest chaired by Robyn Archer is however untouched by the rain. The Glenn Murcutt-designed building has a flexible glass wall which opens to the river, but we sit facing the interior wall and a plinth for the panellists. This has the unfortunate effect of drawing focus onto the pull of human personalities over any sensed dialogue with the environment.
Alternately I feel punched, conversed with or lectured to. I suspect I sit in an audience nodding agreement with speakers who replicate their own views. Diego Bonetto chastises us for not understanding our edible weeds, Jennifer Atchison for not thinking with our environment, Adrian Franklin for farmers not listening to the evidence provided by science. Alarmingly, several panellists do not even listen to each other, absenting themselves from the room at particular times over the afternoon.
Architect Richard Goodwin gives a sweeping critique of his own profession, citing modernism and the anthropocentric 'hero=architect' as 'dead,' arguing instead for a practice which engages with social awareness ('contingency'), minimal intervention, recycling of materials and a kind of 'porosity' or 'irresolution' which remains attractively vague against the harder-edged arguments of the afternoon.
Dean Bagnall, a feral animal management contractor from the local Shoalhaven area, modestly asserts the validity of culling feral animals to protect crops and farm animals. His talk sits in stark contrast with the later speaker Dr Fiona Probyn-Rapsey who delivers a hard-core lecture on the importance of letting creatures live in and for themselves. She cites Derrida for weight and authority. There is weight to her argument sans Derrida, but there is weight too in Bagnall's argument, which is never picked up in the afternoon. Indigenous custodian Clarence Slockee plays the wise fool, nudging us towards a remembrance of Aboriginal relationship to land, but also claiming the infallibility of his peoples' animal and landcare practices which makes my hackles rise.
Tim Low identifies our collective fear of death as blinding us to process and rational thinking through of human/nature/animal relationships. We eat, and are eaten, he asserts. He cites Val Plumwood, feminist ecologist and hero to many, who survived the 'death–roll' of a crocodile, and against which she held no grudges. Low, however does not mention that Plumwood not only felt the crocodile had a right to eat her, but that she herself sensed she transgressed by going upstream to where she was attacked. She had a sixth sense telling her she should not be there. Indeed, what is sorely missing from the forum is any discussion of the sensory intelligences—other than 'sight'—that feed other ways of knowing and relating in the environments to which we belong.
Thankfully these aspects are grasped by the artworks installed for the day or performed from the onset of dusk. The site's specific history, and Boyd's contemporary dreaming of it, are most evident in Nigel Helyer's exquisite Biopods—a rocket-ship, a boat—which physically reshape and recondition our listening. Each Pod is a vessel suggesting aspiration as well as the limits of form. Snippets of a seductively beautiful poem are triggered by human action: "The king's heart is a stream of water in the hand of the Lord" (Proverbs 21:1).
Rosalind Crisp's dance in the beam of a ute's headlights is an exploration of disintegration, but her spoken text is impossible to hear. Open-air work always carries risk of interference, and there is meaning in the unexpected rubbings and gratings that occur beyond our control.
Elsewhere, Bonetto's installation signposting edible weeds has already pointed us to things we value or devalue and ignore. On a "severe slope," Branch Nebula puts a viewfinder on "things that bite" in a dance piece on the theme of wild things that watch, scatter, scarper, slide and are traumatised by human intervention. You couldn't miss Amanda Parer's inflatable, oversized rabbits which came to full beauty when lit at night.
But I almost miss a seminal image in Rakini Devi's performance, because I am seated in the wrong position. But then, isn't that the point? You see according to your [dis]position. Devi's U.F.O. [Unidentified Female Object] begins in a puff of smoke—like the breath of a dragon, the backfire of a shot—and she appears like an enormous wayang puppet in full garb, picking her way like a giant cicada along a cat walk. A single beam of light casts the shadow of an enormous rabbit behind her. The joke's on all of us: the ritualised beauty, the 'exotic other' rabbit becomes an overblown cartoon.
Speaking of entities in wrong places, Alan Schacher with NIDA Staging students creates "errant structures"—an outhouse, a heap and a bush shelter—that spit, shudder and try to crawl away, whilst Zender Bender salvage white goods and add sound and light to create a 'bush doof' that also comments on consumer throw-aways.
Branch Nebula repeat their epic Whelping Box from 2012, this time as a film recreated in the bush, which heightens the sense of men 'whelped' in endurance rituals that earn them a place in the tribe. The film is an epic comment on false heroism, compliance and suffering of the feral and human combined.
SITEWORKS 2015: The Feral Amongst Us, curator John Baylis, The Bundanon Trust, Riversdale, NSW, 25 Sept
RealTime issue #130 Dec-Jan 2015 pg. 31
© Zsuzsanna Soboslay; for permission to reproduce apply to realtime@realtimearts.net