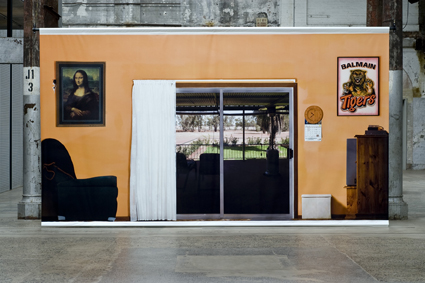 Habits & Habitat, Patrick Ronald and Shannon McDonell, courtesy the artists
WASHED ASHORE ON THE ISLAND OF BROBDINGNAG, FINDING HIMSELF DWARFED AMONG "ENORMOUS BARBARIANS," SWIFT'S INTREPID SURGEON LEMUEL GULLIVER UTTERS A TELLING OBSERVATION. "UNDOUBTEDLY PHILOSOPHERS ARE IN THE RIGHT," HE SAYS, "WHEN THEY TELL US THAT NOTHING IS GREAT OR LITTLE OTHERWISE THAN BY COMPARISON."
Exploring the artworks recently presented as part of Performance Space's You Are Here program, I found myself channelling Gulliver on more than one occasion, my certainty of place unravelling before works that playfully turned the familiar into the unfamiliar. Swift's satirical treatise on geographic and cultural relativity also came to mind as something of a blueprint for some of the driving concerns of Australian art practice today. These concerns are set to intensify in coming months, as David Elliot's provocative theme for the 17th Biennale of Sydney: The Beauty of Distance, Songs of Survival in a Precarious Age [see p10] brings the politics of place firmly back into focus. And although not connected to the Biennale in any way, the works presented here in fact made quite a neat forerunner to that event.
The title of the program, You Are Here, suggested a more matter-of-fact take on the subject of place than Elliot's normative statement on geographic extremity, clearly intended to challenge. Still, the questions raised are similar. From among the three media works installed in the gallery and foyer space at CarriageWorks in Sydney emerged common concerns for the relational nature of place, history and memory in the Australian landscape, both urban and rural. And while each work proved markedly different in its realisation, taken as a whole the program was highly effective in dislocating fixed ideas about where we are situated in space and time.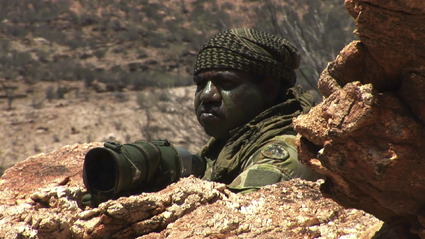 One of Several Centres, Alex Kershaw, courtesy Grant Pirrie
Photographer and video artist Alex Kershaw turned his attention to the desert town of Alice Springs, Australia's mythic 'red centre,' in the multi-screen video installation, One of Several Centres, presented in the gallery space. Kershaw's videos appeared to eschew a documentary or ethnographic approach, instead favouring a kind of topographical collage in their cumulative tracking of sites both within the town and the outlying bush and scrub areas. Further defying expectations, Kershaw mocks the touristic gaze and its attraction to monuments, homing in on the more mundane or seemingly insignificant features of the landscape while at the same time capturing locals performing a series of Fluxus-style follies. A number involved delineating or marking up space, from a man laying a narrow strip of lawn on a concrete roundabout to a woman walking her dog around the inside perimeter of a disused water tank.
In a nod to Jon Rhodes' project Whichaway? [documenting the photographer's extended interaction with the Aboriginal community of Kiwikura, 1974-96, Eds], cited by the artist as an influence, Kershaw draws on the strategy of using sequences charged with absurdity to image new relationships between space and time in the desert. Ultimately, the videos succeed in using play and whimsy to engage audiences while also making a more serious point about the need to move beyond fixed notions of 'here' and 'there' in the Australian landscape. From this focus on geographic relativity also emerges the realisation that, in true Swiftian fashion, many of the mental constructs which shape our perception of the world around us may be equally contingent; the difference between wild and domesticated, inside and outside, tourist and local, habited and uninhabited, traditional and contemporary, all little more than matters of the mind.
Stepping outside the gallery space and into CarriageWorks' soaring industrial foyer, evidence of its former life as a hub for the construction of Sydney's rail network is still visible on the building's skin. At the time of writing, politicians, urban planners and architects were in a wrangle over the future of a more controversial former industrial site, the concrete apron at Sydney Harbour's Barangaroo, with Paul Keating waging war against the city's alleged "industrial determinism." With so much focus on the city's architectural fabric, it was refreshing to encounter Nigel Helyer's haunting site-specific sonic sculpture, GhosTrain, which dealt with a far more ephemeral, and hence easily overlooked, form of heritage: the sounds of the city. As Helyer puts it, "the acoustic ecologies of industrial landscapes are prime examples of our extraordinary capacity for amnesia."
Referencing CarriageWorks' former use, Helyer's 60-second sound installation, to be repeated in the forthcoming May-June program, plays the recorded sounds of a steam locomotive starting up, pumping out steam and then quickly accelerating to enact a sonic transportation to another era, another time. Beyond its nostalgic qualities, the work proved interesting for the questions it raised about whether urban sounds should be preserved and archived for future generations. This would entail a broadening of our concept of heritage to embrace senses other than sight and an acknowledgment of the link between sound and embodied space, for sounds signify activity and hence lived presence. A big ask, yet by neglecting soundscapes we risk preserving buildings as empty architectural shells.
While Helyer's GhosTrain offered a site-specific sonic reading of the foyer space, photomedia artists Patrick Ronald and Shannon McDonell brought an apparent slice of rural life to the site in their installation, Habits & Habitat. In a life-sized, 1:1 photographic diorama of a domestic interior, the glimpse of dry scrub through a window, a kitsch rooster clock on the kitchen wall, a pair of Blundstone boots by the laundry door all lend what otherwise appears a typical family home the context of a rural setting.
But just as the manipulation of scale in Gulliver's Travels leads the narrator to probe his surroundings as if under a microscope, here slight tweaks in the images lead us to question their authenticity as photographic documents (is that print of the Mona Lisa on the wall, for example, not actually a jigsaw puzzle?). In fact, the artists have applied a unique brand of photogrammetry to the images, a process of intricate digital manipulations which results in seamless composite images. This insertion of unexpected details and the juxtaposition between real and unreal elements results in an uncanny sense of displacement. At the same time the accumulation of detail, writes Performance Space Director Daniel Brine, "investigates cultural transfer, the connection (and disconnections) between country and city, and the ways that the 'bush' continues to inform Australian culture and identity."
Taken literally, visitors to Performance Space's You Are Here program might have expected to encounter artworks that presented fixed, or even instructive, interpretations of place and landscape. Far from it, a sense of journey emerged from the works that was unconventional in its focus on 'in-between' spaces and movement between various cultural signposts. In less skillful hands, concerns over Australia's geographic and cultural relativities can too easily slide into tedious and repetitive neuroses. One hopes that in upcoming events we will continue to dwell in its fruitful and generative possibilities.
You Are Here: Alex Kershaw, One of Several Centres, Feb 11–March 6, Nigel Helyer, GhosTrain, Feb 11–March 17, May 13-June 5, Patrick Ronald and Shannon McDonell, Habits & Habitat, Feb 11-March 17; Performance Space, CarriageWorks, Sydney
RealTime issue #96 April-May 2010 pg. 44
© Ella Mudie; for permission to reproduce apply to realtime@realtimearts.net