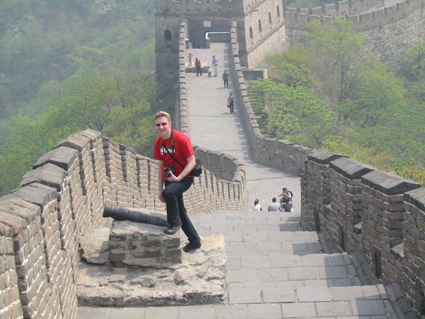 Dan Edwards on the Great Wall north of Beijing
reason for travelling
I lived in Beijing from 2007 to 2011, returning in May to conduct more research for my PhD thesis on Chinese documentary filmmaking.
tough love…
China's capital can be a tough place. Its massive main roads are intimidating, in many areas few people speak English and at the heart of the city is Tiananmen Square—surely the most heavily policed public space in the world. Add to this a population of 20 million and a climate that veers from the 30s to days below zero and you have a city that can test the endurance of the heartiest resident. But Beijing's real pleasures lie behind the façade of its overbearing government buildings and public monuments, tucked away in the narrow alleys (hutong) of the old city and in hard to find corners. Here a rich culture plays out beneath the city's surface, trying its best to avoid the watchful eye of the authorities.
things to do…officially
Beijing's schizophrenic nature is split between airbrushed state-sanctioned culture and a vibrant unofficial sector. Consequently the city's big museums tend to be dull, although the National Art Museum of China occasionally has interesting exhibitions of contemporary art (see RT87).
Beijing's concert prices are surprisingly cheap, so it's worth checking if any major talents are performing at theatres like the National Centre for the Performing Arts (known to locals as the Egg). Seeing someone like Ennio Morricone perform at the Great Hall of the People on Tiananmen Square—as I did a few years back—not an experience you're likely to forget.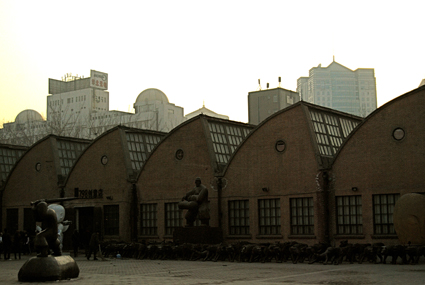 photo Dan Edwards
Bauhaus-style former factory buildings at the 798 art zone
the real stuff…
If you're looking to delve into Beijing's visual arts scene, the obvious place to start is 798, an art zone in the city's northeast housed in a former East German-designed factory complex. It's more like a cheap trinkets market these days than a hotbed of cutting-edge culture, but the Bauhaus-style buildings and a handful of quality galleries still make a visit worthwhile. Make a beeline for the Ullens Center for Contemporary Art. Their exhibitions provide a good introduction to China's contemporary art scene, and the building is one of the best preserved of the former factories.
Beijing's real artistic hub is now slightly further out in Caochangdi, a five-minute cab ride from 798. This area is home to a range of galleries, but the pick of the bunch is the Three Shadows Photography Art Centre, housed in a building designed by Ai Weiwei and run by the famous photographer couple Rong Rong and Inri (see RT92). They also have a small café serving passable coffee. Ai Weiwei lives nearby—check out the surveillance cameras outside his front door for a glimpse of state paranoia in action.
At the other end of town lies Red Gate, Beijing's oldest contemporary art gallery, owned by Australian Brian Wallace. The exhibitions tend to favour more traditional forms like painting, but the gallery is housed in the impressively ancient Dongbianmen Watch Tower, sitting astride the only remaining section of Beijing's once mighty city wall.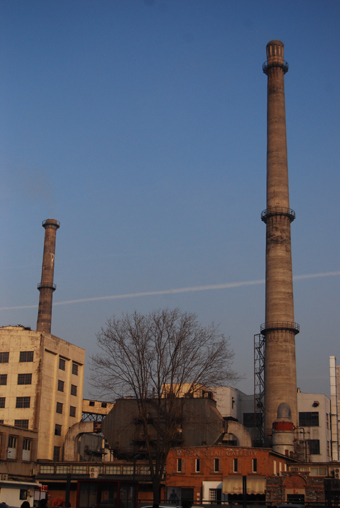 photo Dan Edwards
Industrial chic – the East German built and designed 798 factory complex is now home to a range of galleries, cafes and shops
If music is more your style you're in luck—Beijing is the centre of China's thriving underground rock scene. Key venues Yugong Yishan and Mao Livehouse are both located in the old city centre, while Dos Kolegas (aka Liang ge hao pengyou) is a short cab ride to the northeast.
Finally, film lovers should check out Broadway Cinematheque MOMA, Beijing's one and only official arthouse cinema. Although subject to government restrictions, BC MOMA regularly programs challenging Chinese features by a range of new and established talents, and the films are often introduced by their makers. Most are subtitled, but double check when you buy your ticket—the information on the website is not always accurate.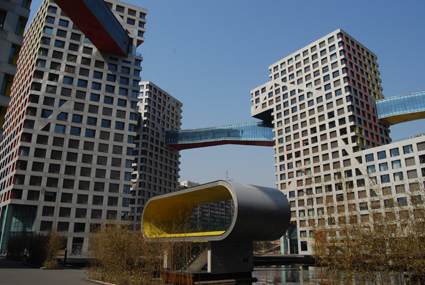 photo Dan Edwards
The futuristic surrounds of the MOMA residential complex, home to Beijing's only arthouse cinema, Broadway Cinematheque
china's food capital…
There are literally thousands of restaurants in Beijing—although it has to be said many are pretty ordinary. But if you know where to go, this is one of the best cities in which to sample food from all over China.
Yu Xin serves up consistently great Sichuan food at very reasonable prices. Dianke Dianlai provides a set banquet for around RMB 100—not cheap by Beijing standards, but it's some of the best Yunnan food in the capital. Middle 8th also does excellent Yunnan food.
Another slightly pricey place that should not be missed is Da Dong—without doubt the best Peking Duck in the dish's hometown.
other highlights…
Take the time to visit Gu Lou (the Drum Tower) and the nearby hutong Nanluoguxiang. Rife with cute cafes, bars and shops, the area is one of Beijing's few really old neighbourhoods still standing.
While you're focused on the ancient, take a cab to the Mutianyu section of the Great Wall about 70 km northeast of Beijing. It will cost you around RMB 500 for a return trip (around $80, negotiate the price in advance and ask the cabbie to wait for you) but this part of the wall is much more impressive than the ultra-touristy Badaling section closer to the city.
If you need some China-related reading material, check out the Bookworm. This English-language bookstore and café is a Beijing institution, and has an excellent year-round program of talks by writers.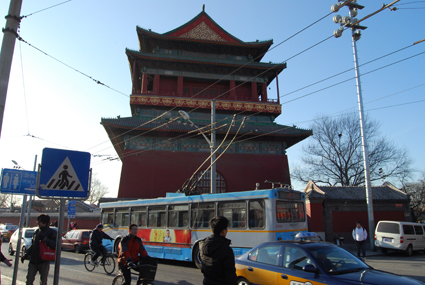 photo Dan Edwards
Cabs and electric buses work the streets of Beijing's old city centre in the shadow of Gu Lou (the Drum Tower)
some essential tips…
Cabbies generally cannot read pinyin (the Romanised version of Chinese) so having a copy of your hotel address in Chinese characters is essential. Ask for an address card from your hotel's reception. Taking a map with you that has street names in pinyin and Chinese characters is also useful for getting around—don't count on getting one in Beijing.
The city's extensive subway network is always crowded, but it is also cheap (you can ride anywhere for RMB 2, around 30c). All station names and subway maps are in pinyin, making the system easy to use.
Sino Hotel is a reliable site for hotel bookings around China.
Finally, to find out what's going to be happening during your stay, check out theBeijinger.com before you leave.
links
National Art Museum of China www.namoc.org/en/
National Centre for the Performing Arts www.chncpa.org/ens/
Ullens Center for Contemporary Art www.ucca.org.cn
Three Shadows Photography Art Centre www.threeshadows.cn/en/index_en.htm
Red Gate Gallery www.redgategallery.com
Yugong Yishan www.yugongyishan.com/?lang=en
Mao Livehouse www.maolive.com
Dos Kolegas www.2kolegas.com
Broadway Cinematheque MOMA www.bc-cinema.cn
The Bookworm http://beijingbookworm.com
Sino Hotel www.sinohotel.com/index.html
The Beijinger www.theBeijinger.com
——————————
Dan Edwards is a freelance writer and journalist, and former OnScreen editor for RealTime. He lived in Beijing from 2007 to 2011 and his now based in Melbourne, where he is completing a thesis and book on Chinese independent documentary films.
related articles
contributor profile
dan edwards
RealTime issue #105 Oct-Nov 2011 pg. web
archive highlight
contemporary chinese cinema
online e-dition September 20 2010
ghostly tales from our northern neighbours—the fourth portrait & eternity, melbourne film festival
dan edwards: the fourth portrait & eternity, melbourne film festival
RealTime issue #105 Oct-Nov 2011 pg.
a nation slips under the waves—tom zubrycki's the hungry tide
dan edwards: tom zubrycki's the hungry tide, melbourne film festival
RealTime issue #105 Oct-Nov 2011 p25
beyond the tv frame—antenna international documentary festival
dan edwards: antenna international documentary festival, sydney
RealTime issue #104 Aug-Sept 2011 p32
you can't build on an emptiness—if china original studio
dan edwards: ifchina original studio
RealTime issue #103 June-July 2011 p16
chinese photography: out of the shadows
dan edwards: beijing's three shadows photography art centre
RealTime issue #92 Aug-Sept 2009 p16
new media, new to china
dan edwards: synthetic times—media art china 2008
RealTime issue #87 Oct-Nov 2008 p32