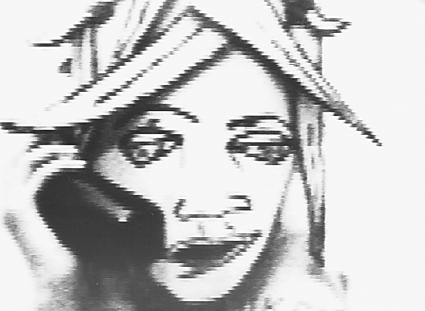 Sadie Benning, Flat is Beautiful 1998
In her introduction to Captured, curator Clare Stewart describes Experimental Cinema as "a contested and elastic term" tracing the parameters of her definition from Bruce Conner to Jim Jarmusch, including the Cantrills, Warhol and Len Lye, while stretching the term to suggest work produced beyond cinema, video and multimedia.
The historical relationship between experimental film and video and digital media practice, the real or potential intersection between them, has often been ignored as experimental work has become redefined in the spectacle of the digital media showcase. Captured goes some way to redress this in favour of work which does not trumpet its media novelty over other concerns.
Stewart's elasticity is actually less than genre-busting and the works don't exactly stretch definitions. Why not, for example, programme websites, or even a camera obscura for that matter? The programmes are also largely US dominated with a European coda. However such questions are somewhat churlish as Captured follows a distinctive and necessarily partial course, gathering some of the dominant strands of experimental film and video of the last 10 years or so with deftly imaginative programming.
It is an inspired decision to programme a mini Sadie Benning retrospective (Pixilated: The Oblique Vision of Sadie Benning). Benning's early work with the Fisher-Price Pixelvision toy camera resembles the intimate, small scale personal documentary/drama that one encounters these days on websites using QuickCams. This teenage lesbian grrrl shot to recognition in the late 80s, the usual adolescent rites of passage skewed through a queer filter in suburban Milwaukee. From the bricolage bedroom video A New Year through to the 'road movie' It Wasn't Love and the women's health education, animated/live action hybrid of The Judy Spots, Pixilated tracks the development of a style as sophisticated as her older sisters' (such as Su Freidrich, Greta Snider, etc). The new Flat is Beautiful consolidates this: a wry, affecting film about growing up queer in the 80s combines sharp takes on cod-pop psychology with some quite audacious character masks, as Benning transplants Chantal Akerman's 'flat' approach into the ordinary flux of smalltown middle America.
The Ways of Being programme concentrates on the convergence of performance and video and the appropriation of popular forms. Joe Gibbons' Multiple Barbie extends the pop-psychological theme in a Pixelvision therapy session framing an exorcism of a Barbie doll's multiple personalities; a neat parody of tabloid obsession. The Halflifers' Actions in Actions turns material-action performance into slapstick, or vice versa, the properties of certain foodstuffs taking on a new, metaphysical significance. One with Everything by Daniel Reeves is a technically polished 'mockumentary'; a fast, iconoclastic 'deconstruction' of popular Buddhism. Zen-inspired punning culminates in the 'punchline' title. Anne McGuire's I am Crazy and You're Not Wrong, spoofing a desperate cabaret singer, drips with deadpan irony and pathos. Singing "a song for all of you who don't fit in" (introducing Rudolph the Red Nosed Reindeer), she could be Cindy Sherman doing stand-up. The threads of barely suppressed tension and humour that entwine Ways of Being are intensified by the hallucinatory psychological landscape of Nocturne, the latest in Peggy Ahwesh's series on sexuality, violence, nature and mortality. The promiscuous Pixelvision is again used as a formal/narrative device, its high-contrast providing occasional noir-esque intensity.
Recycled: Old, Used and Abused, consisting of work from Vienna, surely the European capital of Experimental Cinema, begins with Alone. Life Wastes Andy Harvey by Martin Arnold. Arnold, a virtuoso of the optical printer, takes fractions of old Hollywood movies through extraordinarily controlled repetitive forward and reverse reprinting; microscopic moments become tics, stuttering and breathy gasps. Alone…. follows his earlier work in the exploration of the perceptual possibilities of this technique. The extended song, utterances and exhalations of the triangle of Fay Holden, Judy Garland and Mickey Rooney become oedipal erotic tension in a distillation of structuralist aesthetics; a sinister reconstructive revisionism of cinematic language. Film Ist by Gustav Deutsch reworks a staggering catalogue of found footage into a lexicon of cinematic technological form and function; choreographed concrete construction transcends its research-based premise as an elegant post-humanist poetic essay. The final film of the programme, Lisl Ponger's déjà vu, frames old super 8 holiday movies from 'exotic' locations with voice-over tourist stories. Accidental and naive complicity imbues the problematised relationship of the post-colonial 'gaze' with subtle nuanced reflexivity.
It is a credit to the Melbourne International Film Festival and the Australian Film Institute that they are respectively premiering and touring Captured; an altogether considered, coherent and accessible package, serving both as a progress report and captivating introduction to a rich seam of experimental cinema.
Captured, curator Clare Stewart, Melbourne International Film Festival, Treasury Theatre, Melbourne, July 28 & 30, Aug 3 & 7; Perth: Film & Television Institute, Aug 13 – 14; Adelaide: Media Resource Centre, Aug 21 – 22: The Art of the Improbable (forum + local experimental films), speakers: Edwin Daughtry, Margaret Haselgrove, Janet Merewether, Clare Stewart; Sydney: Chauvel Cinemas, Sept 2 & 3
RealTime issue #32 Aug-Sept 1999 pg. 30
© Steven Ball; for permission to reproduce apply to realtime@realtimearts.net