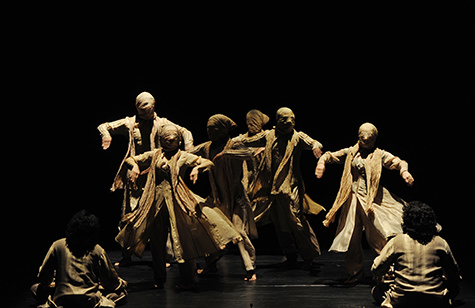 photo Toni Wilkinson
Aditi Mangaldas, Unwrapped, Within
Three very different works in Artistic Director Wendy Martin's first Perth International Arts Festival address major social challenges for individuals and communities: a Kathak dance work responds to sexual violence in India, another dance work—over cups of tea—reflects on religious attitudes to physical disability, and an audience takes to the streets to trade for survival through trading possessions and skills after the collapse of the cash economy.
Aditi Mangaldas, Within
A leading if controversial choreographer and teacher in the Indian Kathak dance tradition, Aditi Mangaldas has worked with international designers to present the two discrete works that comprise Within. Knotted is contemporary dance firmly rooted in Kathak. Evoking the tumultuous self-examination of Indian society in reaction to the Nirbhaya gang rape case of 2012, Mangaldas presents a relentless cascade of disjointed abstract movements. Individual and paired performances danced to the discordant industrial tones of the recorded soundtrack depict conflict and self-doubt eloquently expressed in the tortured repetition of arms reaching upward and bodies isolated in an island of light on a dark stage. Western dance movement is interspersed with rapid-footed whirls and arm movements straight out of Kathak, although the dancers never totally sacrifice traditional posture for the asymmetric poses demanded by the contemporary choreography. Ensemble sections appear particularly awkward, with conflict often conveyed through unevenly realised facial expressions. Kimie Nakano has designed the costumes in earthy colours, using a sombre palette and with the quintessential Kathak whirls emphasised by loose folds of cloth flying from the hips. Knotted is an interesting study in Kathak-Western dance fusion, but is unremarkable in execution. Capturing the restless spirit of contemporary Indian society, the work's evocation of conflict is difficult to witness.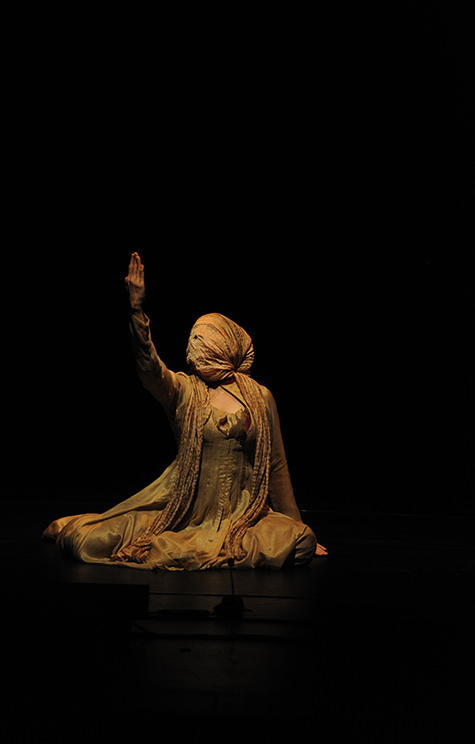 photo Toni Wilkinson
Aditi Mangaldas, Unwrapped, Within
The other work, Unwrapped, is a stunning piece in the traditional style, with both male and female dancers performing with scarves: a defiant response by the choreographer to criticism made of her for not using them—as tradition requires—for female performers in other of her works. With a recurring mirror motif, Mangaldas' choreography flows from striking individual scenes into a dynamic whole with an end that echoes the beginning. Onstage musicians add to the atmosphere, the dancers' feet slapping the floor creating a counter rhythm in spectacular group pieces. In her extended solo Mangaldas is amazing, interacting with musicians and lighting to create memorable silhouettes and bursts of movement that turn to near stillness, that edge emphasised by her subtle control of Ghungroo—the bells tied around her ankles. Mangaldas has designed dignified traditional costumes for Unwrapped, marked by her use of scarves and the unwrapping and putting aside of veils covering faces. Unwrapped is masterful, the choreographer working in a dance tradition she loves and with highly experienced performers.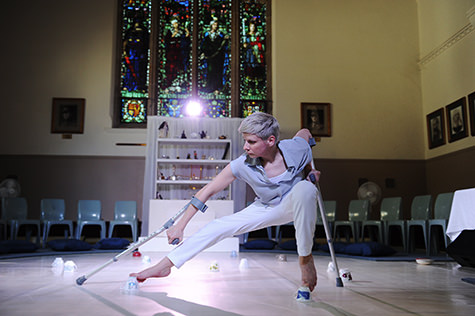 photo Toni Wilkinson
Claire Cunningham, Guide Gods
Claire Cunningham, Guide Gods
In Guide Gods UK dancer Claire Cunningham welcomes everyone to share her discoveries about the attitudes of religions to physical disability. Her inclusive performance presents thoughts on karma, and theological interpretations of healing along with an explanatory narrative, movement and audio recordings (with screens for the deaf).
Cunningham's practice is informed by her own disability and especially her use of crutches. She takes us slowly through the challenges presented by simple movements, ascending and descending stairs, carrying a tea cup, then carrying a tea tray with both hands. This slow and steady precision is later replaced by exuberant celebration of movement as her crutches enable her to "fly" about the performance space, the tips of the crutches following her body in ecstatic whirls around teacups positioned on the floor. Her movement responds to the stories she tells and sound recordings of her respondents expressing a range of religious beliefs and teachings in various countries. She finds that while prejudice and discrimination may exist within these cultures, their religious doctrines or belief systems do hold room for believers with disabilities to participate and celebrate. Alongside her usual strong advocacy for body-and-mind, Claire Cunningham opens up space for consideration of the soul.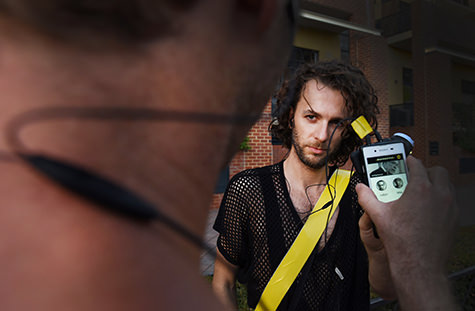 photo Toni Wilkinson
Blackmarket, pvi collective
pvi, Blackmarket
Perth's pvi collective takes us onto the streets of suburban Subiaco with their real-life gaming experience, Blackmarket. Participants are instructed to bring five items useful for survival. On arrival at Blackmarket headquarters we are briefed via a slickly edited video about how life is harsh and uncompromising in the wake of the great global economic collapse. We will need to use our five material possessions to survive by trading with existing providers of services and to develop our own skills to trade in turn with other players. We hand in our items, which are recorded into a smartphone app to allow us to trade out on the street. We then venture into the night to determine our chances of survival in a world without money.
The app provides a dynamic list of all skills and services currently on offer, with an audio description of the impact of each on our prospects for survival. On choosing an option we offer one of our items as payment, which may be accepted or declined by the trader offering the service. Earphones remain in ears at all times with a clear voice guiding, instructing and informing us, and featuring soundscapes evoking scenarios which are variously amusing, provocative, disturbing and alarming.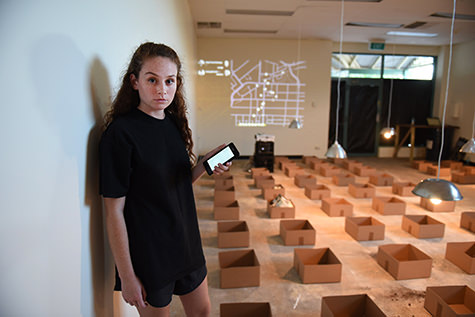 photo Toni Wilkinson
Blackmarket, pvi collective
Trading duct tape for a course in weaponry sends a player down an alleyway to construct a Millwall Brick, an improvised weapon made from newspaper. A revolving cast of local actors provides wordless directions. In another trade, a cigarette lighter is declined but a tarpaulin accepted as a swap for "compassion," an acted scenario forcing the player to reach past their own emotions and prejudices. After completing some trades, players are invited to provide skills of their own. If accepted, they follow the cues from the app to train their fellow players in subsidiary skills such as tracking and decoding in exchange for goods that will allow them to trade further. Some survival skills are communicated solely through the app soundtrack with props kept inside wheelie bins, labelled and locked against casual use, with an array of items for inspection and interaction.
High production values, interesting content and sharp delivery left Blackmarket audiences keenly aware of their place in the world and with a new appreciation for the conveniences and assurances that sustain us every day.
–
2016 Perth International Arts Festival: Aditi Mangaldas, Within, Heath Ledger Theatre, 11-14 Feb; Claire Cunningham, Guide Gods, Fly By Night, Victoria Hall, Burt Hall, St Georges Cathedral, 11-21 Feb; pvi, Blackmarket, Subiaco, 10-27 Feb
RealTime issue #131 Feb-March 2016
© Nerida Dickinson; for permission to reproduce apply to realtime@realtimearts.net