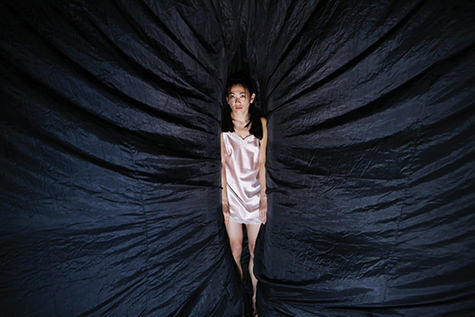 photo Mario Del Curto
Plexus, Kaori Ito, Aurélien Bory
French artist Aurélien Bory builds his dramaturgy by setting impediments to Kaori Ito's movement and finding ways to use these as the impetus for novel scenic events. Ito is sandwiched between two horizontal platforms, one just over a metre above the stage, another about 20 metres above. Connecting these is a geometrically precise set of vertical threads which would do Op Artists like Bridget Riley proud. These run up/down in proximate rows, extending left and right as well as diagonally, depending on your viewing angle. To move, Ito forces a path through this net, driving her foot down in forceful, amplified stomps. This produces a work of dynamic sculpture, in which acoustic effects and the way Ito appears and disappears depending on spatial depth, visual obstruction and selective effects, become the dramatic focus.
The piece is relentlessly formal without text, narrative or humanised nuance. Ito is impassive apart from intense concentration—which is not to say that Plexus is not rich in emotional resonance. Responses arise, though, in our viewing alone. Plexus makes some of Beckett's late choreographic works seem almost Expressionistic.
This resolute attention to the relationship between body and environment produces an impressively varied set of responses. After a prelude with Ito standing before the platforms running a microphone between her chest (we hear the heart), throat (breath) and across skin (a rich, thunking crackle), she draws the massive black curtain behind her through a gap between two previously unseen threads, producing a deep vulval cavity into which she disappears. After wending her way horizontally with relatively little force, she reveals the full depth of field by progressively beating out a set of parallel corridors, each one further from the audience.
The strings' resistance creates a choreography of jerks and jolts, of highly measured and directional punches and stabs, alternating with glacial, all but weightless action, as the net holds her weight. At times Ito seems to have the viscous support of water. At others she surges forward, treating the strings as little more than a field of wheat through which she powerfully strides. Plexus consequently acquires the tenor of Classical or Absurdist tragedy, of human struggle against a vengeful god or universe. Ito is literally woven into the fabric of the Hades she struggles within, dropping into supported leaning poses at acute angles while rich, sproingy tones suffuse the space. If Plexus were to represent the Sisyphean torment famously described by Camus, then it is one co-extensive with her actions and her being. Hell is not other people, as in Sartre's No Exit. It is oneself.
If the space rapidly takes on the character of a cage suspended in an Existential no-place (or Magneto's prison in X-Men), Ito is far from being simply oppressed by it. Having established its limits, she toys with its possibilities. Fixed by the toes of one foot clasped about a vertical, Ito inverts her body, clothed in a velvety black costume which sensuously encases and breaks up the downward extension of her body. Later, staring out of her prison from under a parted shock of black hair, she sways left to right, and the floor responds. Threads swing to nearly 45 degrees and an infernal whooshing encases all of us in the theatre. Later Ito scuttles up to the top horizontal, suspended like a grey crab in the weave. She repeatedly drops down, defying gravity and danger, her recurrent survival a miracle of the 'teknos' within which she acts.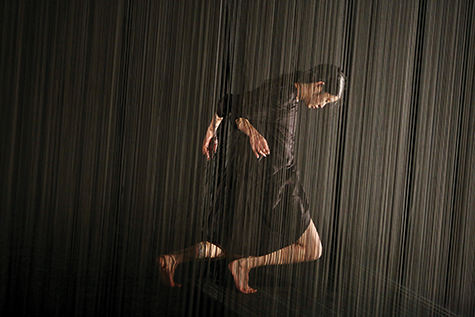 photo Mario Del Curto
Plexus, Kaori Ito, Aurélien Bory
For all of these cosmic and tragedian suggestions, Plexus largely functions within the realm of the technical sublime. The stage is literally a marvel. One can more or less consciously determine how effects are achieved, but on an emotional or intuitive level, as with circus, rationality baulks. Ito becomes a magical Nietzschean Ubermensch, able to fly from rope to rope through the application of her will. The all but incomprehensible difficulties of moving in such a space make Ito's resilience a wonder. Joan Cambon's musical accompaniment, which alternates with the amplification of Ito's exertions and the creakings of the set, enhances this sense of an unknowable, threatening yet ecstatic mechanism. Her score moves from watery musique concrète to droney, repetitive and scintillating phrasings recalling Steve Reich, and moments of purist electronic noise in the mode of Ryoji Ikeda. As the physical force of the sound reverberates through the auditorium, we see Ito's body marked out by a band of light which travels from her head to her feet, before the angle of diffraction tilts. It's as if the strings have become pinprick LEDs marking out a triangle of white in the blackness (very much in the style of Ikeda's installations and his work with Dumb Type).
Nor does my account exhaust Plexus' scenic imagination: moments of black theatre, with Ito appearing like a wraith out of nowhere; transformation of the set into a giant loom while Ito drags black cloth in a circle behind her; and the dancer, seated, calmly playing the strings. These and other moments reflect an enormously inventive creation, at once formally astonishing and affectively endless. Bory and Ito definitely benefit from the massive logistical power they are able to deploy. Plexus—like works by Ikeda, Dumb Type and others—tends to obfuscate its own means of production. If I were to be an ungenerous Marxist, there is much one could say about such works as fetishes of an expensive, labour and energy-intensive global capitalist festival circuit. This was however far from my mind while enraptured by Plexus, and I would make a case for the intelligent deployment of such an aesthetic given its immeasurable rewards.
You can glimpse Plexus, courtesy of Compagnie 111 below:
–
Perth International Arts Festival 2016, Campagnie 111, Plexus, choreographer/director Aurélien Bory, performer Kaori Ito, composer Joan Cambon, lighting Arno Veyrat, costumes Sylvie Marcucci, sound designer Stéphane Ley, technical conception of the set Pierre Dequivre, Heath Ledger Theatre, Perth 17-20 Feb
RealTime issue #131 Feb-March 2016
© Jonathan Marshall; for permission to reproduce apply to realtime@realtimearts.net