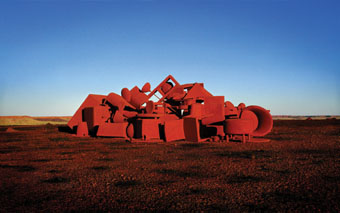 Rosemary Laing, burning Ayer
Always a central feature of the Adelaide Festival of Arts visual arts program, the Adelaide Biennial promises to be a major event in 2004. Responding to a brief to stage a program devoted to screen and photographic media, curator Julie Robinson has selected 18 artists, 8 of whom will show screen-based work and 10 photographic works, including multimedia. Robinson will address contemporary photomedia's subjects and its place in art and look at photography (manipulated and not), video and hybrid forms.
In planning the exhibition Robinson has considered the needs and interests of viewers and is offering opportunities to devote serious attention to the works. She notes that, given the recent proliferation of new media art, the issue of quality is key. Though video and digital forms have been developing for some years, the results are not always memorable and this carefully constructed survey exhibition will do much to focus opinion and raise awareness.
Some material in the Adelaide Biennial will be familiar, but worth revisiting and will gain strength from being included in such a survey. Patricia Piccinini (Melbourne) will be represented by some of the work shown to great acclaim in the recent Venice Biennale as well as a new work that continues her investigative simulations of the merging of human and animal forms. Currently showing, with Piccinini, at the Havana Biennial in Cuba, Craig Walsh (Brisbane) continues his exploration of public space, architecture and the re-centring of the viewer. "Craig's work will be located in a part of the gallery that is usually out of bounds to viewers," says Robinson.
David Rosetzky (Melbourne), now exhibiting in Berlin with the well-travelled Piccinini, Rosemary Laing (Sydney) and others as part of a major Australian exhibition (Face Up, Hamburgbahnhoff, Berlin), will show his Untouchable, a 3-video work set in what looks like a domestic interior without walls. Seen only once before in Australia, Untouchable shows characters crossing between screens, discussing issues that we might enjoin but can merely observe.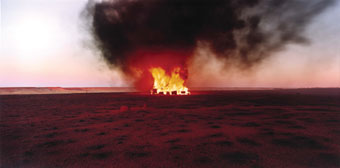 Rosemary Laing, burning Ayer
The role of political commentary in art, and its application in photomedia, threads through this Biennial. Some artists address the gravest questions: legendary Sydney performance artist Mike Parr is shown having his face sewn up in the 20-minute video UnAustralian. In the past Parr has tended to avoid making direct political statements in his work, but this video of a private performance directly addresses government policy on asylum seekers, and it's harrowing to watch. Topical political concern is continued in Canberra artist Silvia Vélez's images of hundreds of coloured Post-it notes, each carrying a print depicting anti-Iraq War protests—a collection of forgotten reminders.
In the gallery there will be a series of small rooms for viewing video adjoining an open area showing photographic work or video, or combinations of forms. "You won't have to sit right through a video to appreciate it," says Robinson. "Viewers will be able to walk through this area and browse. But…there will be a separate screening room where [viewers] can sit and absorb a succession of videos by several of the artists." Neither video nor photographic works will be privileged in the exhibition layout.
Robinson has been very careful with her selection, "I am interested in works that anchor the image in, or address reality in some way." Thus, the Biennial emphasises the capacity of the media to reflect life's harsh realities and to identify prevailing cultural narratives. We are preoccupied as a society with reality and its transmission through the visual (think of the fashion for Reality TV). Using a range of devices from narrative to symbolic and metaphorical, works in the Biennial will highlight how these media work the ways our perceptions and beliefs are shaped. For example, Linda Wallace (Brisbane) has selected archival images from Australia's televisual history and juxtaposed them with images from the outside world to establish ambiguous relationships between these spaces.
Wallace's Entanglements comments on the pervasiveness of lifestyle imagery in the Australian consciousness. Sydney artist Liu Xiao Xian's photography continues his exploration of the migrant experience, especially of those who are politically and culturally dislocated or isolated. Derek Kreckler (Perth) and Destiny Deacon (Melbourne) use multiple forms—Deacon's photographs are mounted adjacent to plasma-screen videos, and Kreckler's large-scale stills adjoin corresponding 3-dimensional forms, dissolving both the physical and psychological boundaries between these media and reiterating the equivalence of forms and information in an image-saturated world.
Deborah Paauwe (Adelaide) continues to develop her work on the costumed child or adolescent girl, adding garish, theatrical make-up to draw another narrative trajectory with references to the fantasy/reality of theatre. This layering of theatrical devices—both the posed photograph and its twin, the stage—acknowledges that the actors (ourselves) are playing at roles, consciously melding the multiple discourses to which we are inevitably subject.
Without the aid of digital manipulation, Rosemary Laing has created stunning imagery that muses on our intrusion into the outback—a stack of bulldust-covered IKEA furniture set on fire and casts of human heads, made by fellow artist Stephen Birch, lolling in a salt-stricken bore. Bronwyn Wright's (Darwin) photos show derelict, graffitied cars, little oases of grunge art in the Northern Territory desert.
The soundtrack for Sydney writer and artist Adam Geczy's video From a Remote and Lonely Place (Port Arthur Elegy) will be Peter Sculthorpe's Irkanda IV (1961) for violin and orchestra. The title of Tasmanian-born Sculthorpe's haunting, lyrical work is an Aboriginal word for "remote and lonely place", and Geczy's video will be exhibited in a long, darkened room on 2 screens, one showing clouds and the other scenes of the site of the former penal colony and recent massacre. Sculthorpe is writing an accompanying catalogue essay for this collaboration.
Works by Tracey Moffatt (Sydney/New York), James Geurts (Adelaide), David Haines (Sydney) and Bill Henson (Melbourne) will add to what promises to be a powerful and timely exhibition.
Adelaide Biennial of Australian Art 2004, curator Julie Robinson, Art Gallery of South Australia, Feb 28-May 30; Artists' Week Feb 28-March 4 www.adelaidefestival.com.au
RealTime issue #58 Dec-Jan 2003 pg. 14
© Chris Reid; for permission to reproduce apply to realtime@realtimearts.net