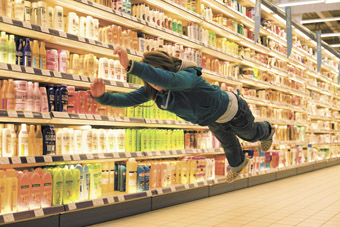 Hyper Nº04, Denis Darzacq, Perth Centre for Photography
THE HISTORY OF PHOTOGRAPHY IS LITTERED WITH CONTROVERSY. USED TO MOBILISE HUMAN RIGHTS CAMPAIGNS, AS A TARGET FOR FEMINIST CRITICAL THEORY, AND IN DISPUTES OVER THE LIMITS OF PRIVACY, IT HAS REDEFINED THE ETHICS OF THE GAZE. CONCEPTUAL PHOTOGRAPHY OFTEN PLAYS WITH ITS DOCUMENTARY OTHER BY TOYING WITH THESE ETHICAL BOUNDARIES AND BY CHALLENGING THE NATURALISTIC PRESUMPTION THAT THE CAMERA CAPTURES THE WORLD AS IT IS. THE EXHIBITIONS, SCREENINGS AND PAPERS THAT WORKED BEST IN FOTOFREO 2008 AT LEAST GLANCED AT THIS MEDIATED QUALITY, DOUBLING THE GAZE ONTO A MEDIUM THAT IT IS ALL TOO EASY TO TAKE FOR GRANTED.
Most of the work in Fotofreo 2008 was, however, printed onto the standard A0 to A2 size, and bordered with white developing paper, directing the viewer's gaze into the illusion of the image. It was rare to find a photographer who drew the eye to the detail of the printed surface as much as to its depth. Perth photographer Alex Bradley's compositions at Spectrum were one exception, encasing scenes from Hitchcock films in blood cells and drowning obscure television programs in images of sperm. Merging the televisual and biological, Bradley refracts classic cinema shots into sex toys and mass culture into mouths. His manipulations foreground the digital conditions by which images are now reproduced while most shows remained within a naturalistic mode.
Chinese artist Chen Nong's handcoloured, back-to-back images of villagers standing amidst hillocks destined to be drowned by the Three Gorges Dam were also exceptional. On show at the Fremantle Arts Centre, they were painted in luminescent, twilight blues and golds, tinging the devastated landscape with a sense of hope. Dressed in handmade costumes to resemble the ancient terracotta warriors, the villagers appear like a ragged army that has survived some surreal, future war. Here are intimate monuments to a history of the present, if not to China itself—the enigmatic force of a new industrial age.
Similar monuments to industry were on show at the Fremantle Maritime Museum, in Toronto-based Edward Burtynsky's commission to document the great, open cut mines of Western Australia. These large photographs shifted from the spectacle of immense depths and expanses, so unreal in themselves, to detailed textures of a land etched and colourfully scraped by machines and acidic chemicals. The tiny details of roads, trucks, tanks and huts are precisely rendered, but the actual scale of these mines remains difficult to fathom as they sit in land that has been burned silver and white by the acid in runoff. Both Nong and Burtynsky beautify devastation, toying with its scale and surface.
Impressive too was the multitude of smaller exhibitions promoted by FotoFreo, in new and innovative spaces for art. Crammed into the corridors of Fremantle's ArtSource office were colourful portraits of youth in Hijacked. Curated by Max Pam and Mark McPherson, these photographers from Australia and the USA allude to personal worlds that have been washed in primary colours by the suburban experience—bright green grass, skies of uncanny blue, and eyes red from drinking. A show of Lomo photography, put together by West Australian artist Yolanda Stapleton for the small Keith and Lottie gallery, stood out for its unpretentious, low-fi images of everyday life from cult, retro cameras. The distinctive images created from Lomo Russian cameras, originally designed to imitate Japanese ones in the 1980s, have had something of a revival in the era of digital manipulation. Theirs is a lo-fi, homespun quality, a relief from the intensity of the high art and photojournalism genres that commandeered many festival spaces.
Such everyday qualities were also captured by French photographer Denis Darzacq at the Perth Centre for Contemporary Photography. Darzacq poses dancers in the conditioned air of supermarkets and bargain shops so that they appear to float above the aisles. One defies gravity in the frozen food section, while another appears to walk on air amidst lampshades and shampoos. The images offer a glimpse of human potential amidst alienating, hypercoloured worlds. Bodies, frozen in motion, seem to suggest a sense of infinitely slow duration, of enraptured stillness amidst the bustle of retailing.
While Darzacq plays with our naturalistic expectations of the medium, London-based Adam Broomberg and Oliver Chanarin at the Fremantle Prison Gallery parody the role of photojournalism in producing truth. Their small, four by five inch prints are linked in a catalogue of atrocity and obscurity. Rather than showing the victims of the Rwandan genocide, they exhibit the remains of discarded Kigali passport photographs; the heads have been cut out for other uses. The violence implicit in these artefacts lies in what we cannot see. So too in the photograph of a teenager's bedroom, preserved since his murder, which sits next to proud portraits of a hunter and his game—buffalo, leopard, elephant…In an exhibition that defamiliarises and makes radical the naturalising function of photography, Broomberg and Chanarin show how the evidence of violence is not always violence itself.
Roger Ballen, an American who has lived in South Africa for 30 years, reveals a similarly deliberate approach in his work on show at the Art Gallery of Western Australia, playing with our ethical expectations of the medium. Traditionally, photographs of the poor and disadvantaged have been used to mobilise campaigns against discrimination, child poverty and war. But Ballen works with people living in housing estates in the neglected, old mining regions of South Africa to illuminate more universal, existential predicaments. He captures surreal qualities in the lives of these people, who develop performances and scratch drawings on fading walls for him. The photographs veer between the documentary format and a more artistically motivated one, testing the lines that we create between the intentions of artistic expression and the world as it is.
Despite many good exhibitions, including shows by Australians Marian Drew, Brook Andrew, Polixeni Papapetrou and Darren Siwes, only six of the 36 featured artists were women—despite the fact that many featured in the variously curated shows such as Hijacked and FotoLomo. Let's hope to see more of them in 2010.
The status of the artist as genius creator, a notion familiar from emasculated, heroic discourses about modern art, does not sit comfortably at FotoFreo with either the photographic medium or within a contemporary art context, inflected as they are with postmodern ideas and new technologies. In the digital age, with its multiplication of cameras and after a loss of interest in the art object, the uncritical celebration of photographer as artist and the photograph as precious object, seems more quaint than relevant. This is why the more interesting exhibitions were more explicit in transgressing received ideas about the medium, such as its documentary function, as were those that broke with the established large print format for conceptual photography, and the various curated shows, which illuminated different aspects of the art rather than foregrounding a unique vision.
For more on 2008 Fotofreo see RT83, p50.
2008 Fotofreo, the City of Fremantle Photographic Festival, Fremantle & Perth, April 5-May 4, www.fotofreo.com
RealTime issue #85 June-July 2008 pg. 52
© Darren Jorgensen; for permission to reproduce apply to realtime@realtimearts.net