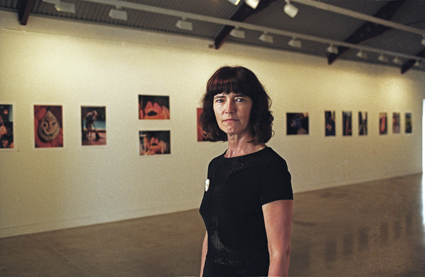 photo William Yang
Sandy Edwards
SANDY EDWARDS IS A DISTINGUISHED SYDNEY-BASED PHOTOGRAPHER AND CURATOR. I TALKED TO HER ABOUT HOW PHOTOGRAPHERS ARE ASSISTED, MENTORED AND EXHIBITED HERE GIVEN THE PAUCITY OF GALLERIES THAT EITHER SPECIALISE IN OR FEEL CONFIDENT TO EXHIBIT PHOTOGRAPHY AND ABOUT HER ROLE AS CREATIVE PRODUCER IN HER BUSINESS, ARTHERE, WHICH PROVIDES SERVICES FOR PHOTOGRAPHIC PROJECTS AND EXHIBITIONS AS WELL AS MENTORING AND CONSULTATION.
What was the impetus for ARTHERE?
I'd been working at Stills Gallery for about 17 years. Stills is a beacon for photographers because there are so few prestige galleries that focus purely on photography in Australia. At Stills we have nine exhibition slots a year and even if you show two artists simultaneously, that's only 18. At the same time we're representing artists and that means regular exhibitions for them. Even though Stills is committed to providing spaces for emerging artists, I was constantly having to advise people where else to go. I also realised there was a general lack of understanding about how the gallery world works. I still have a really good relationship with Stills and work there part-time as a curator but I decided to make a sideways step away—hence this idea of helping people to find spaces and have exhibitions.
How do you establish your validity if you don't have your own space?
That's not so easy as a space speaks for itself. However, not having a space leaves you free to do things in different ways. A space means you have to be in attendance at all times or employ staff. The freedom of working from home and sometimes from makeshift offices means that I can do a lot online, meet people in person and then place their work in appropriate spaces around the city.
What sorts of spaces?
Everyone would like to be represented by a gallery because that's in a way what you're aiming for as a serious artist—the peak reward. This notion is supported by the political structure. It's how works are purchased for gallery collections, bought by private collectors—how they're seen.
My belief is that photography, being a varied medium, can attach itself to all sorts of meanings and forms of expression. Therefore it should have multiple possibilities in terms of where you see it. So I started looking at empty spaces, alternate spaces. It might be an embassy because an artist is a foreign national. It might be a café, a shopfront. Then the whole concept of pop-up galleries was presented to me, apparently already popular in the US; you have a space for the period of the exhibition and then you leave. Shopfronts are a natural for this kind of thing if they're waiting to be rented. If you can persuade the owner or the lessee to let you use it then you can sometimes get a very good spot—visibility is pretty important. And then, of course, there are public and private galleries.
How do you find spaces?
I travel around a lot and I just see spaces. The first place we used was in Danks Street, Waterloo. The gallery scene there had been in existence for about five years. I noticed an arcade of shops that were not visible to the street. I approached the agent and he said I could have three of the shops for the period of an exhibition. So we had a three-week show and I put a different artist in each of the shops.
One of your shows was on the top floor of an apartment building.
The old Police Headquarters on College Street facing Hyde Park was being redeveloped into classy apartments. Photographer Pete Longworth had been employed by the developers to be their front-person to make the place and the location look beautiful to potential buyers. He'd provided them with a lot of photographs, but he'd also produced his own artistic interpretation of Hyde Park. So he came to me and we decided to have the exhibition on the top floor of that building with its fabulous views of the harbour and the park. That was really exciting.
In the last year and a half I have been moving away from the rental and pop up spaces and concentrating more on working with galleries, both commercial (Meyer Gallery, Sara Roney Gallery, Conny Dietzschold Gallery) and curating shows for public and institutional spaces (Customs House, UTS Gallery, Manly Art Gallery and Museum). The latest idea is Photography On Oxford, a project associated with the Head On Photo Festival. We plan to put photography in shopfronts along Oxford Street, Paddington as a mini street exhibition.
How do you manage the marketing given you're dealing with a fair sweep of work—art photography, documentary…
The mailing list was built from the beginning. Obviously there are a lot of photographers, a general list of interested people, but then curators, collectors and a few other categories. What happens is that your relationships with people become really important and you have to develop and maintain them. I'm constantly telling the photographers I'm working with to grow their own mailing lists and to get to know their audience.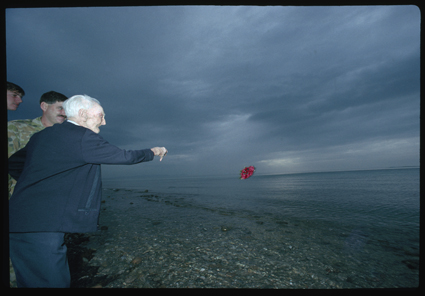 photo Vedat Acikalin
Jack Ryan throwing poppies into the Aegean Sea, When Old Foes Meet
How do you select the artists you work with?
They come in waves. Lots of people come as they're getting themselves together for the year. Photographers ask for consultations and that may roll over into what I call mentoring, to achieve a particular goal. It may be to get ready to approach a gallery or venue, or to secure the venue, or to follow the steps to having an exhibition once the venue is lined up. I've discovered that people who actually make the effort to come to me are already proactive. Not that everyone needs to be totally confident but that drive and the belief in what they've got is really critical.
People tend to be 'other' oriented. We want someone else to tell us that our work is good. To go to an established gallery and ask for an exhibition is quite daunting. A lot of my clients are having their first experience of the art world. But people who come to me whose work is not ready for exhibition go away with a list of tasks to further develop the work. I don't want people to have to commit a lot of money in the beginning because they may not be in that place yet.
What proportion of your photographers are emerging artists?
It's probably about 70 percent. However, I have people I've worked with before who are now onto their second or third exhibition. That's really satisfying. Some artists, like Ben Ali Ong, whom I worked with in the early stages of ARTHERE, is now with Tim Olsen Gallery and doing really well. But it's hard to get representation. If someone comes to me and says I want a gallery, I say, well, it might take a few years so we need to look at what the steps are. I find it hard to find galleries for people unless their work is absolutely standout.
And your own work?
I'm still taking photographs but I haven't done anything in the way of an exhibition since 2004 when I had INDELIBLE at Stills. However, creativity comes in many forms and if you're getting a lot out of what you're doing, as long as you're not burning yourself out, that's very satisfying as well.
This seems to me a very creative enterprise. But can you make money from it?
I can. The only thing that's problematic is that I'm making money pretty well purely from artists and, as we know, artists don't have a lot of money. That's why I have the different stages so someone can see me and, out of that meeting, they'll get a lot of ideas and begin to focus. They'll get the benefit of my knowledge about what's required to be an artist—how it's not just about working on your own. You need to have a context, a peer group; you need to see others' work; you need to meet people. Otherwise you end up not being seen.
Tell me a little bit about your latest exhibition.
This is a good example of one that might never have got up. Vedat Acikalin is a Turkish-born photographer who's lived in Australia for a long time. He's worked as a press photographer in sports and world news. He photographed the 75th anniversary of the Gallipoli landing in 1990 and felt very passionate about the fact that former Turkish and Australian soldiers who'd previously fought one another were actually meeting and becoming friends. The exhibition is called When Old Foes Meet. It's documentary work and tells a very positive story of reconciliation. Vedat was determined to get this exhibition up. He found a space in Chifley Tower. It's in a beautiful marble foyer in Bent Street and the exhibition will run through Anzac Day.
I should say that the other critically important half of ARTHERE is Cassie French of Pop-Up Publicity. She works on most of the shows and takes on others as well and is unique in Sydney, specialising in photography. And if your show is not out there in the media it just doesn't get seen. We're pretty much equal in the business and bounce a lot of ideas off each other. Bruce Nicholson is the designer and technical support person and Lisa Sharkey is involved in installation.
So do you see ARTHERE as eventually growing into part of the infrastructure or will it retain its subversive character?
The mainstream gallery scene is pretty rigid. I'm not saying curators don't choose really carefully but from my observation there are lots of photographers out there who don't necessarily get looked at. So I guess it's subversive in a way to try to find other venues in the hope that it will move things around. This is a time when lots of people are looking for different models. ARTHERE is just one.
ARTHERE: Vedat Acikalin, When Old Foes Meet, March 28-April 29, Chifley Tower, Bent Street Lobby, 2 Bent Street, Sydney, Mon-Fri 7am-7pm; www.arthere.com.au
Photography on Oxford Street, shop windows photography exhibtion, May 9-29
RealTime issue #102 April-May 2011 pg. 43
© Virginia Baxter; for permission to reproduce apply to realtime@realtimearts.net