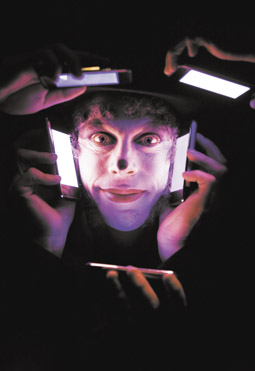 photo Peter Mathew
Ryk Goddard, Helena and the Journey of the Hello
ONE THING I REALLY HAVE TO REMIND MYSELF WHEN THINKING ABOUT TERRAPIN PUPPET THEATRE'S HELENA AND THE JOURNEY OF THE HELLO IS THAT IT'S FOR CHILDREN. THAT'S REALLY QUITE IMPORTANT, BECAUSE THERE ARE PREJUDICES WE MAY HAVE AS ADULTS, WHO DID NOT GROW UP WITH MOBILE PHONES, TO WHOM TEXT MESSAGING IS SOMEWHAT INCONVENIENT AND WHO ARE POSSIBLY EVEN DISAPPOINTED WITH THE WAY THE FUTURE TURNED OUT. I WAS EXPECTING A JETPACK. I GOT AN IPHONE. NEVER MIND THAT THE IPHONE CAN CARRY MY VOICE FURTHER AND AT GREATER SPEED, I WASN'T EXPECTING IT AND I THINK I AM ALLOWED TO BE SLIGHTLY DISAPPOINTED. OF COURSE, IF ONE IS ELEVEN, THIS IS NOT A DISAPPOINTING FUTURE, IT IS NOW.
Terrapin's new show is many things. It's certainly an investigation of now and it's certainly aimed at children—older children though, as it all gets a bit dark and does talk about vanishing parents, or them changing somehow. The story is told by talking animals and there are iPhones that have eyes all whirling about in a forest that's made of metal and light. Helena and the Journey of The Hello is wonderful, in the truest sense of that word—filled with strange and intriguing delight. It's bursting with images and ideas, sometimes so many that I found it a little hard to keep up with the pace dictated by the slightly threatening trio of story tellers, Wolf, Fox and Hare.
With their distinctive and defined personalities, these characters were a highlight, growling and grimacing and making bad jokes, evoking tiny hints of Maurice Sendak's Wild Things. As narrators, guides and guardians of the story, they're supposed to draw us in and keep us excited, while still being fairly convincing talking animals. Quite a job. Of course, they managed it well. In fact I found myself rather liking them and their growly, lumbering energy. I particularly liked Ryk Goddard, the Wolf, who displayed vigour and skill as a performer and whom I'd really like to see performing more tales of this dark and feral nature. The other cast members were terrific too, but Goddard exuded charisma here and was certainly the leader of the pack.
The work plays around with a lot of ideas, but the important ones seemed to be about time and distance, which is appropriate for a show exploring what technology means to people and how they can use it, particularly something as small and personal as a mobile phone. Here, the phones are sort of magical, which I suppose they are. We understand how they work, but this story evokes the science as words that fly around the globe, that connect us when we are far apart, and it reminds us that this is actually quite a wonderful thing. Perhaps the future is not such a bad place to live.
Terrapin Puppet Theatre, Helena and the Journey of the Hello, writer Finegan Kruckemeyer, co-designer, director Frank Newman, devisor-performers Ryk Goddard, Mel King, Sam McMahon, production designer Kate Davis, music Mikelangelo, Fred Showell, lighting Danny Pettingill, puppet maker and design Greg Methe, original artwork Tim Schultz; Peacock Theatre, Salamanca Arts Cente, Oct 8-18, www.terrapin.org.au
RealTime issue #88 Dec-Jan 2008 pg. 41
© Andrew Harper; for permission to reproduce apply to realtime@realtimearts.net