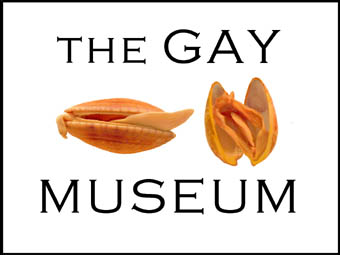 Jo Darbyshire, The Gay Museum
Stick-thin, willowy figures emerging stark black from the white radiance and intense heat of midsummer, like Lowry's matchstick Londoners suddenly stripped of their winter clothing and transplanted to the Australian desert. This is the mental image I have of British sculptor Anthony Gormley's Inside Australia, currently installed on a remote salt lake, several kilometres outside the nearest town and appoximately 750kms east of Perth. It is only an imagining because I haven't seen the work—I couldn't afford the cost of travelling to the site. Inside Australia was certainly the main game for Perth International Arts Festival publicity, and a grand parting gesture from Festival Director Sean Doran. Enigmatic, distant, and beyond the reach of most, Inside Australia was an expensive project to realise ($650,000) and obvious questions have been raised about the relevance or appropriateness of a British sculptor creating work for a landscape inside Australia. However, the work was a hit with those mostly from outside the metro area. The community of Menzies is rallying support to retain the work permanently.
Patricia Piccinini's MCA Travelling Exhibition Call of the Wild aside, the rest of the visual arts events registered as mere blips in the festival program. The decline in numbers of high-profile international art stars this year, however, allowed local work to shine through. Two curatorial projects focussing on marginalised practices and local histories in WA emerged as the most important exhibitions to be staged in recent years: The Gay Museum, curated by artist and historian Jo Darbyshire; and South West Central: Indigenous Art from South Western Australia 1833-2002, curated by Brenda L Croft with Janda Gooding for the Art Gallery of Western Australia.
In The Gay Museum Darbyshire used the design logic of contemporary museums by splitting the exhibition into sub-headings including, STEREOTYPES, INVISIBILITY, UNNATURAL PASSIONS, AIDS, BEATS, WOMEN'S LIBERATION, VICE, DRAG and CHANGE. Street language, colloquialisms, slang and insults were intermingled with the language of taxonomy, provenance and arcane museum-speak to discuss the fluid histories of gay, lesbian and transgender activity in WA over the past 100 years. This borderless approach to language was carried into the presentation of collected material in traditional museum cases. Darbyshire gathered costumes, photographs, quotes, magazines, videos, club and personal memorabilia from members of Perth's gay and lesbian community and married these with clothing, artefacts, newspaper articles, wildlife and mineral specimens from museum and library collections. The placement of objects created often humorous (and painful) visual and symbolic narratives from these disparate and multiple sources. Through her appropriation and re-contextualisation, Darbyshire identified the absence of a strong material history, and the manifest tendency of a community towards "self-censorship" as a survival tactic.
The first museum case, placed beneath the title SODOMY, provided a bold and unflinching entrance statement to the exhibition. It contained a Squid and Arca floating in formaldehyde, an antiquated Spirit Level, a Police Truncheon c. 1842-77, a 2001 Letter from Peter Foss (then Shadow Attorney General) and 2 Mirror Balls, specimens of pyrite, irondisulphate. The Letter, an official response to a community member lobbying the repeal of sodomy legislation contained 2 lines that were so unbelievable, I had to read them again (and again) to fully comprehend their meaning: "We do have a duty to recognise vulnerability and take reasonable measures to protect it. We do not consider it appropriate that law should permit sodomising of our young people."
Even with the looming shadow of ignorance acknowledged as ever present, The Gay Museum was above all celebratory and profoundly moving. I was particularly intrigued to read about the 1940s murder-suicide of two ill-fated lesbian lovers on Perth's foreshore, and their passion for motorbikes. News articles were presented beside a 1920s Harley Davidson and an enlarged photograph of one of Pride Festival's immensely popular Dykes on Bikes who lead the parade down the Northbridge streets each year.
South West Central is such a significant survey of Nyoongar art from the South West of WA that it is impossible to do justice here to the work of its artists and curators. Fortunately there is an extensive catalogue including an interview with filmmaker and family archivist Steve Kinnane, curatorial essays and a map of the Nyoongar area. South West Central traces a history of practice from the first recorded representation made by an Aboriginal in contact with government officials in King George Sound, through the Carrolup tradition of painting, to contemporary works in digital media, photography, textiles, weaving, fashion design and painting by leading Nyoongar artists.
While I found the exhibition quite difficult to navigate, it was clear that design played a somewhat secondary role to the presentation of diverse works. Chris Pease's Monnop (1999) re-presented an archival photograph held in the Battye Library of "one of the last Victoria Plains Natives" as a large-scale painting of strength and endurance. Lance Chad/Tjilyungoo's searingly beautiful landscapes, including Morning (2000), shone from the walls like portals onto dawn and dusk in carefully observed light-filled scapes of gum trees, forests and clearings. The prints of Byron Pickett, Bevan Hayward/Pooaraar, Dianne Jones and Sandra Hill also emphasised the growing prominence of print media in contemporary Nyoongar practice. My favourite work was by the recently deceased Joyce Winsley, The Storyteller (1999), a small, half-reclining figure made of Guildford grass and cordiline, her fingers languidly pointing toward the earth.
Still on the theme of Australian landscapes, British-based artists Tim Maslen and Jennifer Mehra's Phoenix at the Holmes à Court Gallery purported to deal with the positive, regenerative effects of fire. The result was a bitsy collection of collaged prints, drawings, resin casts of burnt logs and an oversized mobile of resin seeds floating from the gallery ceiling to the floor. Certainly this is a difficult subject to broach considering recent events, and I was reminded of this while travelling through the charred landscape to Jenny Watson's Dolls House at the International Arts Space Kellerberrin (IASKA) 200kms from Perth. In the relative cool of IASKA, Watson's 5 large-scale paintings on Belgian linen, especially Gulliver's Drought (2003), symbolically evoked some of the scenes I'd passed. A blonde girl in a red skirt stands tall in a big, brown, barren landscape beside a cow no bigger than a puppy, a wilting flower in her hand.
Call of the Wild at the John Curtin Gallery presented several major works by Patricia Piccinini in super-slick, seamless fashion. While the video, Swell (2000-2002), was mesmeric and pristinely installed, and Breathing Room (2000) unbearably creepy in its vibrating, womb-like claustrophobia, the installation of photographic works felt somewhat overpowered by the exhibition design. Too many Dulux feature walls in 'now' colours swamped Protein lattice (1997) and the hilarious love story/operating theatre melodrama-in-pictures, Science Story (2001-2002). While Piccinini's work invariably reproduces well in publications, the bogan in me was grateful for the opportunity to finally see the undulating curves of her Car Nuggets and Panelwork en masse in the very shiny flesh.
Perth International Arts Festival, Jan 25-Feb 17: Inside Australia, Anthony Gormley, Lake Ballard, Menzies, Jan 16-Mar 31; Call of the Wild, Patricia Piccinini, John Curtin Gallery, Jan 24-Apr 6; The Gay Museum, curator Jo Darbyshire, WA Museum, Jan 23-May 31; South West Central Indigenous Art from South Western Australia, Brenda L. Croft with Janda Gooding (curators), Art Gallery of Western Australia, Jan 30-Mar 30; Dolls House, Jenny Watson, International Arts Space Kellerberrin, Jan 20-Feb 24; Phoenix, Tim Maslen & Jennifer Mehra, The Holmes à Court Gallery, Feb 2-Mar 23
RealTime issue #54 April-May 2003 pg. 30
© Bec Dean; for permission to reproduce apply to realtime@realtimearts.net