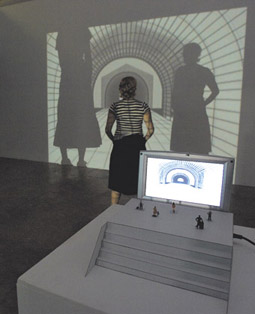 photo Fiona Morrison
reconfigured, Jude Walton
JUDE WALTON'S RECONFIGURED PROVIDES AN INTERACTIVE SPACE WHICH LITERALLY FRAMES OUR PHYSICAL PRESENCE AND COGNITIVE AWARENESS WITHIN PERSPECTIVE; WEB ARTISTS YOUNG-HAE CHANG HEAVY INDUSTRIES BRING AN INTERCULTURAL INTERNET TO THE SCREENING ROOM IN THEIR CINEMATIC WORK, THE MOOD OF THE MOMENT; AND MELISSA HIRSCH'S FIBRE WORK, DE NATURED (see page 1), CONFRONTS THE LOSS OF TRADITION AND IDENTITY TO TECHNOLOGY.
These works and 24HR Art's most recent exhibitions have recognised the complex new dynamics of point of view, confronting us with ways of thinking about our physical presence and our identities as members of multiple communities.
In the main gallery space, Walton creates stations of activity that collectively provide an insight into our sensing of self within space. As individuals and groups move from one work to another they fill the gallery with bodies that build histories and narratives which include the real architectural space in relation to Walton's references. Each exhibit requires an interactive response; the more complex of these involved sensor pads interfaced with an animation of a ball on a board. Participants are invited to step on and test their sense of balance, to become aware of their bodies in action.
Walton wants us there physically, to become aware of our own scale shifts within the viewed grid. A graphically rendered Paris Underground tunnel allows repeated views from different perspectives. As we move from one exhibit to another we are challenged by the different scales—sometimes it's like an optical test, at others observing a model replica of ourselves in space and, finally, immersion as we and our shadows make a convincing dint in the virtual tunnel.
Young-Hae Chang Heavy Industries, comprising collaborators Young-Hae Chang (Korea) and Marc Voge (USA), are Seoul based web and new media artists who have negotiated the art world through the internet. They use signature streamlined Flash animations on large screens and monitors in galleries rather than on the personal computer (although you can find their work online), creating a different paradigm for viewing and understanding.
Using animated text, The Mood of the Moment, amusingly portrays a provocative dialogue highlighting sexual politics, language barriers, people who are in the know and those who want to be. This work is not simply about information getting lost in translation. Central to the dialogue is a seemingly nonsensical term, "Guachi Guaro", which can be attributed to jazz vibraphonist Cal Tjader's 1965 album and its title piece Guachi Guaro (soul sauce). To be a jazz aficionado is to be part of an exclusive club. In a similar way nationality and language provide not only difference but also access to exclusive knowledge and experience.
Like many of YHCHI's works The Mood of the Moment is accompanied by jazz. Punctuated by a catchy digital jingle reminiscent of Korean toothpaste commercials and with computer translator voices, the sound is wittily synched with flashing text. Speed is critical to the reading of the work. As viewers become embroiled in a discourse between male and female our attention is caught by the pacing of both sound and text. We are anxious to understand; to not be left behind; to be in the mood of the moment.
The maker's mark is clearly discernible in Byron Bay artist Melissa Hirsch's de natured. Woven from New Zealand flax and revealing a skilled fibre artist, Hirsch has made a collection of tools from power drill, sander (including cord) to shovel, rake and screwdrivers—a familiar collection to anyone owning a tool shed. Hirsch identifies her practice within the paradigm of sustainability and has gained climate neutral status from Climate Friendly, a government accredited climate impact company.
Sustainability is a vital ecological goal but used within the context of the exhibit characterises the impossibility of maintaining indefinitely practices of the past. Hirsch's delicately woven tools emphasise the inevitable replacement of generations of skills and of technologies as part of a constant dynamic.
Jude Walton, reconfigured; Young-Hae Chang Heavy Industries, The Mood of the Moment; Melissa Hirsch, de natured, 24HR Art, Darwin, May 11-June 16
RealTime issue #80 Aug-Sept 2007 pg. 38
© Sarah Pirrie; for permission to reproduce apply to realtime@realtimearts.net