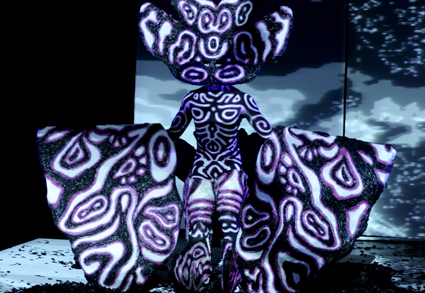 photo by Heidrun Lohr, courtesy of Performance
Justin Shoulder, The River Eats (2013)
Performance Space's Show Off season of performance featured a cluster of works including the already acclaimed and touring I'm Your Man (Rosalind Oades) and Opal Vapour (Jade Dewi Tyas Tunggal) alongside Team Mess' Bingo Unit and Justin Shoulder and Collaborators' The River Eats, both of which were well received in Next Wave 2012 in Melbourne. Each work confirms the increasing diversification of the means for making and the meanings of performance.
Justin Shoulder, The River Eats
Justin Shoulder is a beloved 'underground' talent from the Sydney club scene brought to light in Melbourne by Next Wave in 2012 and this year in Sydney by Performance Space. In The River Eats, aided principally by his masterfully designed masks and costumes (here synthesising gay excess with Kabuki clarity of line) this master of transformation mutates from a quivering bird-like creature to almost himself (largely naked, muscular, coated in brilliant pink), to an abject then defiant simian self and finally into something fishlike, a luminescent, striped exotic you might encounter in the Great Barrier Reef. This final creation in its patterned doublings of itself resonates with the fluid Rorschach imagery in the show's recurrent screen projections. While the costumes are striking, the movement is only sometimes so, opening with a nimble Baroque bounce and concluding with the delicate wave-like settling and rising of a sea being; in between, and amid some performative longeurs, Shoulder's steps made much less of his costumes and the work's potential. Nevertheless he is magical, the very strangeness of his creations exhilarating, not least in their echoing of the design richness of evolution and the promise of its continuance in hybridity to come.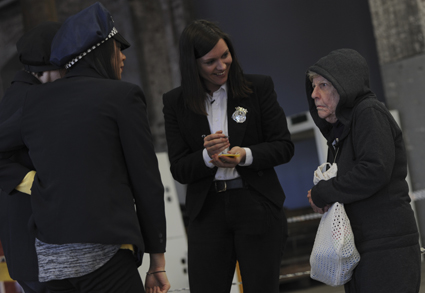 photo Heidrun Löhr, courtesy of Performance
Team Mess, Bingo Unit (2013) The Discovery of the Body scene
Team Mess, Bingo Unit
Adroitly exploiting public familiarity with the TV crime detective genre, Bingo Unit is a fun entertainment powered by three engaging performers (Frank Mainoo, Malcolm Whittaker, Natalie Randall) who play key roles, wrangle the audience and, from time to time, improvise as audience members become interrogators, jurors or part of an identification line-up. Amusing pre-recorded improvisations include a series of pairs of non-performers playing policemen on stake-out, each couple inventively reacting to the sudden appearance of the same suspect exiting a house, wiping down and flourishing a heavy sword before tossing it in a bin ("He can't recycle that!"). You witness these yourself by sitting in the stakeout vehicle on the stage floor, watching the improvisations on a monitor mounted on the car's bonnet. Other taped improvisations feature detective briefing sessions, delivered by officers with blunt indifference to the horror of the crime.
Wandering about the performance space you can randomly attend a medical forensic session, kick a door in to apprehend a suspect, watch breaking non-news and an interview with the cagey woman (Wendy Blacklock) who found the body, inspect a bedroom with clues (or not) and attend an interrogation and a trial (in which the judge is Chris Haywood). Bingo Unit lacks the chill of the current wave of detective drama (The Killing, The Bridge and the Danish-influenced UK drama Broadchurch) and offers no particular insights into the genre (nor doubtless intends to) beyond our undying fascination with it. But its clever deployment of its participants, live and pre-taped, and its generation of live studio ambience surprises and engages. Doubtless the crime genre will manifest in the game-playing theatre Robert Reid described in RT115 (about which he will reveal an Australian dimension in RT117), with the audience playing an even greater role in solving the mysteries of life—or, as in Bingo Unit, revelling in the abundance of clichés we culture makers endlessly generate and perpetuate.
Performance Space, Show Off: Team Mess, Bingo Unit, creators Dara Gill, Frank Mainoo, Malcolm Whittaker, Natalie Randall, 10-13 July; Justin Shoulder and Collaborators, The River Eats, 3-13 July, Carriageworks, Sydney
RealTime issue #116 Aug-Sept 2013 pg. web
© Keith Gallasch; for permission to reproduce apply to realtime@realtimearts.net