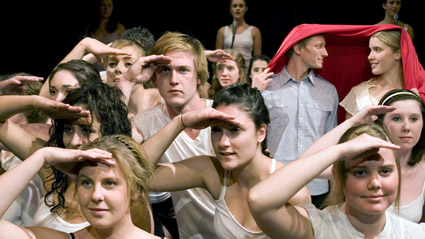 photo Derek Kreckler
First Year Students, University of Wollongong, performing Park Young-Hee's Finding Love
PROFESSOR SARAH MILLER IS HEAD OF THE SCHOOL OF MUSIC AND DRAMA IN THE FACULTY OF CREATIVE ARTS AT THE UNIVERSITY OF WOLLONGONG ON NSW'S SOUTH COAST. REGIONAL UNIVERSITIES FACE MANY MORE CHALLENGES THAN THEIR WEALTHY CAPITAL CITY COUNTERPARTS BUT MILLER REVEALS HOW A SMALL SCHOOL IS BUILDING NEW DEGREES RESPONSIVE TO STUDENT NEEDS IN THE RAPIDLY TRANSFORMING WORLD OF THE PERFORMING ARTS AND FURTHERING CREATIVE PRACTICE AS RESEARCH.
the multidisciplinary context
With two decades of experience as director of Sydney's Performance Space and Perth's PICA (Perth Institute for Contemporary Arts), Sarah Miller is a vigorous supporter of multidisciplinary programming and interdisciplinary practices. The University of Wollongong's Creative Arts Faculty offers a rich multidisciplinary context for creative scholarship in its embrace of Visual Arts, Graphic Design, Media Arts and Digital Media; Journalism, Creative and Professional Writing; and Performance and Sound-Composition & Music Production. Undergraduate students largely work within one discipline but there are opportunities for productive cross-overs: "I wouldn't describe the faculty as interdisciplinary as such but there is the potential because a number of disciplines are co-located so that when you get to Honours, for instance, that cohort is 'in the same room'."
interdisciplinary opportunities
One area where interdisciplinary work can be pursued at undergraduate level is the Dean's Scholars Program: "Students with a very high standard can do a double major. It's a mediated program and they have to maintain distinction standard." A small number of students are taken into the program, combining for example, says Miller, "theatre and creative writing."
independent learners, transferable skills
The faculty's drama school comprises Miller and four other staff members: theatre lecturers Tim Maddock, Janys Hayes, Lotte Latekefu who teaches singing and Margaret Hamilton who teaches dramaturgy plus "casuals who come in to teach skills—voice, movement and technical and production management. Visiting directors work on our end of semester productions as Theatre Fellows. They are professionals we know and love who give the students a breadth of experience which is really important." As to her vision for her students, Miller explains, "What I saw was in line with my own experience and I wanted to more clearly articulate it: the idea of the self-producing artist, self-reliant, capable across a range of areas, with the good training that certainly was never available when I was a student [laughs]—I used to run around town trying to find classes to do!
"We're aiming for a coherent training program which, of course involves repetition, and then there's the university's academic requirements. The theorist Lesley Stern said to me once, 'The last thing the world needs is another dumb actor.' I do take that on board—as in any creative arts area, how many graduates will become practitioners? They have to have the best training you can provide but they also need other options—to be really independent learners, capable of critical thought, with skills that are transferable, and it's important that they're not passive."
skills, performance, dramaturgy
Miller described the principal ingredients of the current Bachelor of Creative Arts, Theatre degree: "There are three streams: skills development in acting, singing, voice and movement; a production every semester; and dramaturgy—a very rigorous course in the theory and history of theatre. Now I'm back in a university I have returned to history as something that is critically important. And training in research skills for different career pathways is embedded in the courses."
Miller explains that "there is also a very small technical production cohort within the acting course. Frank Mainoo is an acting graduate working in this area as well as in his own work and with the performance group Team Mess." (Team Mess emerged from the Creative Arts Faculty. Mainoo is appearing in the Brisbane Festival's Under the Radar program with Sydney performance maker Jeff Stein). "The designer Robert Cousins is teaching the production students design this year and they all—to a greater or lesser degree—study lighting. Tanya Leach from Sydney Theatre Company taught stage management last semester. It's important the students have contact with working professionals."
As to how a spirit of independence is engendered, Miller says her staff are very good at developing a strong student cohort. Self-animation is the spirit of the school and of necessity—it's a not a wealthy faculty. There's an expectation from the very outset that while the students are supported that the shows will have to be self-reliant, and 'make a buck'—but not a big profit." As well as performing, students do front of house, bump-ins and help with publicity.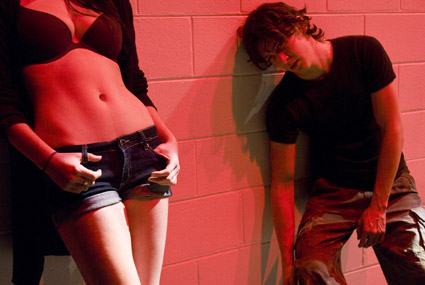 photo Derek Kreckler
Second Year University of Wollongong students perform Fassbinder's Pre-Paradise Sorry Now, directed by Chris Ryan
making their own work
"They also have the unusual opportunity—and Tim and I feel it's generally beneficial—to make their own work, albeit within tight parameters. It's done on a competitive proposal basis and usually in 2nd and 3rd year. However, Jackson Davis wrote and directed Fire Moves Away (mentored by Theatre Fellow Chris Ryan) at the end of his first year, and showed it in the first weeks of 2nd year. It was so successful it went to the Hue Festival in Vietnam (facilitated by staff member Janys Hayes). Jackson is a Dean's Scholar and one of the students combining Theatre and Creative Writing."
the text-based/devised balance
Miller thinks the variety of approaches staff bring with them important for student flexibility. Chris Ryan (ex-Sydney Front and director of shows for PACT Youth Theatre) and Tim Maddock (Brink Theatre Company, Sydney Theatre Company, Griffin Theatre Company) "direct very differently but there has been no schism beween text-based and devised work, such as has happened elsewhere. This has been profoundly important." She adds that through Margaret Hamilton students are incredibly well informed about the range of contemporary theatre and performance.
As well as Chris Ryan, the faculty has attracted a large number of theatre and contemporary performance professionals to work with students, including Deborah Pollard, Carlos Gomes, Geordie Brookman, Regina Heilmann, Tessa Leong, Drew Fairley and Mark Haslam. Miller is attentive to the need to balance text-based with devised works for production, noting as well that "some students just want to be actors and others almost from the outset want to make work. We need to open up the range of possibilities."
Miller was particularly impressed with Korean performer Park Young-Hee's Finding Love. Park came as a Theatre Fellow via Latt Children's Theatre on the recommendation of director Roger Rynd [whose death on June 14 in Seoul is sadly noted. Ed]. "She directed and taught first years in their first 2009 semester, giving them a physical discipline and a sense of cultural difference from the very beginning."
making connections
The faculty's relationship with the organisations and venues outside the university is also important to Miller. Staff bring their connections and students have appeared in Performance Space's NightTime series, have belonged to PACT's Impact ensemble or appeared in the Tiny Stadiums Festival where the Appelspiel Collective created a model of the Erskineville village. Recent graduates have formed performance groups Team Mess and Tiger Two Times and actress Claire Bowen appeared in Geordie Brookman's production of Spring Awakening, the musical, for the Sydney Theatre Company and in David Field's film, The Combination.
As an integral part of their degree, undergraduates perform in their first year within the university in the faculty's black box 86-seater, while their 2nd year productions are staged at the Illawarra Performing Arts Centre's [IPAC] Gordon Theatre both semesters. The 3rd year graduating productions are shown at the PACT Theatre in Sydney and the Graduate Showcase is presented at Belvoir Street Downstairs. All the faculty's shows are publicised widely within the university and beyond.
the new bachelor of performance
Miller is excited about the new degree: "From 2011 we'll still have the Bachelor of Arts, Theatre and a new Bachelor of Performance. These will match the needs of different kinds of students. The Bachelor of Performance has two streams: one is acting and the other is performance making. There's a common first year shared with the BCA Theatre students before decisions are taken about which pathway students might follow. In the first year there are common foundation subjects, then an introduction to stagecraft, one performance-focused and around the body and the other technical. As well there are skills training in acting, singing, voice and movement for performance focused students or subjects introducing stage management and the fundamentals of lighting and sound for students wishing to major in technical theatre production.
"After 18 months, the actors in the Bachelor of Performance continue actor training while the performance-makers pick up other areas of practice, different performative modes, installation and also directing—more specialisation, but no minors and only two electives, although performance-making students may choose to do a minor in technical theatre production.
"The Bachelor of Performance is designed to be the intensive course and the BCA Theatre degree more flexible," Miller explains. "In a BCA you could do a major in theatre and a minor in technical production, or two minors—technical production and media arts or creative writing. It recognises the new emergent practitioner who plays in a lot of areas. BCA Theatre is about multidisciplinary flexibility." Miller adds, "The production course will become a major in the BCA in 2012."
Fortunately for a pressed Miller, who is also Program Co-ordinator for Music and Drama, "We have a new building with a rehearsal facility—two spaces to put people in—nothing flash but very functional."
creative postgraduates
"Postgraduate study is a growth area," says Miller. "We've had Masters and PhD students before but now we have increasing interest from mid-career and senior artists. It's come about because of the classic need for artists within universities to get qualifications, or to reflect on one's practice, or to seek structure and resources." Wollongong offers a rare opportunity in NSW to do practice-based research in theatre. Miller says there's also been a growth in the number of Honours students: "Mark Rogers is writing about the work of director Benedict Andrews and directing productions of plays by playwrights like Howard Barker and Marius von Mayenburg; Nathan Harrison is writing about Sydney performance group, version 1.0, which is arguably seminal research about Australian theatre practitioners." The BCA Honours degree comprises 50% creative work and a minor thesis of 15,000 words—honestly, very demanding." Honours students might then go on to a PhD. Artists undertaking Master of Arts by Research in the faculty include significant players in Sydney's performance scene, Karen Therese and Victoria Hunt.
The Doctorate of Creative Arts is for artists with a high level of professional experience and a substantial body of practice. Current candidates include performance makers Deborah Pollard and Nikki Heywood. Miller says, "they exemplify the required 'high level of artist achievement' with longevity of practice and extraordinary maturity. I think it's exciting for them. To prepare them and others, Professor Diana Wood Conroy has set up the Senior Artists' Research Forum [SARF] which is a DCA-focused, intensive senior artists study program, supporting them in research methodologies training. There are fortnightly meetings with staff and other postgraduates for a semester and a half and then they go into the DCA proper. This is really helpful because it can be hard to come back into the university structure."
With the imminent arrival of the Faculty of Creative Arts' Bachelor of Performance at the University of Wollongong, we can look forward to the recognition of contemporary performance not only as a rich field of artistic endeavour and achievement in its own right, but as part of the great spectrum of performance that entails much else, including what we have traditionally understood as acting and theatre. That this extends to creative doctorates and the faculty and its students' and graduates' engangement with the world beyond the university, makes it all the more exciting.
Faculty of Creative Arts, University of Wollongong, NSW; http://www.uow.edu.au/crearts/index.html

RealTime issue #98 Aug-Sept 2010 pg. 2
© Keith Gallasch; for permission to reproduce apply to realtime@realtimearts.net