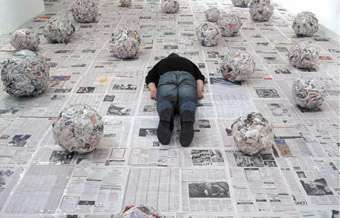 photo Carl Warner
Franz Ehmann, speaking the world into existence, 2005, installation detail
ARTSPACE IS ABOUT TO EXAMINE THE COMPLEX LINKS BETWEEN PERFORMANCE AND INSTALLATION. CURATED BY ARTSPACE DIRECTOR BLAIR FRENCH, AFTERMATH: PERFORMANCE INSTALLATION FEATURES SIX PERFORMANCE ARTISTS—INCLUDING FOUR FROM AUSTRALIA, ONE FROM INDONESIA, AND ONE FROM THE UK. EACH WILL CREATE A PERFORMANCE IN ONE OF THE EXHIBITION ROOMS AND COMPLETE THEIR WORK WITH AN INSTALLATION THAT WILL REMAIN IN THE GALLERY IN THE WEEK FOLLOWING EACH PERFORMANCE, THUS CHALLENGING THE ARTISTS TO PROVIDE PROLIFIC IMPRINTS OF THEIR PERFORMANCES IN THE ENVIRONMENT OF THE EXHIBITION.
The participating artists are Guy Benfield, Anne Graham, Franz Ehmann, Tony Schwensen (all from Australia), Arahmaini (Indonesia), and André Stitt (UK). The weekly performance installations will be followed by performances from Yiorgos Zafiriou and senVoodoo (Fiona McGregor and AñA Wojak) also from Australia. Aftermath concludes with a Symposium in collaboration with Performance Space and RealTime at CarriageWorks. The program will be accompanied by a screening of international performance videos—including recent works from China—hence emphasizing the way performance art is frequently linked to a wide range of media, and paying attention to its inherent re-mediation.
Aftermath offers a welcome investigation of both time-based and spatial notions of performance art, by inviting artists whose works aim to address the enduring interactions between direct encounters with live performances and their intricate links to installation and video art. It thus provides a clear break with some of the more frequently addressed discourses on the post-productive qualities of performance art, particular in photography, which are often treated as mere documentations of the actual performance event, and which have become increasingly popular on the international market in recent years. Instead, Aftermath offers a more profound art historical approach by further tracing connections between performance art and conceptual art including, no doubt, links with Arte Povera and other post-WW II art movements, particular those of the 1960s and 1970s.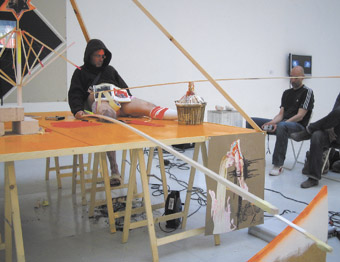 Guy Benfield, Stadium Redux Redux, installation performance, 2006
guy benfield
The first performance-installation will be by Guy Benfield. Titled Maximum Commune (Ugly Business…on the basis of disbelief), it will involve the artist playing out several performance scenarios that trace allegorical notions of ritual, early French and Japanese exchanges in action painting, arte informel, and modernist architecture of the 1960s. By re-animating time-based and culturally embedded style, form and technique, Benfield's performances often force audiences to contemplate the perversion of collective trends.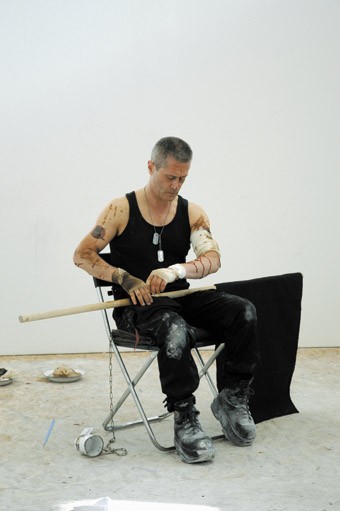 photo Manuel Vason
André Stitt, Nostalgia, Baltic Centre for Contemporary Art, Gateshead, UK, 2005
andré stitt
André Stitt's performance, Dingo: A treatment towards a new communionism, will without a doubt raise eyebrows in the performance art community (and among some animal-rights activists). Stitt has proposed he be placed in a cage with a dingo, a direct reference to Joseph Beuys' 1974 'coyote' performance, I Like America, America Likes Me. Aside from providing a 'communionism' between Stitt/Dingo and Beuys/Coyote, the work will also invoke social-political and cultural-historic topics, particularly in relation to post-colonial trauma, cultural imperialism, and genocide. It will also be interesting to see how the performance deals with occupational health and safety regulations, animal-rights laws, and public sensibilities that will require a constant renegotiation of the real time performance.
To date it has been announced that Stitt will be "locked in a cage with a dingo at certain times over a three day period" and hence animal friends can be assured the dingo will also have some time off. Stitt's performance may also address some of the specific issues surrounding the animal which was introduced to Australia by traders from Asia around 3,500-4,000 years ago (whereas the coyote is native to America). The dingo is certainly less of a mythical animal than the coyote, and rather than being seen as a 'trickster' it is treated as a 'menace.' I wonder if and how these distinctions will be dealt with in Stitt's paraphrasing of Beuys.
anne graham
Aside from paying attention to re-animation, particular emphases in Aftermath will be directed to the displacement of culturally-embedded practices and daily routines into the gallery space. Anne Graham's work, In Between Space, will transform Artspace into a residential home, comprising eight rooms: bedroom, kitchen, studio, library, living room, office, and gallery. Throughout the weeklong performance each of the spaces will be occupied and used for everyday activities, thereby instilling both intimate and familiar daily behaviour into the public environment of the exhibition space. Graham's works provide ongoing research into individual and collective remembrance that becomes visualized in the way people conduct their lives in relation to space. By dislocating some of the clearly defined demarcations of private and public space and place, Graham is able to generate intricate social sculptures in which the audience circumscribes part of the work process.
arahmaiani
Addressing the collaborative aspects of performance art practice, Arahmaiani's performance-installation, Make-Up or Break-Up, will combine an ongoing investigation into questions surrounding her identity as a female Muslim artist, in conjunction with local communities in Sydney. In preparation for the installation at Artspace, Arahmaiani will instigate the production of wall-sized banners of multinational company logos and brand names translated into Malay-Arabic script. These will be made by local communities and artists for public display.
This work follows on from recent collaborations in Germany, Malaysia, and Thailand addressing the polarization between the image of Islam in the international media and its everyday reality in Islamic communities. By blending Malay-Arabic script with corporate signs Arahmaini's work will offer a rethinking of the way audiences in different parts of the world perceive culturally embedded symbols, especially following the September 11, 2001 attacks.
franz ehmann
The interaction between symbolism and meaning in relation to language will also be examined in the performance-installation, forever young, by Franz Ehmann. His works frequently offer rites of passage between natural and cultural worlds, making use of everyday objects, including food products and newspapers, which are transformed into ambiguous symbols that are reaffirmed through their use in the gallery space. In forever young, objects will be used as theatre props—a floor laid with a thin membrane of newspapers will form the main stage of the performance, and an interface between linguistic territory and semiotic space.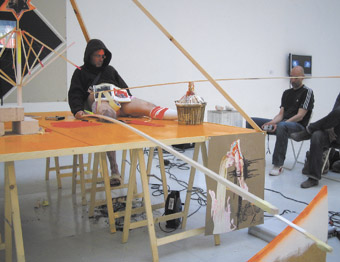 Guy Benfield, Stadium Redux Redux, installation performance, 2006
tony schwensen
Tony Schwensen will conduct a "hundred hour meditation on stupidity, nationalism, delusionism, the devaluation of manual labour in the Western world both socially and financially, and the rampant and thoughtless consumption that has accompanied it with its manifestations in contemporary Australia" (press release). Many of Schwensen's works contrast cynical views on contemporary society with a certain optimism about the basic levels of the human condition, reflecting his ongoing interest in the work of Samuel Beckett who will be quoted on one of the walls at Artspace with his new year statement, "Hopes None, Resolutions None", paraphrased by Schwensen as "Love it or leave it." During his 100-hour performance Schwensen will conduct a variety of actions around matters of national concern, examining self-proficient solutions, such as in his planned performance of manual and automated water desalination.
yiorgos zafirou
During the final weekend of the Aftermath program performers will investigate the way the body is represented in performance-installations. The first performance is by Yiorgos Zafirou, whose recent work investigates the relationship between performance practice and ritualistic modifications of the body. Titled Malignant Mother, this new work follows on from a performance work of 2004 in which Zafirou had his nipples grafted so that they lost sense and became decorative badges that could be further modified.
senVoodoo
Fiona McGregor and AñA Wojak will present Font, a testimonial performance in which they violate their skin and bleed into a container of water to colour it red. The performances of senVoodoo reinvigorate iconographic displays of desecrated flesh to entice audiences to open their senses to corporeal levels of experience. However rather than delving into ritual their works provide references to more theatrical practices, and reflect on the formation of a "living installation." Many of their performances are recurring works, held at various sites, and also involve re-mediation in the form of public screenings and video installations.
re-mediation
The way in which attention is given to re-mediation in the production of many contemporary performance works will also be evident in the screenings of performance videos. These will include recent performance art from China, which has attracted increasing attention in the international art world but has been rarely screened in public art venues in Australia. Included are durational performances by Ma Liuming, Zhu Ming, He Yunchang, Sun Yuan & Peng Yu, and Yang Zhichao.
symposium
Aftermath will conclude with an afternoon symposium that will trace some of the art historical discourses of performance art and open up new discussions on the experiences of the events of the preceding weeks. The symposium will involve local artists, scholars, and critics, as well as the two visiting overseas artists in Aftermath, Arahmaini and André Stitt.
Aftermath: Performance Installation, Artspace, July 5- August 18; for program go to www.artspace.org.au
Schwensen and Stitt will also be creating a performance installation at Campbelltown Art Centre in August.
RealTime issue #79 June-July 2007 pg. 8
© Thomas Berghuis; for permission to reproduce apply to realtime@realtimearts.net