AS I SIT IN MY BRIGHT-BOX, DAY-LIT ROOM, LOOKING OUT ON THE GREENERY OF THE GARDEN, I DO WHAT ALL REVIEWERS DO: REFLECT ON THE SPACE BETWEEN THE LIFE WE LIVE AND PERFORMANCES WE SEE. LIKE ALL THINGS OF SIGNIFICANCE, THE PIECE I'VE SEEN ALMOST BY CHANCE, BY A RARE ACT OF GRACE AT THE AUSTRALIAN CHOREOGRAPHIC CENTRE, QUESTIONS AND SEWS STITCHES BETWEEN ONE PLANE AND ANOTHER, BRIGHT-BOX TO BLACK, OUTSIDE TO INSIDE HOURS.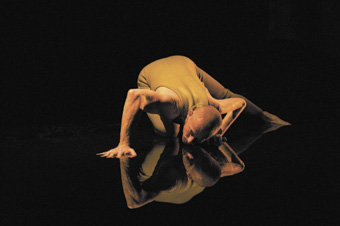 photo Suzon Fuks
James Cunningham, Mirage
I remember Mirage as an act of bravery, which begins with the challenge of remapping the scope of movement after serious injury. It ends as a gift—a message of potentials and transformations. A deep reflection on human re-creative capacity.
James Cunningham, a dancer who initially trained in Adelaide in the late 1980s, almost totally paralysed his left arm in a motorcycle accident in 1992. In many ways, Mirage is the culmination of his search to restore both self-identity and movement capability, but as a theatrical experience it amounts to much more than this narrative journey.
The company Igneous, formed in 1997 by the partnership of Cunningham and Suzon Fuks, a Belgian multi-disciplinary artist, has produced several major works and showings. Moving from their pivotal productions, Body In Question (1999) to Thanatonauts: Navigators of Death (2003-4) and Liquid Skin (2005), dance video works and international workshop collaborations, Mirage bears witness to an evolution and maturing of their practice, and the transformation of the idea of "the body" as a singular site and subject.
Body In Question housed the emotionally moving narratives of accident and recovery. Cunningham's personal story was written like a diary on the video-screen. His manouevrings of a life-sized puppet, unfolding from his knapsack, seem now to be preliminary investigations into the way mind and body form and re-form through processes of mirroring, unfolding and re-patterning.
Mirage takes those ideas into a more abstracted realm that is paradoxically even more immediate for the viewer. This is the extraordinary contradiction of arts practice: the deepest re-patternings, interior to the body are individual yet also profoundly transcendent of personal story.
Alison Ross's installation design houses a mirror-pool. Cunningham's body and joints kiss water as his movements recount the journey from paralysis through mirroring back into movement. This is the principle of the mirror-box, a discovery of neurologist Vilayanur Ramachandran: through mirroring what still moves, the body can unparalyse. This restorative process both questions the "reality" of permanent injury, as well as the "reality" of the body. If an act of looking can re-move permanent paralysis, is the body's self-identity thus also an illusion, a mirage? Glimmers in the water multiply the performer, but also catch the lookers looking. The meshed pyramid which Cunningham lifts and manoeuvres is a strange prop—a prophylaxis, rather, serving as screen for projected body-images, sometimes also a hiding-cave, also an MRI machine, but always more than any of these. Critically, the multiplied images reflect on another of Ramachandran's discoveries: that the capacity to reach across sense-impressions (synaesthesia) is the very element that helps humans to evolve, to move beyond what is. This is where Mirage critically, joyfully perhaps, reflects on the deepest artistic and neurological recognitions.
There is thus a significant transformation of the dualistic self/other, puppet/dancer relationship of Body In Question to a triangular relationship between I/you/the transcendent or in-between. Sound artist Andrew Kettle points to hermetic traditions (specifically, the Tabula Smaragdina: "The Stone is One . . . out of one substance the Sages obtain our remedy") and the significance of metaphysics to his compositional process. His contribution is "a tonal meditation on anatomical measurements of the dancer's body transmuted through prayer." No sound is literal, and yet one senses the bodily form out of which the composition has evolved. Visually, Morgan Randall's lighting design allows the performer's body to dissolve and re-solve. Alchemical re-making.
At its heart, this is a work that actually cares for and about the body, for and about the performer, but also the spectator/audience, and in a larger sense, the human condition, allowing for the fact that seeing, listening, witnessing, are themselves alchemical processes. I felt an exhilaration in watching this work.
And that rare experience: what it costs to watch, and think and be in watching, is rewarded by a message much larger than the performance.
Igneous, Mirage, dance performance and installation, directors Suzon Fuks, James Cunningham, performer, choreographer James Cunningham, video artist Suzon Fuks, set design Alison Ross, sound artist Andrew Kettle, lighting Morgan Randle; Australian Choreographic Centre, Canberra, Nov 16-18, 2006. www.igneous.org.au
RealTime issue #77 Feb-March 2007 pg. 37
© Zsuzsanna Soboslay; for permission to reproduce apply to realtime@realtimearts.net