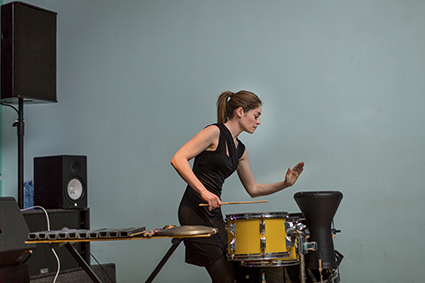 photo Nik Babic
Louise Devenish, Electroacoustic Music for One Percussionist
Perth percussionist Louise Devenish teamed up with local sound engineer-extraordinaire Stuart James to deliver a program of new electroacoustic percussion works, including three premieres, in the cozily retro setting of Mt Lawley's Astor Lounge. Over time Devenish has established herself as one of the key figures in Perth's new music scene, and it was a great pleasure to see her execute her very own concert. The program was concise and varied, offering an exploration into both the ambient and percussive capabilities of a blended electronic-acoustic sound.
The concert opened with Warren Burt's Chromophone. The way in which this piece came together is fascinating. The composer had mixed his original sound material by improvising in real time to create an electronic track, over which Devenish then improvised her own exploratory textural material. A definite connection between both elements could be felt; it is, as Devenish puts it, a "beautiful way of making music with someone" (program note).
Andrián Pertout's Esposiciones for glockenspiel and tape delves into possible divisions of the octave and an array of polyrhythms. What is satisfying is that one need not necessarily understand anything about the work's highly complexist structure to find it enjoyable. As the divisions of the octave grow smaller, we encounter harmonies that feel familiar—a few pentatonics, hints of the blues—as well as chords that feel wholly unfamiliar. The piece feels almost improvisatory, casually wandering through harmonic structures and subdivisions of pulse. The fact that Devenish could pull this off while actually navigating an incredibly virtuosic mix of layered polyrhythms is further testament to her skill as a percussionist.
Lindsay Vickery's InterXection (a relatively ancient piece, 13 years old!) dealt with the idea of magnification, exploring the various sonic effects that can be produced when focusing in on and processing barely audible sounds from a drum kit. The outcome was powerful; a simple drum roll would elicit an earthy shriek from the electronics, and it was fascinating to hear the shifts in timbre between different instruments. James Hullick's K(LING) utilised a video score with randomised blocks of score interspersed with instructions. Devenish performed gestural, pointillistic figures as snippets of news media faded in and out of the foreground.
Stuart James' own work, Kinabuhi/Kamatayon, dealt with the beautifully shimmering sound world of an assortment of small gamelan gongs complemented by a hushed but ever-present electronic ambience. The piece was at times quite rhythmic, melting between time scales as the extensive ring of sound hung hauntingly in the air. This time Devenish coaxed an array of voices from a gamelan with a combination of scraping, tapping and beating, while James' masterful electronic manipulation provided the perfect enhancement. For the most part it was subtle and subdued, but always felt very responsive to the gamelan, almost alive. Of the works on this program, this had the most heart.
Electroacoustic Music for One Percussionist, Louise Devenish, Stuart James, Astor Lounge, Perth, 16 Sept
RealTime issue #129 Oct-Nov 2015 pg. 40
© Alex Turley; for permission to reproduce apply to realtime@realtimearts.net